Commentary
Kobe and cast ready to prove their case
Updated:
October 26, 2004, 4:01 PM ET
By
Marc Stein
| ESPN.com
Editor's Note: ESPN.com's 2004-05 NBA Preview opens with a look at the teams that are "Under the Gun." First up: The Los Angeles Lakers.
Perhaps it's time to give the other Kareem some of that primo space near Pat Riley on the list of Great Laker Guarantees.
Reason being:
Kareem Rush
is promising that his Lakers will definitely make the playoffs in L.A.'s first season ASAP -- After Shaq And Phil.
Dare to tell young Kareem they won't crack the top eight in the West, and this is the answer you get: "That's a bunch of bull."
OK, OK. Maybe that's not as bold as Riles' vow in the summer of 1987, when he announced to a championship parade that "I'm guaranteeing everybody here ... next year we're going to win it again." The risk factor for Rush, furthermore, is nothing compared to what Coach Riley faced after his Joe Namath imitation, because this Kareem won't be getting any blame if the Lakers do finish ninth or worse this season, as more than one pundit has predicted.
However ...
It's still a leap for any current Laker, Kobe Bryant included, to be guaranteeing anything about the forthcoming 82 games, apart from telling us (duh) that we can expect endless references to and questions about the departures of Shaquille O'Neal and Phil Jackson. No matter what any of them might promise, no one can really be sure what this team is capable of, with Bryant as the only returning starter, with Lamar Odom the only one newcomer of All-Star caliber, and with Rush as accomplished as any holdover who survived the off-season purge.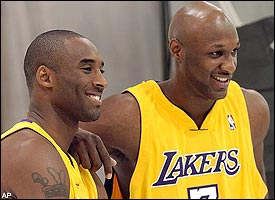 Bryant has been all smiles while adding Odom to his supporting cast.
This is a prove-it-to-me team now. Which means Bryant could be facing more scrutiny than ever before, if that's possible.
Expectations are down, but the uncertainties surrounding the former scourge of the league remain huge. Can they reach the playoffs with Vlade Divac and Chris Mihm succeeding Shaq in the middle? Can they run as much as Kobe and new coach Rudy Tomjanovich would like, given L.A.'s potential rebounding issues? Can they get by with Brian Grant at center if Divac (health) and Mihm (inconsistency) falter? Can they get by with Lamar Odom masquerading as a power forward? Can they get enough offense from folks not named Bryant to consistently score in the 90s, which looks dicey from here even if Kobe goes crazy and averages 35 points a night? Can Caron Butler emerge from L.A.'s glut of small forwards to (a) stay healthy and (b) provide the outside shooting and slashing "success chances," to use Rudy T's words? Can Bryant trust his new teammates enough to make them better?
Prove it to me, Lakers. Or else we'll proceed to another interesting question: Can Kobe, embraced and adored last season like no Laker before him, maintain his popularity with the local populace if L.A. does plummet into lottery airspace?
Kobe, not surprisingly, refuses to ponder such issues in public view. Yet he is willing to provide an answer when asked if there's anything besides his own hunger to prove it to us.
That something, Bryant says, is the guy who actually authorized what Kobe is often accused of demanding: the exile of Shaq and Phil.
"Just look at Jerry Buss' track record," Bryant said. "I think that's always been a common denominator with Laker basketball here in L.A. The guy's a proven winner, year in and year out, no matter what type of changes have taken place with the team."
Translation: Bryant contends L.A. will contend as long as Buss is running the team.
Reaction: Kobe better hope that Buss' mojo is tangible, because the owner is the closest thing he has to established help. Even Odom, after his breakthrough season in Miami, acknowledges the skepticism out there regarding his return to the Westside and fears that he could lapse into the off-court behavior that perpetually intervened on his stint with the Clippers.
"In about a year or two, (Kobe) will be calling out to Jerry Buss that we need some help in here, or trade me," Seattle's Ray Allen recently told ESPN.com contributor Frank Hughes.
Added Allen: "We'll all be saying, 'We told you so' when he says that."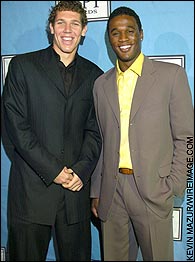 Dressed for success: Luke Walton and Kareem Rush are now main men in L.A.
Who knows? There's always the possibility that Bryant and Buss are the smart ones. If they're truly patient enough to build the Lakers back up together, it's not inconceivable that Buss' rationale will ultimately be proved correct, painful as the rebuilding could be for them as they wait for some salary cap room to play with. If you look at the Buss Era, as Bryant requested, you must allow for the possibility that the owner was being quite sensible when he decided that the $40-plus million he'd have to keep spending annually to keep Shaq and Phil content was no longer a worthwhile investment. Not after two successive springs without a championship.
You also have to acknowledge that Bryant, not quite a month into the new season, is reaching out to teammates more than ever before. It's not so important why it's finally happening now. The key is that the new Lakers appear ready to follow him, in spite of all the bluster about how Bryant would have trouble gaining the trust of the locker room after the disintegration of the Shaq-Phil-Kobe triangle and the statements attributed to Bryant about Shaq to his arresting officers in Colorado.
"We've always trusted him," Rush said.
Said Grant, scoffing at the notion that Bryant will meet resistance when he tries to lead: "How you feel about a player starts by how much you respect a player. And everybody comes in respecting Kobe's game to the utmost."
"Kobe really looks upon this as a challenge," Lakers assistant Frank Hamblen, the only remaining alumnus from Jackson's staff. "I think he just felt it was time to move on and see if he can lead a team to a championship himself."
The challenge starts with getting to the playoffs, unless Rush's vow has convinced you that won't be a problem.
Odom, meanwhile, is another lefty who, like Kareem, is backing Bryant with what amounts to a non-guarantee guarantee.
"It's going to be fun," Odom said, "to prove everyone wrong."
Marc Stein is the senior NBA writer for ESPN.com. To e-mail him, click here. Also, click here to send a question for possible use on ESPNEWS.
ESPN Senior Writer
• Senior NBA writer for ESPN.com
• Began covering the NBA in 1993-94
• Also covered soccer, tennis and the Olympics