This story appears in ESPN The Magazine's March 27 Analytics Issue. Subscribe today!
---
This year's MVP debate has no clear-cut favorite -- the players with the gaudy stats don't have the win totals, and vice-versa. So ... who should it be? We assembled some of the world's foremost basketball minds from the analytics community to answer the question.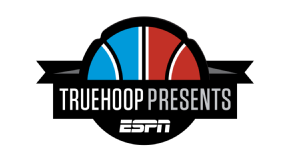 JEREMIAS ENGELMANN: Here goes: Steph Curry should be the MVP. Since 1985, no player has won the MVP whose team didn't finish third or better in its conference. And with LeBron slowly fading -- his blocks are down, his turnovers are at a career high -- my vote goes to a player from the team that currently sports the best point differential of all time, the Warriors. It's always tough to select a single best player from a team this great. And on paper, if you combined their counting stats, Curry and Kevin Durant, before his MCL sprain, were about equal. But what gives Curry the nod, even before Durant's injury, is that we know he can reach unprecedented heights of team success without Durant. Just look at Curry's +/- per 48 minutes this season compared to the other league leaders.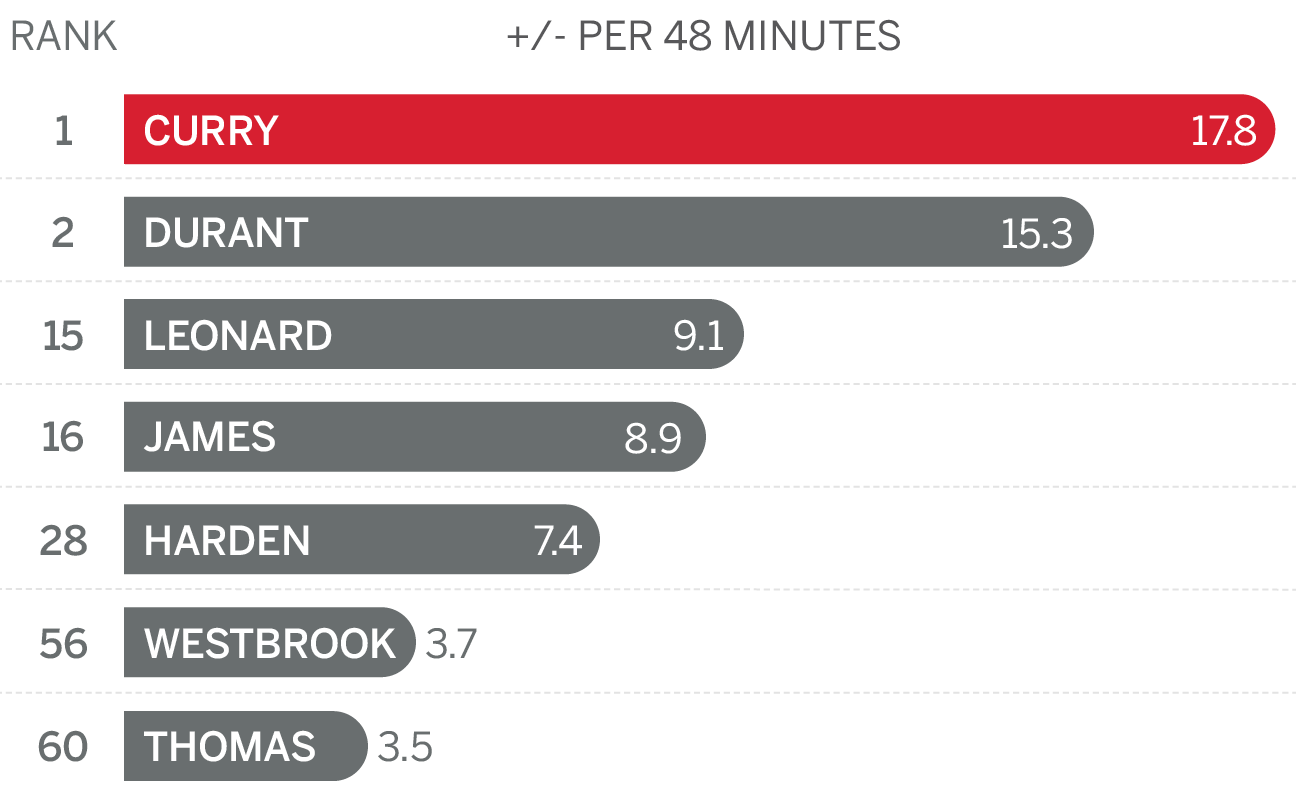 His on/off (+15.6) dwarfs that of Durant (+7.8). The Warriors simply play at their best when Curry is on the court and suffer significantly more when he sits. And while it's true that Curry is playing a hair worse than last season, it's unfair to compare him to standards he himself set in a season in which he was voted unanimous MVP. He would be on course to have the best 3-point shooting season of all time if it weren't for his own 2015-16 campaign.
3-point attempts vs. 3-point percentage*
*Minimum 200 3-point attempts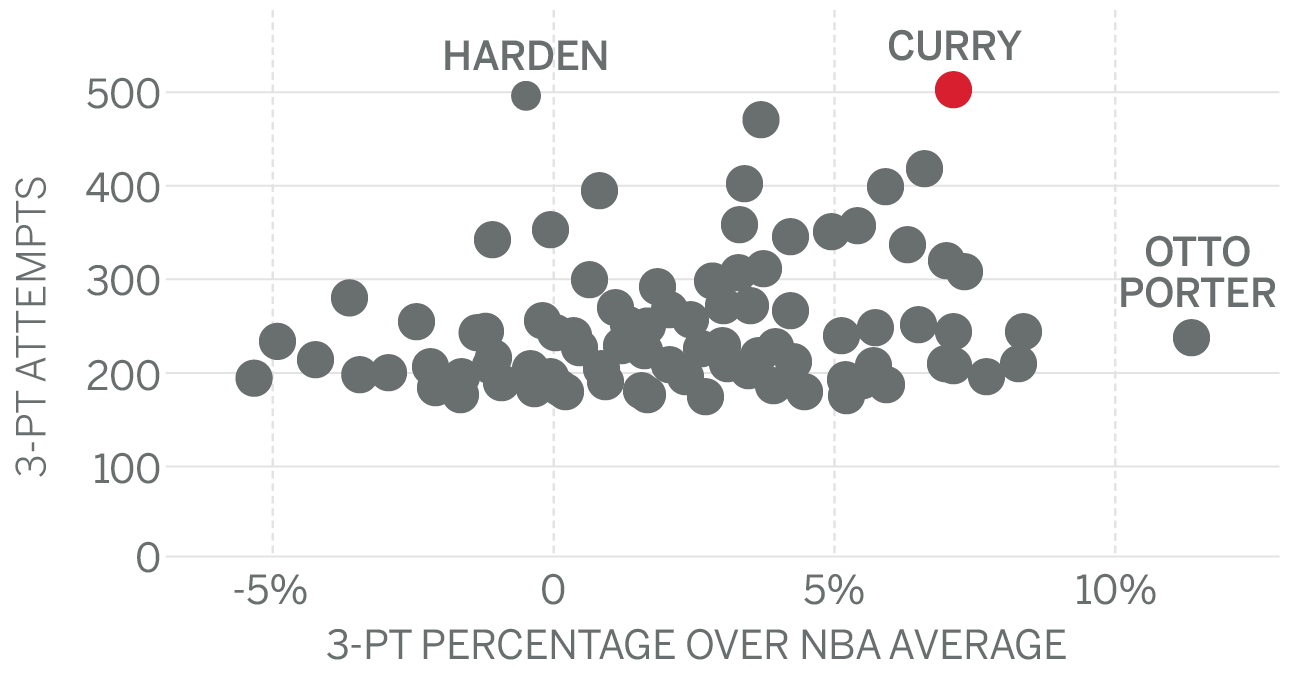 Curry is the best at what every team in today's NBA is trying to do: take and make as many 3s as possible.
DEAN OLIVER: 😎 RAJIV MAHESWARAN: 🔁
"Curry's best at what every team's trying to do: take and make as many 3s as possible." Jeremias Engelmann, ESPN NBA Insider, co-creator of real plus-minus
---
DO: Would anyone throw any other player into the mix beyond Jimmy Butler, Curry, Durant, Draymond Green, James Harden, 
LeBron James, Kawhi Leonard and Russell Westbrook?
---
BEN ALAMAR: I looked at each team's raw net efficiency without its MVP candidate(s). The chart here suggests the Thunder are a really strong D-League team when Westbrook is off the court, while the Warriors and Spurs are pretty good teams.
Team efficiency without its MVP
*Net points allowed/100 possessions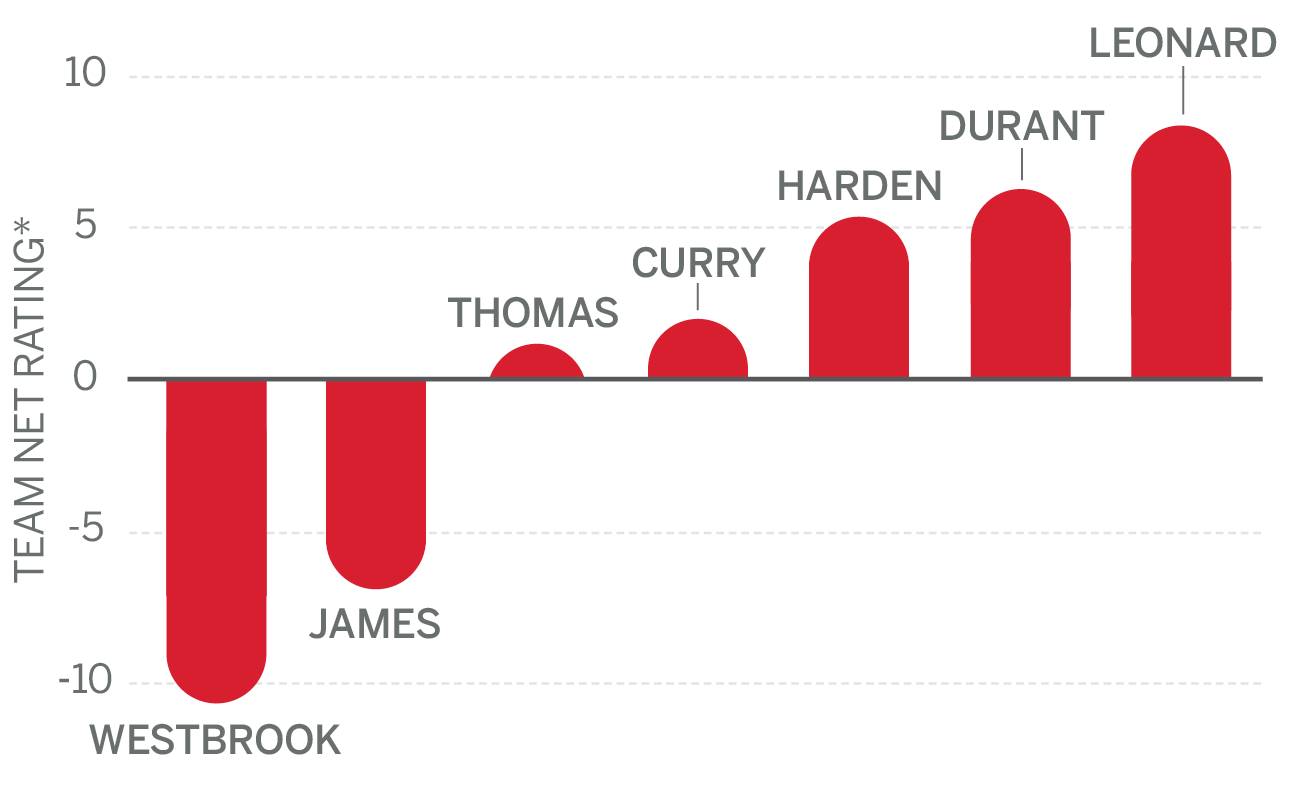 HENRY ABBOTT: Ben, you're stirring up some debate here. I see your point about Westbrook's essential nature. But I also notice as you go further right on the chart, the teams tend to get better! If the best teams have multiple stars ... is the most valuable player one who can recruit/coexist/maintain long-term relations with other stars? And, thinking with the aid of unhealthy amounts of caffeine, if Westbrook had more of that, would he still be playing with Durant?
---
DO: Westbrook has pushed the envelope of what any player has done; using 45 percent of his team's possessions is the highest I've ever seen. And you don't see players working that much offensively who maintain their defense as much as he does. Usually guys who shoot a ton see their D fall off a lot (see Kobe Bryant).
On the opposite end from Westbrook is Kawhi. The Spurs do well without Leonard because they develop players and will give anyone starting minutes so that they know how to play together. I'd hate to give credit to Westbrook for having a system built so much for him, because that implicitly takes away from Leonard, who is the best player on a team built for everyone.
I don't mean to pick on Westbrook; I respect him a ton for how hard he works. But the triple-double thing is overrated. He leads the NBA in defensive rebounds off free throws by a wide margin -- 76 compared to the guy in second, with 59. James Harden is doing a bit of the same thing; he has 49. After that, among point guards, Rajon Rondo has 18. These are the easiest rebounds to get and don't need a point guard to get them. That being said, Westbrook is still the best rebounding guard in the league without this.
"If we eliminate Russ, let's not do it because his team lost Durant." Kevin Pelton, ESPN NBA Insider
---
BA: I'll agree with Dean that Westbrook's triple-doubles aren't really important. But I would say that his likely being the first player to finish a season with an assist percentage and usage percentage over 40 percent (and he'll be over 50 percent in AST percent) on a team that we project to win 46 games is relevant -- particularly since this team would be in Nets territory without him.
RM: For those of us under 6 feet, we're going to have to add Isaiah Thomas to the list, and frankly, we're going to have to let him win.
JE: 😱
---
DO: I really wish I was allowed to be sarcastic right now, but Henry is watching everything we say ...
RM: 👀
---
DO: Instead, I'll go with James Harden for now. A few reasons: He's had the most great games of anyone. By net points added in a game, he's had 13 games of 10+, which is close to what Steph's pace was last year. He comes out as the best offensive player in RPM (and a few methods) ...
---
DO: He is also adding a lot through his passing. His ability to draw defenses has made Montrezl Harrell and Clint Capela into dunking machines around the rim, with both having significant increases in the number of shots at the rim they take. An extra three to four more layups at 70-plus percent per game is a lot of points ...
---
DO: And he is a dominant scorer. His half-court efficiency is 119 points produced per 100 possessions. His half-court effective FG percentage is only 50 percent -- far lower than Steph Curry's 55 percent, which is the best of the candidates, but Harden closes the gap through drawing shooting fouls, which he does more than anyone. If you calculate a true shooting percentage [which incorporates 2- and 3-pointers and free throws], he closes the gap, 59 percent to 58 percent. For a player using 37 percent of his team's possessions, that is ridiculous ...
JE: 🔥
---
DO: And yes, defense is always the main criticism of Harden. It is still valid, but Mike D'Antoni has tasked Harden with getting stops more, and that's helping. Now if he gets burned, he knows he is more on an island, so he does a little better with it. I love defense -- far more than offense -- but I don't hold individual D against players as much in award voting. Defense is a lot about system, and I think the Warriors' guys, for instance, do get the benefit of being in a very good defensive system. Kawhi Leonard is a major defensive force who is also helped by system.
"Harden deserves the lion's share of credit for the Rockets outperforming expectations." Sachin Gupta, Consultant and former VP of basketball operations with the 76ers
---
HA: Well, that didn't win the sarcasm award.
---
RM: Is it the case that a player who moves their team from a +1 to a +7 in some arbitrary measure is better than someone who moves their team from a +10 to a +12? I think the intuition is that the two points from 10 to 12 are certainly much harder than from 1 to 3 and possibly harder than from 1 to 7. I think these things unfairly push down Curry/Durant/LeBron compared to Harden/Westbrook. It's not that I'm advocating for one over the other, but pointing out that our lack of knowledge about the probably varying relative difficulty of marginals in our measures hinders our ability to converge on an answer.
DO, JE: 👍
"LeBron is playmaking, but he isn't creating nearly as much value." Ben Alamar, Director of sports analytics at ESPN, former employee of the Thunder and Cavaliers
---
DO: Let me go off Rajiv's comment and add a couple of things. Adding 2 ppg to a .500 team adds about seven wins. Adding 2 ppg to a 65-win team adds about four wins (based on Pythagorean math). But those four wins, going from 65 to 69, are more valuable in terms of a chance to win a championship than going from 41 to 48 wins. Deciding which is more valuable there is purely subjective. It's a choice, not an analysis.
---
BA: I admit that I really want the answer to be Westbrook. The story is incredibly compelling. Unfortunately, I just don't think that is the right answer. I don't think the MVP has to come from the best team, but it's hard to make the case that it should come from a team that has only a 2 percent chance to make the conference finals (according to BPI), so with a heavy heart I take Westbrook off my list. So that leaves me with LeBron, Harden, Leonard or a Warrior to be named later. Given my earlier argument against Steph, I'll also remove the Warriors collectively.
Oh, I forgot that Rajiv put up Thomas for consideration. Thomas is literally dead last among point guards in defensive RPM ... so I'll just leave that there ...
JE: ♨
---
BA: Next, I'll eliminate LeBron because I think a player's own career provides some context for this discussion. While he is taking on more playmaking responsibilities, he isn't creating nearly as much value (win shares per 48 minutes) as in seasons past.
---
SACHIN GUPTA: Rajiv, I thank you for standing up for vertically challenged people everywhere. My family and I appreciate it ...
RM: ✊
"For those of us under 6 feet, we're going to have to add Isaiah to the list." Rajiv Maheswaran, CEO of Second Spectrum, a firm that applies machine learning to player-tracking data
---
SG: But as Jeremias alluded to, you'd have to go back to 1988 to find an MVP who wasn't on a top-four team; Michael Jordan was in a class of his own that year. There isn't anyone like '88 Jordan this year, so I think it's fair to say the race should be down to players on the true championship-contending teams. Which still somehow leaves six legitimate candidates.
DO: 👍
---
KEVIN PELTON: I agree with Dean that deciding how to define value is a choice, not an analysis, but let me dissent from everyone else who's spoken up on that choice. If we're going to eliminate Russ, let's do it because his impact on his team isn't considered MVP-level in metrics based on plus-minus, not because his team lost Durant and therefore can't compete at a championship level.
---
BA: I think the MVP is the player who adds the most to a team's chances to compete for a championship. Under this definition, Westbrook is out, because the Thunder have a zero percent chance to win the championship without him and near zero with him, so from that perspective he just doesn't add much value. From the other end of the spectrum, this definition also eliminates Curry and Durant, because I don't think their odds of competing for a championship -- getting to the Finals -- change dramatically in the absence of one of them. So I return again to Leonard and Harden.
---
DO: I think the question of making teammates better is an important one this year (if not all years). This is one of the reasons I like Harden -- he is making his bigs measurably better this year. Having metrics for how guys make their teammates better is still a challenge. Doable, but hard.
JE: 👍
---
HA: I suspect when an MVP is announced -- and the counting stats end up winning the day -- most of us will think something like, "Well, that's a silly choice."
---
DO: Well, I don't think it will be "silly" if it's Harden, Curry or Leonard. Or even Durant or LeBron. If it's Westbrook, I'll be disappointed. I wouldn't call it silly, but I'd say that people are falling for storyline over substance. And an overly simple storyline at that. If Westbrook wins, it is because people are falling for the stats that are lying. (Unless, obviously, things change in the last two months of the season.)
HA: 👍 🏀
---
KP: While I seem to be the most open to Westbrook's candidacy here, I'm going to go with Harden for a reason we haven't discussed much yet: minutes played. Value is a product of both quality and quantity of play, and Harden -- who ranks second in the league in minutes among our candidates -- has the edge in the latter category.

To head off the objection that this is unfair to the Warriors' candidates because of their blowouts, I'll note that Harden still averages more minutes (38.6) in games decided by 10 points or fewer than Durant (37.5) or Curry (35.7).
Basically, given Harden's superior volume, I think you have to make the case that someone else is dramatically more effective on a per-minute basis. And I haven't seen a persuasive case for that yet.
BA: 😴
---
RM: But if defense is going to be used, Durant/LeBron/Kawhi should get a big boost over the others. From the metrics I'm looking at, Durant stands out here.
---
SG: I'm going with Harden too. I think it's fair to give slightly more credit to offense, and there's already a DPOY award to reward individual defenders. Going with even a slight 55/45 weight of offense/defense in RPM, Harden emerges as the league leader in RPM wins thus far, which also takes into account Kevin's point of the added value of playing more minutes. Additionally, I think Harden also deserves the lion's share of the credit for the Rockets largely outperforming expectations -- ESPN's Summer Forecast pegged them as a 41-win 8-seed, while many team ratings now have them looking more like a 56-win 3-seed.
BA: 😴 JE: 🚀
---
RM: After a conversation with Ben, I'm going to split my vote between Isaiah and KD. Isaiah maximizes "valuable" if you consider salary, and pre-injury KD maximized "valuable" if you consider marginal probability of winning the championship. I'm not sure of the latter, and I think cases can be made for Steph and Kawhi.
JE: 😌
---
BA: Finally making a choice: Kawhi Leonard. First, on a macro level, if the criteria is, as I suggested, that the MVP is the player who adds the most to his team's ability to compete for a championship, then Leonard is the clear answer. I think we can agree that neither the Rockets nor Spurs would be competing for a title without their MVP, and right now, BPI gives the Spurs a 16 percent chance to get to the Finals and the Rockets only 5.7 percent. This macro level (and assumption-filled) analysis is supported by some additional skill-specific metrics. Harden and Leonard have similar usage rates (34 percent for Harden, 31 percent for Leonard), yet Leonard is a more efficient scorer by PER and has a higher 3PT percentage. Leonard has a higher offensive rating (122 to 119) and WS/48 (0.281 to 0.256). Then, in terms of defense, there is no comparison: Leonard leads Harden 101 to 107 in defensive rating and has a higher steal and block percentage. Harden is having a great season, but Leonard is creating more value for his team and gets my vote for MVP.
"Leonard is the best player on a team built for everyone." Dean Oliver, VP of data science with TruMedia Networks, author of 'Basketball on Paper'
---
DO: Not the easiest to read, but here is a plot of how individual net points above replacement have increased over time. You can see CP3 was with KD up until the injury and led the race into December -- and you can see who leads now.
Net points above replacement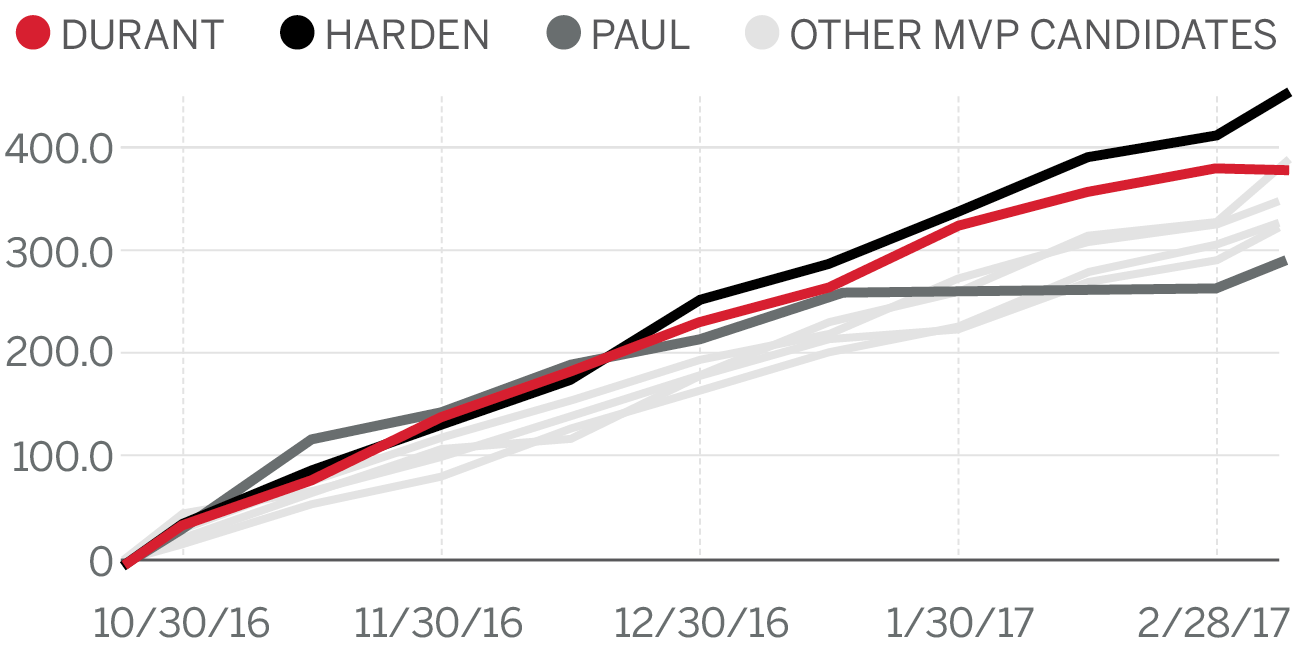 ---
HA: Looks like our final scoreboard is: three votes for Harden (Oliver, Pelton, Gupta), one each for Kawhi (Alamar) and Curry (Engelmann) and a half vote for pre-injury Durant and Thomas (Maheswaran). Which means zero votes combined for Westbrook, James, CP3 and Jimmy Butler -- which, by the way, would make one hell of a pickup team.
All stats current through March 7.