NBA player rankings: Superstars making early MVP charges
Originally Published:
November 14, 2017
By
Micah Adams
| ESPN.com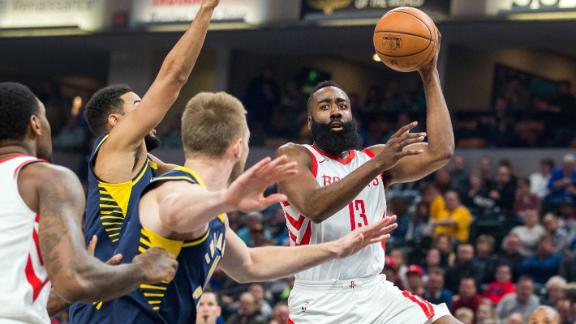 Harden, Capela dominate Pacers
James Harden records 26 points and 15 assists while Clint Capela adds 20 points and 17 rebounds in Houston's 118-95 victory.
Harden, Capela dominate Pacers
Kyle Terada/USA TODAY Sports
Multiple players are forcing their way into a loaded early MVP conversation, but who won Week 4 of the NBA season?
Every week, we'll rank the top 10 players from the previous week using game score as our starting point.
Created by former ESPN.com stats guru and current Grizzlies VP of basketball operations John Hollinger, game score measures a player's productivity for a single outing based on weighting of various box score statistics (for a more complete explanation, check out Week 1).
Now, on to the rankings.
Note: These rankings run through the games on Sunday, Nov. 12.