#NBArank: Players Nos. 31-50
Originally Published:
September 13, 2017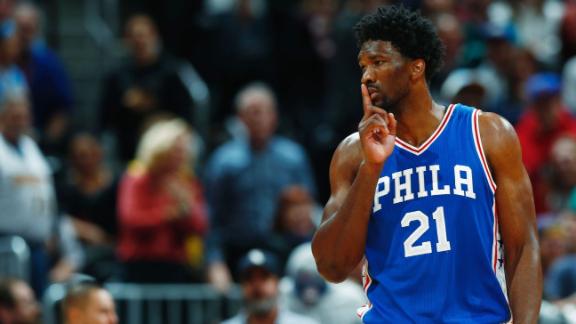 Young NBA stars ready to make 'The Leap'?
Joel Embiid, Myles Turner and C.J. McCollum are just some of the NBA's emerging stars who are on the verge of being superstars.
Young NBA stars ready to make 'The Leap'?
For the seventh season in a row, ESPN.com is ranking the top players in the NBA. Who will be the best player next season?
#NBArank 2017: The top 100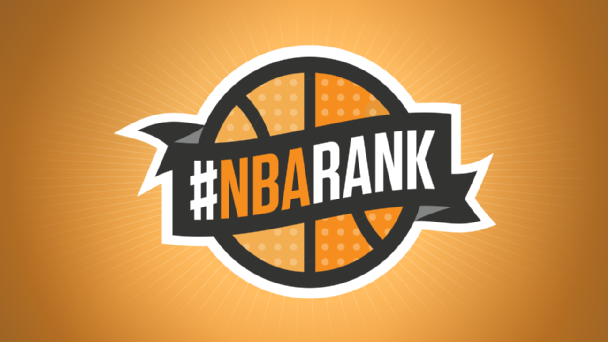 Who are the best ballers in the NBA? We're counting down the top 100 for 2017-18.
#NBArank: 1-10 |11-30 | 31-50 | 51-75 | 76-100

2017 Top 10: How'd they get here?

2011 Top 10: Where are they now?

Windhorst: LeBron the unbeaten champ

Dray Q&A: How he soared 324 spots

Lowe: Cavs need Love more than ever

Fallen stars: Dirk, Dwight, D-Wade sink

Still a superstar? Melo falls from top 50

A true unicorn? Porzingis in elite group

5-on-5: Debating future #NBArank stars

All-Time #NBArank: History's top 100
To get the final ranking, we asked our expert panel to vote on pairs of players.
Kevin Durant vs. LeBron James. Kyrie Irving vs. John Wall. Russell Westbrook vs. James Harden.
We asked, "Which player will be better in 2017-18?" To decide, voters had to consider both the quality and the quantity of each player's contributions to his team's ability to win games.
We'll continue our countdown of the top 100 players over the next two days. If you want to get involved in the discussion or just follow along, use the Twitter hashtag #NBArank. You also can follow along @ESPNNBA and on Facebook.
Here are Nos. 31-50.
#NBArank: 31-50
---
AP Photo/Jae C. Hong
Stats & Info: A few years ago, you'd watch Beverley and marvel at the bevy of high-intensity plays that don't show up in the box score. Thanks to player tracking, they do now and it helps Beverley shine as a hustle stats All-Star. He led all players in loose balls recovered per game in 2016-17, ranking fifth in total "50-50s" recovered despite ranking outside the top 100 in total minutes played.
---
Chris Nicoll-USA TODAY Sports
Stats & Info: Hill parlayed a career season into a three-year, $57 million contract with the Kings this offseason. If his play mirrors that from 2016-17, he'll be far more than simply a tutor for top-five pick De'Aaron Fox. Hill figures to carry a significant scoring load in Sacramento, something that could bode well for the Kings. Last season, the Jazz went 15-1 in games Hill scored at least 20 points, the best such mark for any player that finished with 10 or more 20-point games.
---
EPA/ROBERT GHEMENT
Stats & Info: Given today's fascination with spacing and the rise of the scoring point guard, it's easy to see how Ricky Rubio can get lost in the shuffle when discussing the game's best floor generals. Yet despite his limitations, Rubio is a viable tip of the spear on both ends of the floor, as he's one of just three point guards in NBA history with career averages of eight assists and two steals per game, alongside Chris Paul and John Stockton. Rubio's heady game should be a perfect fit in Utah.
---
Issac Baldizon/NBAE via Getty Images
Stats & Info: Dragic did not receive a single All-NBA vote despite delivering a season nearly identical to 2013-14 when he was named third-team All-NBA and won Most Improved Player. Dragic remains one of the game's best at probing the paint, ranking third in the NBA in drives per game last season.
---
AP Photo/Charles Rex Arbogast
Stats & Info: Adams battled alongside Russell Westbrook more than any player, as 94 percent of his minutes came alongside his MVP teammate. An underrated part of Adams' game is filling the lane, as he has finished in the 90th percentile in points per play in transition each of the past two seasons, making him an ideal fit next to the tempo-pushing Westbrook.
---
Andrew D. Bernstein/NBAE/Getty Images
Stats & Info: Entering his first season with the Spurs in 2015-16, Aldridge was ranked 13th in #NBArank. After falling to 23rd last season, Aldridge fell 22 more spots to 45th, leaving the Spurs with just a single top-40 player. Of the top 20 players from our 2015 rankings, only Dwight Howard has dropped further.
---
Sam Forencich/NBAE via Getty ImagesSince he was acquired via trade in February, center Jusuf Nurkic has formed a tight bond with the Portland Trail Blazers and their fans.
Stats & Info: Nurkic showed flashes that he's capable of becoming the third cog the Blazers so badly need. An untimely injury and doomed opening-round matchup with the Warriors in the playoffs last season may have delayed enthusiasm, but there's reason to be optimistic in the Northwest as the Blazers outscored teams by 11.3 points per 100 possessions in more than 400 minutes with Nurkic on the floor alongside Damian Lillard and CJ McCollum. That pair was a whopping 15 points per 100 possessions worse when sharing the floor without Nurkic.
---
AP Photo/Marcio Jose Sanchez, file
Stats & Info: A steadying hand the entire season, Iguodala led the entire NBA in assist-to-turnover rate during the regular season. In the NBA Finals, he once again led the Warriors in plus-minus, just as he did during their run to the title in 2015.
---
Brian Babineau/NBAE via Getty Images
Stats & Info: The Wizards thought highly enough of Porter to match a max offer sheet from the Nets and are trusting Porter becomes more than an advanced stat darling. After all, it was Porter, not John Wall, who led the Wizards in Win Shares last season while he ranked ahead of players such as Gordon Hayward and Paul George in Real Plus-Minus.
---
Issac Baldizon/NBAE/Getty Images
Stats & Info: Whiteside remains somewhat of an enigma. Though he once again finished in the top five of voting for Defensive Player of the Year, the Heat were still better defensively with him off the floor. On/off court splits can be noisy, but this is now three straight seasons in which Miami's defense has posted a better defensive rating with it's anchor on the bench rather than on the floor.
---
Layne Murdoch/NBAE/Getty Images
Stats & Info: Horford's unselfish, high-IQ game proved to be a great fit in Boston as he averaged 5.0 assists per game, which led all centers and nearly doubled his career average with the Hawks. He's still one of the best one-on-one post defenders as well, ranking second in points per post-up allowed among the 135 players to defend at least 50 of them last season.
---
Jeffery Phelps/NBA/Getty Images
Stats & Info: DeRozan is a master of getting to his spots, ranking second in PPG off drives and third in PPG off of pull-up jumpers. Nobody made or attempted more shots outside of 10 feet with a defender within 2 feet than DeRozan, who actually converted on a higher percentage of those than he did when there was no defender within 6 feet.
---
Photo by Jason Miller/Getty Images
Stats & Info: There were three small forwards who ranked inside the top 15 at the position in both offensive and defensive RPM. The Cavaliers now have two of them, with Jae Crowder joining LeBron James. (The other is Milwaukee's Giannis Antetokounmpo.) Crowder gives Cleveland another versatile defender to not only match up better with Golden State, but also spell James on the nights he needs a rest.
---
Christian Petersen/Getty Images
Stats & Info: In four seasons in Phoenix, Bledsoe has averaged more than 18 points, six assists and four rebounds, making him one of nine players to reach those marks over that span. Bledsoe is the only one of that group who has not made an All-Star team. He's coming off a season in which he set career highs in PPG, RPG, APG, player efficiency rating and usage rate while also posting the lowest turnover rate of his career.
---
Brian Spurlock-USA TODAY Sports
Stats & Info: There's massive potential for a star turn from Turner, who is entering his third season and will be Indiana's focal point following the trade of Paul George. Though he might not scream "superstar" upon first glance, Turner is one of just five players in history to average 14 points, seven rebounds and two blocks per game by the age of 20. The others: Anthony Davis, Kevin Garnett, Chris Webber and Shaquille O'Neal.
---
Vaughn Ridley/Getty Images
Stats & Info: Limited to just 29 games last season as he recovered from an Achilles injury, Middleton is one of the game's biggest unsung heroes. His teams have posted a better net rating with him on the floor in each of his five seasons. Middleton's net rating of plus-3.4 over the past three seasons is easily the best of any Bucks player that has logged at least 2,000 minutes (nobody else is better than plus-0.1).
---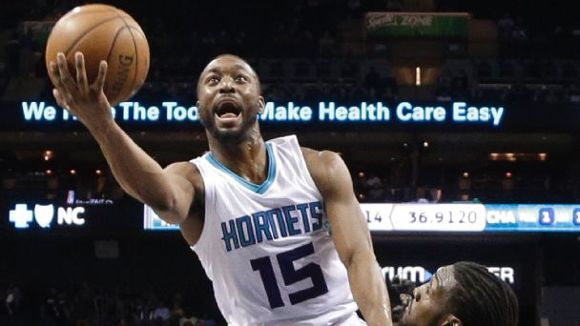 AP Photo/Chuck Burton
Stats & Info: One reason for Walker's evolution from inefficient gunner to All-Star is his growth off the ball. In the 2013-14 season, Walker averaged more than 100 touches a game while ranking in just the 47th percentile in points per play in spot-up situations. In every season since, the touches have gone down while his efficiency in spot-ups has increased, so much that last season Walker ranked in the 96th percentile spot up points per play.
---
Jason Miller/Getty Images
Stats & Info: If Thomas were 100 percent healthy, there's little doubt he'd be ranked higher on this list. But since voters were asked to take into consideration both quality and quantity of a player's contributions, Thomas actually dropped four spots from last season despite delivering one of the best offensive seasons in Celtics history. One reason to like Thomas' fit in Cleveland is his ability to create for others. As a pick-and-roll ball handler, Thomas ranked in the 87th percentile in points created per play when passing out to spot-up shooters, the same mark as teammate LeBron James.
---
Jesse D. Garrabrant/NBAE via Getty Images
Stats & Info: Like Thomas, Embiid is difficult to project since we simply don't know if he'll be able to stay on the floor. Clearly, the tools are there. He shot better from 3-point range than Reggie Miller did as a rookie, finished with a higher block percentage than Hakeem Olajuwon ever did and scored more points per 36 minutes than any rookie in NBA history not named Wilt Chamberlain.
---
Glenn James/Getty Images
Stats & Info: There are three players who have averaged at least 20 point per game while shooting at least 40 percent from beyond the arc each of the lpast two seasons. One is McCollum, and the others are Splash Brothers Stephen Curry and Klay Thompson. Though Damian Lillard might get top billing in Portland, McCollum has shown flashes that he has what it takes to be a leading man. In five games he played without Lillard last season, McCollum averaged 31.2 points per game.
---
Analysis provided by ESPN Stats & Info's Micah Adams.