Commentary
Miami's big three ready to work
Updated:
September 28, 2010, 2:18 PM ET
By
Marc Stein
| ESPN.com
CORAL GABLES, Fla. -- It was supposed to be a day at the circus that, in reality, didn't feel so circus-like.

What was forecasted to be a frenzy was actually a fairly serene scene that, if not for the sheer numbers in attendance, might not have cracked the NBA's top three in terms of media day madness.

As much as a three-hour block of interviews before a single ball is dribbled can generate hold-your-breath drama, there was more breathlessness Monday in Denver and Washington than Miami, thanks to the respective newsmaking re-entrances of Carmelo Anthony and Gilbert Arenas.

The Heat, meanwhile, undoubtedly drew the biggest media day crowd, with 300-some credentials issued to various reporter and producer types. Yet there was a strangely low-key vibe to the proceedings ... as low key as it could be with a SportCenter set erected in one corner of the court.
HEAT INDEX

The defending champs are trying to three-peat. The Heat Index.
Miami's three SuperFriends couldn't even claim top billing in their own city on their first official day at work together. You had to go to the BankUnited Center on the University of Miami campus to get that must-have shot of LeBron James and Chris Bosh flanking Dwyane Wade at a news conference podium. They got bumped across town because a Shakira concert Monday night forced the Heat to vacate AmericanAirlines Arena.
Not that the Heat's marquee personalities were complaining about the relatively restrained start.
Not with the promise of a grueling training camp commencing Tuesday at an Air Force base on the Florida panhandle.
Especially not after the wild summer they've had and knowing how much scrutiny awaits over the next nine months given the villains they've become for uniting this way.
"Can't hide from it," Heat coach Erik Spoelstra said. "You have to embrace it. I don't think you guys are going to go away, as much as we'd hope."
The newsiest development on a sedate Day 1 of the SuperFriends era -- besides the fact that the press gathering was six times larger than last year's 50-odd issued credentials -- was how relaxed Spoelstra looked in the spotlight.
Unmoved by the large audience, or the inevitable questions about whether he can handle the pressure of coaching three All-Stars and managing mammoth expectations when Pat Riley is only as far away as the president's office, Spoelstra looked as at ease as I can remember.
Which qualifies as a promising sign, as long as you believe there can be such omens this early.
Spoelstra passionately defended his three stars for their willingness "to sacrifice not only financially" but to surrender their previously undisputed face-of-the-franchise status at the risk of compromising "how they are judged by the media and peers and fans." He humbly spoke of his own credentials by admitting, just as he did before Riley gave him his shot two seasons back, that "you never know until you know." And then he scoffed at the notion that proving naysayers wrong can carry the Heat through an entire season, admitting that "our motivation is deeper than that ... it's got to be."
"The way this team has been built, let's be real about, it hasn't been built for us to go under the radar," Spoelstra said. "There are a lot of expectations. There is pressure. ... We will not run away from it. I'm not running away from it. We know what we're playing for and we're all looking forward to this opportunity."
Truth be told, Spoelstra looked more comfortable in the glare than LeBron, who wasn't exactly effusive in his first extended opportunity to express some remorse about the manner of his departure from his home-state Cavaliers.
"I've heard everything this summer," James said. "Everything I expected and some of it I didn't expect."
Referring specifically to criticism from Hall of Famers Michael Jordan, Magic Johnson and Charles Barkley -- who have openly dissed James' decision to team up with two other Team USA stalwarts instead of carrying more of the load himself -- James added: "I make my own decisions and I live with 'em. I still respect Mike, I still respect Magic and Charles and the rest of 'em."
Fortunately for LeBron, there's always another big name at the dais around here now to get the subject changed.
And Wade duly stepped up with a snarly retort for criticism of the championship-style celebration that the Heat held in July after he, Bosh and James had all signed.
"We enjoyed it," Wade said with emphasis. "Thirteen thousand fans in the arena enjoyed it. And we did it for Miami. We didn't do it for anyone outside of that. I think it was fine. Good times."
He couldn't help himself. Wade was feeling bold and sounding giddy as he looked around and saw so much help after all that solo work he had to shoulder over a few long seasons in the wake of the Heat's championship in 2006.
Longtime teammate and close friend Udonis Haslem likened Wade to "a pig in slop right now," insisting that neither of them imagined that Riley could actually deliver James with Bosh.
Wade wasn't alone, either.
Juwan Howard, at 37, couldn't help but think of the free-agent deal he signed with the Heat in the summer of 1996, only for that deal to be voided by the league office because of a salary-cap miscalculation. At the end of his career, Howard has finally arrived on South Beach to chase his own first ring.
"It only took about 14 years," Howard said, beaming as he tugged at his white No. 5 Heat jersey.
Mike Miller is another grateful vet, given that each of his five previous trips to the playoffs in the NBA ended with a first-round exit and especially after what he endured after last season as a member of the Washington Wizards team destroyed by Arenas' 50-game suspension for bringing guns into the locker room.
"Definitely wasn't like this last year," Miller said with a smile, surveying the various media swarms on the BankUnited Center floor. "But if this is the worst thing that happens to us, we'll be fine.
"You've got to make it fun. Obviously you want to win a championship, but if you put too much pressure on yourself you're not going to be as successful. After looking around here [and seeing so many reporters], it's hard to say, but it's still just a game of basketball."
Said Wade: "It seems like years since July. ... So we're happy to [finally] get to the basketball side."


ESPN.com senior writer Marc Stein
• On Twitter @ESPNSteinLine | On TrueHoop | On ESPN.com | On email
• Follow ESPN's NBA coverage on Twitter | On Facebook | On Google+
ESPN Senior Writer
• Senior NBA writer for ESPN.com
• Began covering the NBA in 1993-94
• Also covered soccer, tennis and the Olympics
2010-11 NBA Preseason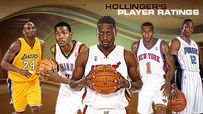 Follow the NBA on ESPN: Twitter / Facebook
Camp Index | Schedule | Scoreboard
LATEST CONTENT
SEASON PREVIEWS