Commentary
Wolverines high on Olaniyan's list
Buckeyes welcoming more than just the Trojans this weekend, while Stanford stays hot
Originally Published:
September 9, 2009
By
Jc Shurburtt
| Scouts Inc.
Linebacker Aramide Olaniyan (Woodberry Forest, Va./Woodberry Forest) remains committed to Duke, but Michigan and a number of other programs have recently caught the eye of the ESPNU 150 prospect.
The Wolverines are the team that appears to be making the strongest push for the No. 10 overall outside linebacker prospect. Olaniyan plans to be in Ann Arbor this weekend for an unofficial visit that will begin Friday and continue Saturday when Michigan plays host to rival Notre Dame.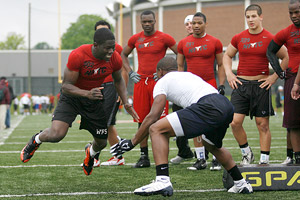 Tom Hauck for ESPN.comIt remains to be seen how long Aramide Olaniyan will stay committed to Duke.
"My level of interest in Michigan has really piqued," Olaniyan said. "I have been talking with [Wolverines receivers coach] Tony Dews about the school and I am very interested in seeing what they are all about. Duke is still my No. 1, though."
The 6-foot-2, 200-pounder will get an up-close look at the academics at Michigan on Friday before taking in the game the following day. Academics are very important for the aspiring attorney.
"I have always wanted to be a lawyer ever since I was a little kid," he said. "I am impressed with the ranking of Michigan's political science department and saw where they were ranked fourth."
There are four other schools that are contenders for Olaniyan in addition to the Wolverines and Blue Devils. Right now, Olaniyan also has an official visit scheduled to UCLA for the weekend of Nov. 21 and plans to visit North Carolina and either Vanderbilt or Wake Forest officially.
"I love Duke, but I just feel like I owe it to myself to check out Michigan and UCLA and some other schools and see what's out there," Olaniyan said. "The academics are very good at all the schools, but athletically, some of the schools may be on a higher level right now."
His final decision is going to be based on what program fits him best overall. He's not concerned about going far from home or the blessing of his parents, who came to the United States from Nigeria in 1980.
The talented pass-rusher projects as a linebacker, but the 16-year-old Olaniyan lines up mostly at defensive end for Woodberry Forest. He had four sacks during a four-way scrimmage his team participated in last week.
"I've been playing a little bit of outside linebacker every day," he said. "I probably will play some outside linebacker this week, but also will put my hand in the dirt."
The leaderboard
It's going to be a huge weekend in Columbus, Ohio, both on and off the field for Ohio State because multiple highly touted prospects, including five Under Armour All-Americans, are scheduled to be on campus for the game between the Buckeyes and Trojans (8 p.m./ESPN).
The nation's No. 2 overall prospect, linebacker Jordan Hicks (West Chester, Ohio/Lakota West), is scheduled to be on campus, and it could be an official or an unofficial visit. Most believe Hicks will end up either in Columbus or at Texas, though there are other schools in the mix as well.
Offensive lineman Seantrel Henderson (Saint Paul, Minn./Cretin-Derham Hall), who is the No. 4 overall prospect, is scheduled for an official visit and Ohio State is one of several schools that are in the mix for the 6-7, 295-pounder.
Also, cornerback Lamarcus Joyner (Fort Lauderdale, Fla./Saint Thomas Aquinas) will be making the trip back up to Columbus (his high school team actually played a game there a couple of weeks ago) for a visit. Joyner, who likes Florida State, Florida and the Buckeyes, is the No. 12 overall prospect in the country and will be joined by his high school teammate, four-star center Brandon Linder. Joyner is an Under Armour All-American
Athlete Corey Brown (Springfield, Pa./Cardinal O'Hara), offensive lineman Chaz Green (Tampa, Fla./Catholic), wide receiver James Louis (Delray Beach, Fla./Atlantic Community) and cornerback Joshua Shaw (Palmdale, Calif./Palmdale) are expected to attend the game as well. All are Under Armour All-Americans and ESPNU 150 prospects, and have Ohio State in the mix for their services. Louis is committed to the Buckeyes.

Hot sell: Stanford
This is not the first time Stanford has been the hot sell during this recruiting cycle and it probably won't be the last. Let's face it: This is one of the top storylines in college football recruiting. The Cardinal landed yet another top prospect from the Southeast earlier this week in Under Armour All-American offensive lineman Torrian Wilson (Miami/Northwestern). Wilson's pledge continues an impressive run by Stanford this year on the recruiting trail, particularly in the Southeast, and is the second talented offensive tackle from the region whom coach Jim Harbaugh and his staff have landed. David Yankey (Roswell, Ga./Centennial) committed to Stanford during the summer.
Coast-to-coast notes
Bray a big pickup

[+] Enlarge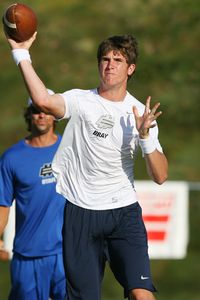 Tom Hauck for ESPN RISETyler Bray would be a good fit in the Volunteers' offense.
It wasn't too long ago that there was much gnashing of teeth around Knoxville, Tenn., concerning the Vols' quarterback recruiting -- or lack thereof. Shortly after, Under Armour All-American
Jesse Scroggins
' (Lakewood, Calif./Lakewood) commitment to USC was imminent. Then there were many questions about which direction the Vols would go. However, as early as that same week, Tennessee had started to take an interest in another Elite 11 quarterback,
Tyler Bray
(Kingsburg, Calif./Kingsburg), who was committed to San Diego State at the time.
However, the buzz around the Elite 11 was that a switch for the 6-6, 200-pound Bray was imminent after a very good performance. He was one of the best at the event and is clearly a good fit for the Vols' offense, which is why Tennessee was the school most mentioned. Bray has to add some strength and bulk (a fancy way of saying he's too skinny right now), but once he does the sky is the limit for him in Knoxville.
McReynolds has early offers

Class of 2011 ESPNU 150 Watch List defensive tackle Kevin McReynolds (Washington, D.C./Saint John's College) already holds scholarship offers from Maryland, New Mexico and UTEP. He picked them up in writing on Sept. 1, which was the first day that juniors could pick up written offers.
The 6-3, 280-pounder is also getting heavy attention from Pittsburgh, California and Oregon. He also has interest in Florida and Penn State.
"I am a long way from making a decision, but Oregon and Cal stand out to me right now," McReynolds said. "Those schools are showing me a lot of attention early. Cal and Pittsburgh are real close to offering; they just have to receive my transcripts and things like that."
He also said he is high on Maryland, which signed Under Armour All-American offensive lineman Peter White out of his school in the Class of 2009.
McReynolds, who described his playing style as "powerful and explosive," has four tackles for loss in his team's first two games this season.
Offers in for California DT

USC, Florida, Tennessee and Washington are the first four teams to jump in with a written offer for Class of 2011 ESPNU 150 Watch List defensive tackle Antwaun Woods (Woodland Hills, Calif./Taft). He also holds verbal offers from California, UCLA and Arizona and has interest in several other programs, like Oklahoma and Texas. Many believe Woods could contend for top prospect honors in the Golden State for the next recruiting cycle.
Pack still on top

North Carolina State is still the solid leader for ESPNU 150 defensive end Fre'Shad Hunter (Cary, N.C./Cary). He was on campus for an unofficial visit Thursday night when the Wolfpack played host to South Carolina. Florida State, LSU, Florida and Ohio State are the four other programs Hunter mentioned as being possible official visit destinations.
Short Stuff

ESPNU 150 wide receiver Sean Tapley (Jacksonville, Fla./Raines) remains committed to South Carolina, but attended Monday night's Miami-Florida State game and reportedly came away impressed with the Hurricanes' offensive play calling and system. Coaches from Miami, North Carolina and Ole Miss have been in contact. ... Arkansas is the most recent written offer for Class of 2011 ESPNU 150 Watch List safety Franklin Shannon (Dallas, Texas/Skyline). ... Another 2011 Watch List member, tight end Drew Owens (Charlotte, N.C./Ardrey Kell), recently got a written offer from longtime favorite North Carolina. The Tar Heels are the clear leader for the talented jumbo athlete.
JC Shurburtt covers recruiting for ESPN.com. He can be reached at jcsespn@aol.com.
EDITORS' PICKS
Ready to start?

Rivalry recruiting

Comparing scouts
MORE COLLEGE FOOTBALL HEADLINES