Who just missed the cut?
There is plenty of talent outside the ESPNU 150, writes Craig Haubert.
Originally Published:
August 5, 2008
By
Craig Haubert
| Scouts Inc.
On the surface, 150 prospects seems like a lot. But when you think about a player being among the top 150 prospects in pool comprising the nearly 2,000 players we scouted, the accomplishment is a lofty one. Heading into this year's ESPNU 150, we saw more prospects in person and evaluated more film than ever.
While the players in the 150 are deserving, we are also aware that there are players who just missed the cut but are also fine prospects in their own right and deserve mentioning. As you study the ESPNU 150, I am sure many of you uttered the phrase "I can't believe they don't have that guy on the list." Therefore, we thought it would be prudent to look at the guys who narrowly missed inclusion in the first edition of the ESPNU 150.
Let's start out by taking a look at the offensive sleepers. Two talented wide receivers prospects were debated but on the outside looking in at the end. One is Florida commit Nu'Keese Richardson (Pahokee, Fla.) a diminutive but talented receiver. From the land of speed, Richardson is fast and tough. He lacks ideal size and strength, but he will play like he is much bigger. He is a crafty route-runner with soft hands. His size will limit some parts of his game, but this kid is a good player who can make plays and get the job done. It would be no surprise if we heard from this kid again as the 2009 ESPNU 150 evolves.
Another receiver is Rodney Smith (Miami, Fla. / Archbishop Carroll), who is committed to Florida State. Unlike Richardson, Smith is a big kid -- about 6-foot-6 --and a large target that can be a handful in the red zone. Smith is a natural pass-catcher with big, strong hands. He needs to keep filling out his frame and improve as a route-runner, and he is not the most explosive player after the catch. The ESPNU 150 had 18 receivers and came close to having 20 with Smith and Richardson.
More Recruiting Coverage

ESPN's in-depth look at the top talent in high school football involved scouting nearly 2,000 prospects. The ESPNU 150 will change throughout the year with a player's final ranking getting determined before national signing day.
• The 150 | Recruiting index
• Scorecard | On the Trail
A healthy senior season could allow running back
Knile Davis
(Marshall, Texas) to contend for a place in the ESPNU 150. A big and talented back, he suffered an injury his junior year that forced him to miss time. Even with the injury, we saw enough in his limited playing time to realize this kid is pretty good. We like his size and he runs with good lean and flashes nice body control. He runs hard and dishes out punishment. He does not show outstanding straight-line speed or a great second gear, but he is a kid who could be a high-carry, workhorse type back.
The offensive line is well represented in the initial release of the ESPNU 150 with 20 big hogs making it. Still, there were more linemen who drew strong consideration. At the top of that list is center Mark Brazinski (Somerville, NJ / Immaculata), a near miss for the initial release of the ESPNU 150. Not many true centers have made the ESPNU 150 in its history, but Brazinski reminds us a lot of a past center who has. 2008 prospect Braxston Cave (Granger, Ind. / Penn) cracked the 150 with a terrific week at the Under Armour game this past January. His physical and tenacious run-blocking style reminds us of Brazinski. So this Rutgers commit could crack the 150 with a strong senior year.
Another lineman that missed the cut is the underrated Will Jackson (Knoxville, Tenn. / Farragut). This guard prospect has good size and is both athletic and a good technician. The aggressive Georgia Tech commit plays hard and smart. Though he missed the list, Jackson is worthy of attention.
[+] Enlarge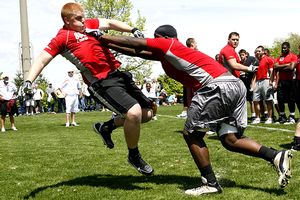 Tom Hauck for ESPN.comWilliam Campbell's power is best suited for the offensive line.
William Campbell
(Detroit/ Cass Tech) was the subject of much debate. We recognize he has plenty of talent, but he fell short of a 150 grade at this time. We also feel he is not a defensive lineman at the college level -- he will be a better fit on offense. He reminds us of former Cass Tech prospect
Joseph Barksdale
, a defensive tackle prospect who will be playing offensive tackle this year for LSU. Campbell may enter college as a defensive tackle, but we think, much like Barksdale, he will end up on offense. Campbell is a big, but raw prospect who needs to keep developing his game. It is easy to become enamored with his measurables, which garnered attention among recruiting fans, but he is a kid we will keep an eye this season.
On the defene are several defensive back prospects who were considered. A pair of corners who came close are D.J. Hunter (Middletown, Ohio) and David Gordon (Tulsa, Okla. / East Central). Gordon, an Arkansas commit, is a tall and savvy cornerback prospect. He is fast and can play the pass well. He needs to improve his strength and keep developing his frame, but he is a great athlete who could be an excellent cornerback in time. Hunter is kid who could project to corner or safety; in our eyes safety may be the better fit. He does not have your prototypical cornerback build, but he is a smooth athlete. Hunter plays the pass and run well and is a productive player as a blitzer. He comes across as a non-flashy and competitive kid who could make a move up in his senior year.
The safety position is a talented and deep this year. Twelve made the 150 and several more vied for a slot. Dele Junaid (Fort Bend, Texas / Hightower) a tall ball-hawking safety, narrowly missed the list. He displays good body control and plays the pass well. He is a reliable open-field tackler that can make some big hits. He is an athletic kid who is a solid and reliable player. Another safety who garnered some attention at our 150 meeting was Tevin McCaskill out of the talented Miami Northwestern program in Florida. McCaskill is tall, lean, and rangy, and he is strong as a zone-coverage defender. He plays his responsibilities well and can make some plays on the ball. He does need to improve his play in run support and be a more solid tackler.
The inside linebacker position was thin this year in the ESPNU 150, but we do want to point out Petey Smith (Seffner, Fla. / Armwood), a prospect who received consideration. Smith lacks ideal height, but he is a thickly-built kid who can be a dominant inside run-stopper. Smith plays fast and physical on every snap, but his overall fluidity is a bit of a question. He had an impressive sophomore campaign, but seemed to tail off as a junior. If he can return to his 2006 form, he could very well boost the number of inside linebackers represented in the ESPNU 150 by one.
John Simon (Youngstown, Ohio / Cardinal Mooney) was highly debated for a slot in the rankings. Simon is a tough, high-motor defender. He is an easy kid to like as a football player; he lines up and battles in the trenches. He needs to add bulk and watch his pad level. This Ohio State commit is a good prospect who will be watched closely as the season kicks off. Another defensive lineman we want to mention is end Anthony LaLota (Princeton, N.J. / The Hun School). His teammate and fellow linemate Tyler Stockton made the 150, but LaLota was a near miss. Considering he is still new to the game, his ability is impressive. He displays good raw tools but needs to keep fine-tuning his game. As he enters his senior season and gets another year of experience, he could jump into the 150. Two other defensive lineman who just missed the list were defensive ends Jamil Merrell (Newark, Del. / Paul M. Hodgson Voc-Tech) and Terrence Coleman (Mobile, Ala. / Williamson). Merrell needs to add bulk and does not play against the greatest competition, but he is a good athlete with excellent upside. Coleman is a versatile prospect who could play end or tackle. He is a physical and high-motor kid who can be explosive off the ball.
Nineteen athletes made the 150, but there were even more who received consideration. One is Justin Green (Louisville, Ky. / Male) a fast-twitched athlete with excellent speed and burst. He can play on offense, defense or in the return game. As a running back he is more of a scat-back, as strength and durability could be a concern as an in-line runner, and at corner he needs to improve his run support, but overall he is a talented prospect. Another is Theron Norman (Richmond, Va. / Hermitage) a big, fast and versatile player who could project to receiver or safety.
Lastly is a kicker. Yes, a kicker received some serious consideration, but came up short. Florida State commit Dustin Hopkins (Houston, Texas / Clear Lake) has a strong leg and can be an asset. With so many good prospects at other positions though, it is tough for a kicker to crack the ESPNU 150.
The ESPNU 150 will keep evolving as we work towards signing day. These players could make a push for a slot in the 150 at some point, as could others as we continue to evaluate film.
Craig Haubert covers recruiting for Scouts Inc.
ESPN Staff Writer
National recruiting analyst and analyst for ESPNU
More than a decade of college and pro coaching experience.
Graduated from Indiana and Nebraska-Omaha
2009 ESPNU 150

After the most intensive research effort in Scouts Inc. history, the rankings are in. A pair of talented signal-callers and a gun-slinging athlete lead the first edition of the 2009 ESPNU 150.
Features
•
Luginbill: Breaking down the 2009 WRs
•
Luginbill: Talented arms top 150
•
Lawlor: Shepard a born leader
•
Haubert: Plenty of talent on the cusp
•
Conley/Tucker: Ten Sleeper Prospects
•
Luginbill: Breaking down the 2009 quarterbacks
•
Conley: Breaking down the 2009 OTs
•
Luginbill: USC new No. 1 in class rankings
•
Tucker: Breaking down the 2009 OLBs
•
Haubert: Breaking down the 2009 DEs
•
Luginbill: Breaking down the 2009 wideouts
•
Conley: Breaking down the 2009 safeties
•
Haubert: Breaking down the 2009 TEs
•
Tucker: Breaking down the 2009 RBs
•
Luginbill: Breaking down the 2009 athletes
•
Conley: Breaking down the centers and guards
•
Tucker: Breaking down the 2009 DTs
•
Tucker: Breaking down the 2009 ILBS
•
Haubert: Breaking down the 2009 DTs
•
Tucker: Breaking down the 2009 CBs
MORE COLLEGE FOOTBALL HEADLINES