2010 Nike Football Training Camps
Originally Published:
December 18, 2009
2009 SCHEDULE AND ONLINE REGISTRATION COMING SOON!
2009 will mark the 13th year of the Nike Football Training Camps. Below are some frequently asked questions and answers to give you a better understanding about the camps.
Q: Who attends the Nike Football Camps and what is their purpose?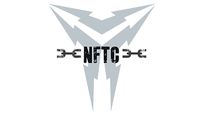 A:
The Nike Football Training Camps are designed to help elite high school players with college potential advance their football and training knowledge in order to maximize their ability. Participants are taught position-specific and athletic performance drills designed by some of the top NFL football players and sports performance specialists in America, and it is all free for the athletes. The players will have an opportunity to work with SPARQ Trainers that have molded stars such as Deion Sanders, Walter Jones, Calvin Johnson, Derrick Brooks, and many more.
Q: What exactly happens at a camp?

A: Athletes who come to the Nike Football Training Camp will register, where they will pick up their free Nike Pro workout shirt, and get their photo taken. After height and weight are measured, the Nike Football Training Camp is broken down into three parts:
1. SPARQ training: After a proper, supervised "dynamic warmup," SPARQ trainers work participants through specific drills designed to improve athletic ability, speed and explosiveness. Here, athletes have the opportunity to tap into the secrets of proper workouts that have helped players make it to the NFL, including cone and ladder drills. This period educates participants on how to improve football-specific speed, agility and quickness movements, and also how to train specifically for the needs and requirements of their individual positions.
2. Position specific drills: Participants are separated into position groups (QBs, RBs, WR/TEs, OLs, DLs, LBs and DBs) to work individually on football skills and techniques with top-notch position coaches with college and NFL experience.
3. One-on-ones: The Nike Camp concludes with one-on-one passing and non-contact line drills, which many say are the highlight of the camp.

[+] Enlarge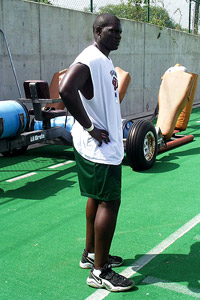 ESPNRISE.comTommie Harris made a name for himself at a Nike Football Training Camp.
Q: Are there other benefits?

A: Definitely. The Nike Football Training Camps provide the best opportunity for national exposure that a camp can offer. Reports on the top performers in drills are delivered each week to Division I college football programs all over the nation. Video and action photos for ESPN and other national media will be taken. Participants will also be part of the in-depth coverage on ESPN.com and ESPNU.

Q: How does a player get registered to attend a Nike Football Training Camp?
A: The Nike Camps are free and registration information is sent out to top players/recruits who are in the Class of 2010. Players can be recommended by their coach as a high level recruit to preregister for the camp. If a recommendation is not possible then a player may send in a 5 min. video highlight tape so he can be evaluated. A third way to get registered is to test well at a Nike Combine.

Coaches can send in recommendations as soon as the season is complete; please include 2009 statistics, height, weight, position, honors/accolades, etc. with videotape if possible. Mail tapes and recommendations to:
ESPN RISE Attn: Nike Camps
23954 Madison St.
Torrance CA 90505
1-800-660-1334
Players whose recommendations are accepted will be mailed back Nike Camp registration information.

[+] Enlarge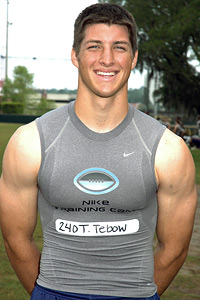 ESPNRISE.com Tim Tebow honed his passing and running abilites at a Nike Camp before heading to Florida.
Q:
I've heard one benefit of the camp is seeing other great players. Is that true?
A:
Yes, the camps are known for the quality of football players they attract and one benefit to you will be seeing how you rate with your peers. Consider these numbers:
• Every year, about one of every three Nike Camp attendees signs with a D-I college, and this past year, 47 percent of high school seniors who signed a football scholarship attended a Nike Camp.
• The consensus No. 1 player in eight of the past nine classes -- USC's Joe McKnight (Class of '07), Florida State's Myron Rolle (Class of '06), Penn State's Derrick Williams (Class of '05), Detroit Lion Ernie Sims (Class of '03), Philadelphia Eagle Lorenzo Booker (Class of '02), Chicago Bear Kevin Jones (Class '01), Denver Bronco D.J. Williams (Class of '00) and current Seahawk T.J. Duckett (Class of '99) felt it important enough to attend one of the Nike Football Training Camps.
• Every top college football program evaluates and signs recruits who come to Nike Camps: for example, every one of the 119 Division I college football programs currently has a Nike Camp alum on the roster. Also, in the past, major programs like Oklahoma, USC, Florida and Ohio State have signed more than a dozen Nike Camp attendees in one class!
• Here's a look at some of the biggest names from the Nike Camp's past.
Current Nike Camp alums in the NFL
LB Lance Briggs (Bears)
RB Matt Forte (Bears)
DT Tommie Harris (Bears)
DB Devin Hester (Bears)
RB Kevin Jones (Bears)
WR Brandon Lloyd (Bears)
QB Kyle Orton (Bears)
CB Leon Hall (Bengals)
QB Carson Palmer (Bengals)
LB Keith Rivers (Bengals)
QB Trent Edwards (Bills)
QB J.P. Losman (Bills)
RB Marshawn Lynch (Bills)
LB Paul Posluszny (Bills)
WR Josh Reed (Bills)
DB Donte Whitner (Bills)
DB Ashton Youboty (Bills)
WR Keary Colbert (Broncos)
QB Jay Cutler (Broncos)
DE Elvis Dumervil (Broncos)
WR Eddie Royal (Broncos)
LB D.J. Williams (Broncos)
QB Derek Anderson (Browns)
FB Lawrence Vickers (Browns)
DB Phillip Buchanon (Buccaneers)
RB Cadillac Williams (Buccaneers)
DT Darnell Dockett (Cardinals)
WR Larry Fitzgerald (Cardinals)
QB Matt Leinart (Cardinals)
DB Antrel Rolle (Cardinals)
DT Gabe Watson (Cardinals)
OL Marcus McNeill (Chargers)
SS Eric Weddle (Chargers)
QB Brodie Croyle (Chiefs)
DB Jarrad Page (Chiefs)
DB Bernard Pollard (Chiefs)
DB Daymeion Hughes (Colts)
DB Tim Jennings (Colts)
LB Kevin Burnett (Cowboys)
RB Felix Jones (Cowboys)
DE Marcus Spears (Cowboys)
DB Jason Allen (Dolphins)
WR Ted Ginn (Dolphins)
QB Chad Henne (Dolphins)
RB Lorenzo Booker (Eagles)
WR Desean Jackson (Eagles)
OL Justin Blalock (Falcons)
WR Jason Hill (49ers)
RB Michael Robinson (49ers)
DT Barry Cofield (Giants)
DE Jerome McDougle (Giants)
LB Gerris Wilkerson (Giants)
DE Derrick Harvey (Jaguars)
TE Marcedes Lewis (Jaguars)
FS Reggie Nelson (Jaguars)
TE George Wrighster (Jaguars)
QB Kellen Clemens (Jets)
TE Dustin Keller (Jets)
WR Brad Smith (Jets)
LB Vernon Gholston (Jets)
OL Gosder Cherilus (Lions)
DT Shaun Cody (Lions)
LB Ernie Sims (Lions)
RB Kevin Smith (Lions)
LB Jon Beason (Panthers)
DB Richard Marshall (Panthers)
RB Jonathan Stewart (Panthers)
QB Matt Cassel (Patriots)
DB Randall Gay (Patriots)
WR Chad Jackson (Patriots)
TE David Thomas (Patriots)
DB Tye Hill (Rams)
TE Joe Klopfenstein (Rams)
RB Brian Leonard (Rams)
DB Nnamdi Asomugha (Raiders)
RB Darren McFadden (Raiders)
TE Zach Miller (Raiders)
LB Kirk Morrison (Raiders)
QB JaMarcus Russell (Raiders)
QB Kyle Boller (Ravens)
RB Willis McGahee (Ravens)
DT Haloti Ngata (Ravens)
RB Ray Rice (Ravens)
DT Kedric Golston (Redskins)
RB Clinton Portis (Redskins)
WR Robert Meachem (Saints)
LB Jonathan Vilma (Saints)
RB T.J. Duckett (Seahawks)
DE Lawrence Jackson (Seahawks)
WR Santonio Holmes (Steelers)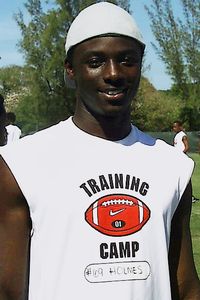 ESPNRise.comSantonio Holmes, now of the Pittsburgh Steelers, showcased his blazing speed at a Nike camp.
LB Lawrence Timmons (Steelers)
LB LaMarr Woodley (Steelers)
TE Owen Daniels (Texans)
WR Andre Johnson (Texans)
DT Amobi Okoye (Texans)
RB Steve Slaton (Texans)
DB Michael Griffin (Titans)
RB Chris Henry (Titans)
WR Brandon Jones (Titans)
LB Stephen Tulloch (Titans)
QB Vince Young (Titans)
LB Chad Greenway (Vikings)
WR Sydney Rice (Vikings)
DE Kenechi Udeze (Vikings)
Currently over 150 Nike Camp alums currently dot NFL rosters, and that number is sure to grow in the next six months as current college stars that attended a Nike Camp complete their senior seasons and get ready for the NFL Draft. The Nike Football Training Camps are where the best go to compete and get better!

Q: Can a bad performance at the Nike Camp hurt my stock?

A: No, definitely not. The Nike Camp is about getting better and competing. Participants DO NOT test! This is not a combine -- doing the 40s, bench, etc. is not a part of the event. Testing is done at the earlier Nike Combines, which will run from Feb.-June at 16 locations around the country.

Bottom line, this is a top-of-the-line, well-organized event that top players can come to compete with and learn from the best. Don't let someone tell you not to go to a Nike Camp without calling us at 800-660-1334 to put your concerns to rest, as there is a lot of misinformation out there and it's important to go to the source with questions. ESPN RISE always places your best interests first!

• For more information regarding the 2010 NFTCs, if you are a coach recommending a player, or to submit an all-state or all-area team with nominees on it, please contact Brian Stumpf - National (brian@studentsports.com) or Greg Biggins - West (greg@studentsports.com) or Michael White Midwest (michael@studentsports.com).

EDITORS' PICKS
Ready to start?

Rivalry recruiting

Comparing scouts
MORE COLLEGE FOOTBALL HEADLINES