Commentary
Barry Sanders Jr. high on FSU
ESPU 150 running back makes second trek from Oklahoma to visit FSU campus
Updated:
June 21, 2011, 7:20 PM ET
By
Corey Long
| ESPN Recruiting
TALLAHASSEE, Fla. -- ESPNU 150 running back Barry Sanders Jr. (Oklahoma City, Okla./Heritage Hall) stopped by for the Monday afternoon session of the 2011 Jimbo Fisher Football Camp.
The 5-foot-10, 185-pounder considered participating but eventually decided against it.
"I might work out in the afternoon session," Sanders Jr. said. "I'm not sure yet, but we'll see. It's pretty hot out here."
This is Sanders' second unofficial visit to the campus.
"I really like it here. I like the coaching staff with Coach Fisher, of course," Sanders said. "They are looking good on the field and it looks like they will be very good in the future."
Sanders has been to a few other campuses this offseason and went to Auburn over Memorial Day for its "Big Cat" weekend.
"That was real cool. I got a chance to hang out with some of the guys," Sanders said. "I mainly went because I knew Coach [Curtis] Luper and Coach Trooper Taylor. They wanted me to come so I did it because they asked."
Sanders says he will play his offseason schedule by ear and is eyeing a junior day event at Stanford on July 25th.
[+] Enlarge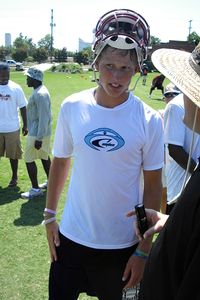 Corey Long2013 QB Brice Ramsey says his relationship with Mike Bobo will keep him in Georgia's camp.
Ramsey has perfect strategy
Class of 2013 quarterback Brice Ramsey (Kingsland, Ga./Camden County) has a plan: going to a camp, learning something new and trying to get a verbal offer.
So far it has been working.
Last week, when the 6-3, 190-pounder was at Florida, he impressed and received an offer. He hoped Fisher and the Seminoles would have similar news for him and sure enough, they also offered on Tuesday.
"I like FSU," Ramsey said. "They are on top of the ACC most of the time. I remember watching them when I was younger and Coach [Mark] Richt was here. They are getting back to that place again."
Ramsey has been to camps at Clemson, Georgia and Florida. All three gave offers after he threw for them.
The natural questions about Ramsey begin with him being in an offense that runs on roughly 90 percent of its plays. However, Ramsey expects things to open up this year.
"They are opening it up a lot because we've got some good receivers and they see that I can throw the ball around a little bit so they will get some balance in there," Ramsey said. "We're working on some short passing stuff and some shotgun."
Ramsey, Camden County and their new offense will be on national television twice this fall -- against Cleveland Glenville in the Herbstreit Classic and at home against Treasure Coast (Port St. Lucie, Fla.).
Madaris feels the heat
Another impressive out-of-town prospect who turned heads was wide receiver Monty Madaris (Cincinnati/Archbishop Moeller). The 6-1, 190-pounder came to Tallahassee with one of his position coaches who was working at the camp.
Madaris worked out with some of the quarterbacks Sunday and took in both sessions Monday.
"I enjoyed it. It was very hot though," Madaris said. "I was very impressed with the competition out here.
"There were two quarterbacks, Sean Maguire [West Orange, N.J./Seton Hall Prep] and Jacob Guy [Dade City, Fla./Pasco] that were real good. One of them [Maguire] is already committed here."
Madaris has offers from several schools, including Nebraska, Kentucky, Louisville, Indiana and Illinois.
"Right now I have 14 total. I haven't shortened my list yet, but I plan to very soon," Madaris said.
He doesn't have an offer from Florida State, but he expects that to change in the near future.
"I'm definitely interested in this program. They haven't offered yet, but I bet they will," Madaris said. "Especially based on my performance at this camp.
"But right now I'm going to go back home, work out with the team and I'll probably visit Michigan State one more time in the next few weeks."
More camp notes
• Class of 2013 defensive back Vernon Hargreaves III (Tampa/Wharton) came in for the Tuesday morning session and received plenty of attention from FSU defensive coordinator Mark Stoops. "Oh yeah he was joking around with me a lot and telling me how he taught me everything I knew back when I was little and he was coaching at Miami," Hargreaves said. "He and my dad go back a long ways." Hargreaves' father, Vernon Jr., is an assistant coach at USF.
• Rising junior running back Ryan Green (St. Petersburg, Fla./St. Pete Catholic) was in for his second day of sessions at the camp. Just last week, the 5-9, 180-pounder received an offer from Kentucky, his first verbal offer of the season. "They were trying to keep it a secret from my dad because the coaches there know him pretty well," Green said. "But he found out as he always does and was real excited." Green says he's a fan of Kentucky and also likes Florida State, Notre Dame, Georgia and UCF.
• Donaldven Manning (Miami/Central) sat out the Tuesday morning session when he reaggravated a leg injury, but the Virginia Tech commit felt like his efforts on Monday turned some heads. "I think the coaches at FSU always knew I could play but I wanted them to see me close up," Manning said. "I loved the competition here and that's what I'm about." Manning said he didn't tour the campus but is planning on taking an official visit in the fall.
• Senior athlete A.J. Legree (Fort White, Fla./Fort White) didn't participate in the final session but will be heading to USF's Super Bull showcase this weekend. Legree has offers from Western Kentucky and Florida International along with a conditional offer from USF.
Reporter, RecruitingNation
Covers recruiting in the Southeast
Joined ESPN in 2009
EDITORS' PICKS
Ready to start?

Rivalry recruiting

Comparing scouts
MORE COLLEGE FOOTBALL HEADLINES