Commentary
Iron Bowl turns mortals into heroes
Originally Published:
November 19, 2004
By
Pat Forde
| ESPN.com
More than half of Bill Newton's life has gone by since that fateful day at Legion Field, when he hit Bear Bryant and all Crimson Tide fans where it hurt most. It's been 32 years since perhaps the most famous Iron Bowl of them all -- the Punt, Bama, Punt game, as it is known in state lore -- and they're not tired of talking about it yet.
"It comes up this time every year," says Newton's wife, Sarah. "Without fail."
This time every year, they reminisce about the stunning December Saturday when an all-but-beaten Auburn team rallied to upset undefeated, No. 2 Alabama 17-16. They did it in unimaginable, "Groundhog Day" fashion: consecutive blocked punts in the final six minutes, both returned for touchdowns by defensive back David Langner.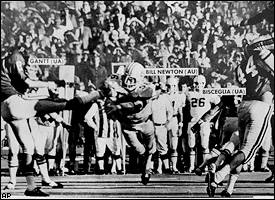 Bill Newton (center) became a legend when he blocked two punts in the final six minutes as Auburn shocked No. 2 Bama in 1972.
The man who blocked both kicks: an overachieving former walk-on linebacker named Bill Newton.
"That put my name in the books," Newton says, with an embarrassed laugh.
Earlier this week Newton was in Birmingham for a gathering of former Auburn and Alabama players to benefit children with cerebral palsy, and he was amazed to see Tigers fans coming forward with old pictures of him blocking one of those Alabama punts. They asked for autographs, and told him how they'd passed on the story of the game to their kids.
"It always humbles me when it comes about," he said. "It has really held on in the minds of Auburn people."
This is why the Iron Bowl might be the most compelling -- and, on another level, the most troubling -- football rivalry in America. Every year there is a chance that some young man will do something that the entire state remembers forever. When Auburn and Alabama meet in Tuscaloosa Saturday for the 59th time, an opportunity for immortality will hang in the air.
The opportunity will be there for the Tigers to complete an 11-0 regular season and continue their unexpected quest for the school's first national title since 1957. And the opportunity will be there for the injury-wracked, 6-4 Crimson Tide to do what that Auburn team did in '72 -- be the giant-killer, the season-wrecker, the history-maker.
Former Alabama coach Mike DuBose, who was on the losing side in '72, aptly described the magnified outcome of the Iron Bowl in the book, "A War In Dixie": "It's the kind of game I didn't enjoy playing in. The game is never over. You kept repeating it and repeating it and repeating it. ... It's never over until you play it again next year."
And if you're involved in a major upset in the series, it isn't even over then. The Iron Bowl winner is always cherished, but the teams and players that have won gloriously when it wasn't expected are held in even higher regard.
Exhibit A: For a mere $2,000, you can buy a "Time-Limited Edition Original Canvas Replica" of a painting by popular Alabama artist Daniel Moore of the 52-yard Van Tiffin field goal that upset No. 7 Auburn 25-23 on the final play in 1985. That's two grand, for a replica of a painting of a 19-year-old kick.
Or you could do what one Alabama fan did after that victory by the unranked Tide: name your pet poodle Tiffin.
Saturday, somebody just might do something worthy of having a pet named in his honor. But even without a dog-naming moment, there have been some major upsets in Iron Bowl history that have elevated or deflated reputations.
First-year coach Dennis Franchione gained instant credibility at Alabama by upsetting No. 17 Auburn on the road, 31-7, in 2001 -- and correspondingly put the pressure on Tigers coach Tommy Tuberville. The next year Tuberville got back in good graces with a 17-7 upset of No. 9 Alabama in Tuscaloosa (a game that also cemented the reputation of then-offensive coordinator Bobby Petrino, currently on the rise as head coach at Louisville).
In 1989, Bill Curry brought a 10-0, No. 2-ranked Alabama team to Auburn for the first game in series history on The Plains. Auburn earned a 30-20 triumph that dropped Curry's record in the series to 0-3. Little more than a month later, Curry left for Kentucky.
That was a great moment for Auburn coach Pat Dye. So was beating the Bear by a single point in Bryant's final Iron Bowl, 23-22 in 1982.
But the apex of Auburn glory in the rivalry was that December day in 1972.
There are no reports from the early '70s of a spike in dogs named Newton, but the linebacker's heroics did spawn a popular bumper sticker. "Punt Bama Punt," it read in blue and orange, mocking the Alabama chant of "Roll, Tide, Roll."
Newton remembers the game as if it were played last week.
"They were undefeated, No. 2 in the nation," he says. "We shouldn't have been able to stand in their way. We were a 14-point underdog, and that was very respectable, considering what Alabama had done to its opponents that year."
Only LSU had come within a touchdown of the Tide all season -- and LSU beat Auburn by four touchdowns in October. The Tigers hadn't lost before or since, but this seemed like Mission Impossible.
Nevertheless, Auburn's defense kept it in the game, while the offense couldn't finish a drive. Finally, it became necessary for the Tigers' special teams to win it on their own.
On the first fateful fourth down, Newton took the signal from the sidelines: outside punt block. He lined up on the outside shoulder of the offensive guard -- and when the Tide overcompensated to handle the rush from the outside, he shot in cleanly up the middle.
Thump, the ball hit punter Greg Gantt's foot.
Thump, the ball hit Newton's outstretched arms.
"It was like slow motion," Newton says. "I just gauged it where I could take the ball off his foot. It got an incredible bounce, and David Langner returned it about 35 yards. I've always said I was thankful it was him and not a defensive lineman, who probably would have just fallen on it."
Alabama got the ball back and gained one first down, but Auburn stopped an option play on third-and-four to force another punt with about 90 seconds left. Newton said Auburn's coaches made the same call -- outside punt block -- and Alabama made the same errors in its blocking scheme.
Thump-thump.
"I tore through the line and saw the upback take a man from the outside," Newton says. "I blocked the punt, I'm laying there, I saw it bounce, and Langner was in about the same place he was last time.
"It was unreal. I've never been in a situation that matched that."
Newton had come a long way just to get to that situation. Growing up in Fayette, Ala., his family did not have running water or indoor plumbing until he was 13. He and twin brother Bob were the youngest of five boys -- but Bob outgrew Bill and earned a scholarship to play football at Auburn. Bill tagged along as a walk-on.
A growth spurt between high school and college made him a respectable 6-1, 215 pounds. An oversized heart helped make him a three-year letterman and two-year starter. And a six-minute stretch of the Iron Bowl his junior year made him an Auburn hero.
Today Bill Newton still lives in Fayette, where he owns a company that operates oil and natural gas wells. His wife is a member of the Auburn board of trustees. His oldest son is an Auburn grad and his middle son is a current student there. Odds are 1-10 that his third son winds up at Auburn as well.
And, yes, he will be in the stands Saturday at Bryant-Denny Stadium.
"I'll be there," Bill Newton says. "I'll be with my boys sitting up there, in our orange."
And chances are good that someone sitting around him will remind him of the day 32 years ago, when he made Iron Bowl history.
Pat Forde is a senior writer at ESPN.com. He can be reached at ESPN4D@aol.com.
EDITORS' PICKS
Jameis Winston, the potential No. 1 overall pick, drew coaches from all 32 NFL teams to Florida State's pro day.
Jared Shanker »

Trending in NOLA: The latest Saban-Miles battles.
Crabtree

Dynamic duo
MORE COLLEGE FOOTBALL HEADLINES