Commentary
Tragedy pushes football down the list
Updated:
February 15, 2005, 11:47 AM ET
By
Chris Fowler
| ESPN Insider
Forgive me.
My take on the games of Championship Saturday, the BCS mess, Tyrone Willingham's firing and the final Heisman push will follow. But first, I hope you'll indulge me for a few paragraphs. For some reason, I can't even focus on this stuff for long without another matter intruding.
The story I can't shake, that keeps pulling me back from whatever I'm reading, watching or listening to, that keeps filling my stomach with a dull, sick feeling is the tragic crash of the plane carrying NBC Sports boss Dick Ebersol and his two sons. The images of the plane in flames … the eyewitness accounts of 21-year-old Charlie pleading for someone to help him find his little brother in the wreckage … the newspaper photo of the smiling family outside a movie screening … it's all quite haunting.
Why? We hear tragic stories every day, if we're paying attention. Roadside bombs in Iraq. Shootings in Wisconsin. Plane crashes. We take in the news, feel sad and move on as the pain quickly fades. It's a defense mechanism, of course.
But why does a particular story strike our hearts? Why does the death of 14-year-old Teddy Ebersol, whom I never met, keep yanking me back from the little issues of college football?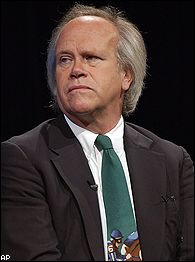 Images of the crash of Dick Ebersol's plane made it hard to focus on college football.
For one, I keep imagining the grief of his parents. I like and greatly admire Dick and his wife, Susan Saint James. Dick is a giant in the TV business and a true class act. Those two rarely go together. I'd also been impressed with Charlie, who'd once visited ESPN with some buddies. What shock and agony must they feel during these times? I can't fathom it. My college roommate was burned and killed in a plane crash. But it's not that. It's not the same as a son, or a kid brother.
The Ebersols were en route east from the same USC-Notre Dame game I'd just covered. As a Coloradoan, I've taken off many times in cold, snowy weather from small airports like the scene of the Ebersols' crash. I've sometimes wondered, "Are we pushing it? Is it safe?"
Maybe those are reasons why this strikes me so strongly. I don't know. Maybe it's also the heroic aspect of the story: Charlie struggling to pull his dad from the burning wreckage, saving Dick's life.
All I know is that a promising, popular 14 year old is dead, and somehow, to me, the outrage over the injustices of the BCS don't seem quite as meaningful. My heart goes out to this strong family.
It's a reminder. Each day we have here is precious. You never know.
Now to football … sort of
You clicked here to read a column about college football. I understand that, and I thank you for indulging me.
The last thing the Ebersols did as a family before boarding the plane was watch what turned out to be Tyrone Willingham's final game at Notre Dame. So much has been written and said about the firing that I won't cover old ground, except to offer a couple observations.
Notre Dame considers itself a "special" place, unique on the landscape of American universities. That belief is well founded. The football program, in particular, has been special.
But any Domer's defintion of what makes it special goes beyond the national titles and the Heisman trophies, the legends of the past and the unmatched lore. The specialness is supposed to be about the spirit, the way of doing things, a higher standard of behavior, an old-school integrity.
To continue reading this article you must be an Insider
Insider
College Football
Since 1989, Chris Fowler has been ESPN's primary college football and men's college basketball studio host. He's anchored College GameDay, the network's award-winning Saturday morning college football preview show, since 1990.
EDITORS' PICKS
Jameis Winston, the potential No. 1 overall pick, drew coaches from all 32 NFL teams to Florida State's pro day.
Jared Shanker »

Trending in NOLA: The latest Saban-Miles battles.
Crabtree

Dynamic duo
MORE COLLEGE FOOTBALL HEADLINES