Commentary
Fulmer creates media circus he hoped to avoid
Updated:
July 29, 2004, 7:53 PM ET
By
Wayne Drehs
| ESPN.com
BIRMINGHAM, Ala. -- You would have thought it was Steve Spurrier. Or maybe even the Bear himself.
While every other Southeastern Conference coach spent the last three days standing at a podium and spouting clichés about taking the season one game at a time, Tennessee coach Phil Fulmer managed on Thursday to turn the annual SEC Media Days into the circus he was hoping to avoid by not showing up at all.
Instead, the nine television cameras, four spotlights and eleven photographers were focused on a speakerphone with Fulmer on the other end. The 200 print reporters, filling a hotel ballroom to its limits, were tuning their ears to nothing more than a telephone call.
You would have thought it was a courtroom. A lawyer's office. Or maybe a really top-notch Hollywood soundstage. Instead, the terms "rogue lawyers," "subpoena" and "frivolous lawsuit" were mouthed at a preseason football press conference.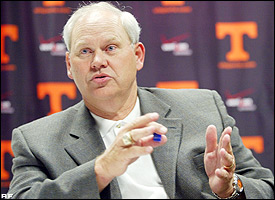 Tennessee's Phil Fulmer has the best winning percentage (.805) among active coaches with at least 10 years experience.
Fulmer and UT officials announced Monday he wouldn't be attending due to concerns that local Alabama lawyer Tommy Gallion would serve Fulmer with a subpoena for a deposition in a conspiracy lawsuit involving the NCAA, the University of Tennessee, the University of Alabama and several other parties.
So Fulmer bowed out, instead fielding questions from a speakerphone, while saying that his appearance would have "detracted from the event."
If only he could have been here.
Twenty minutes after Fulmer's conference call ended, LSU's defending national championship coach Nick Saban stepping to the podium was a letdown, like the Marlins and Phillies and taking the field after the Yankees and Red Sox.
One local television crew, filming its standup in front of the speakerphone box, had to be moved aside so that Saban could begin.
The craziness started with SEC media relations director Charles Bloom announcing he was dialing Fulmer's office, only to get a busy signal. The room roared. Two minutes later, Fulmer was on the line, reading a prepared statement.
"I apologize for any distraction this may have caused. It's very important to understand that a lot of people believe the NCAA enforcement process is at stake," Fulmer read. "With no enforcement process, all we have is chaos -- like a country with out an army or a city without police."
Fulmer then went on to read pre-prepared answers to questions he anticipated the media would ask.
"Why am I not in Birmingham?" Fulmer asked. "Because I'm a defendant in a frivolous lawsuit in Tuscaloosa. On the recommendation of my attorneys and our university general counsel, I will not fuel that lawsuit."
He continued, his disembodied voice echoing through the ballroom like a principal reading the morning announcements in junior high.
"Why not give a deposition and tell the truth?" he asked. "Through this entire affair I've told the truth and will continue to tell the truth. Second, telling the truth is different than agreeing to be a stage prop for a lawsuit show.
"These are wild charges and half-truths. I do not intend to play this game. I will not be going into a deposition the week of the Georgia, Florida or Alabama game. I will not be going back and forth during the season at the whim of a lawyer."
After reading his statement, answering his own questions, then answering seven questions from the news media, Fulmer suggested the questions turn to football.
First question: "Coach, if there is a recruit in Alabama, will you come down to visit him?"
Fulmer: "Absolutely. We've had some good players from Alabama and we will continue to do so. This will be over in a short period of time."
But it hardly got any easier. In time, it was Fulmer's turn to take the offensive.
"A couple of you have called me a coward, I was disappointed to see that," he said. "You can talk about my coaching if we lose. You can talk about my play-calling in games. Talk about my physique if you choose to step that low, but coward is across the line.
"This has been a fairly contained issue to the state of Alabama," Fulmer said. "It hasn't gotten much attention outside the state because it's so frivolous and stupid."
While Fulmer was in Knoxville, two Tennessee players -- linebacker Kevin Burnett and offensive tackle Michael Munoz -- stood up for their coach in Birmingham.
"Any man would do the same thing in that situation," Burnett said. "He has a family, 150 sons and that's who he has to answer to. This whole thing is a charade. It's nonsense. We came here to talk football."
Yet all week, that's the last thing people wanted to discuss. At an event in which there's rarely ever any genuine news and as much as possible is pre-scripted, Fulmer's absence created a buzz.
All throughout radio row, talk show hosts skewered the Tennessee coach for his absence. On Tuesday, when a cell phone rang during Vanderbilt coach Bobby Johnson's press conference, he took the opportunity to toss out a few one-liners his instate rival's way.
"Is that Phil?" he asked to a room full of chuckling reporters. "He wanted a report."
When asked what it was like to be the only SEC coach attending from "the great state of Tennessee," Johnson said "You know, the border was open between Tennessee and Alabama today. Nobody was stopping us.
"It's great to be here. So far, I have not been served any subpoenas."
Even South Carolina coach Lou Holtz got into the act, first admitting that he had enough of his own problems to worry about Fulmer's decision before deadpanning, "I'd rather talk to a lawyer than the media too."
Even when Saban and the LSU players were finished, when SEC Media Days had come to a completion, the Fulmer buzz hadn't come to an end.
"Anybody wanting a transcript of the Fulmer statement can find it on UTsports.com," Bloom said.
And anybody wanting one of the strangest half hours a media day had ever seen only had to be in Alabama on Tuesday.
Wayne Drehs is a staff writer at ESPN.com. He can be reached at wayne.drehs@espn3.com.
ESPN Senior Writer
Senior writer for ESPN.com and ESPN The Magazine
Written for ESPN.com since 2000
Three-time Sports Emmy Award winner
EDITORS' PICKS
Jameis Winston, the potential No. 1 overall pick, drew coaches from all 32 NFL teams to Florida State's pro day.
Jared Shanker »

Trending in NOLA: The latest Saban-Miles battles.
Crabtree

Dynamic duo
MORE COLLEGE FOOTBALL HEADLINES