ESPN.com experts' midseason picks
Updated:
January 10, 2005, 11:14 PM ET
ESPN.com
After two months of play, it's time for ESPN.com's Nancy Lieberman and Mechelle Voepel to make some revisions to their preseason picks and weigh in on the biggest disappointments, surprises and best freshmen so far this season.
MVP candidates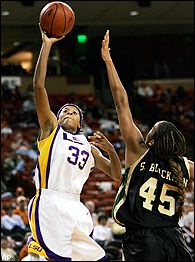 LSU's Seimone Augustus, one of 10 Kodak All-Americans last season, is the leading MVP candidate in 2005.
Lieberman:
LSU's Seimone Augustus has had my vote all along. She has done everything we expected and more, stepping up in big games and leading her team to the No. 1 ranking. The only unfavorable thing she has done this season was getting hurt Saturday against Georgia. Of course, she scored a game-high 22 points before leaving the game with nine minutes to play.
Voepel:
We'll go with Seimone Augustus, who helped keep LSU perfect until it became Rutgers' latest upset victim. But TCU's Sandora Irvin has been making a strong showing, too. In the beginning of the season, I made a case for folks to watch Minnesota's Janel McCarville and Kansas State's Kendra Wecker; both have dealt with injuries but are having very good senior seasons. Baylor junior Sophia Young forms an excellent tandem inside with senior teammate Steffanie Blackmon. Monique Currie and Duke have lost just one game, at Notre Dame, and Currie had taken a lot on her shoulders.
Final Four
Lieberman:
Face it -- Connecticut and Tennessee are Final Four regulars. Since 1995, only one season has passed when neither the Huskies nor the Lady Vols reached the Final Four. But right now, both programs face a lot of uncertainty. UConn and Tennessee certainly have the talent to reach Indianapolis, and were part of my prediction in November. However, while I'm sticking with LSU and Texas, Baylor and Rutgers now round out my Final Four.
Voepel:
Obviously, it's harder than just picking who you think the top four teams are (and I don't even know that) because you also have to factor in guessing where the committee distributes everybody geographically in the bracket. The four regionals are in Philadelphia, Chattanooga, Kansas City and Tempe. So based on that, we'll take a wild guess and say Duke, Tennessee, LSU and Stanford.
Biggest surprises?
Lieberman:
I think the entire nation can agree that Rutgers (10-2) is on a tear. The Scarlet Knights are extremely well-coached, but facing an unbelievable nonconference schedule, no one knew what to expect with Cappie Pondexter sidelined. Rutgers relied so heavily on the point guard the past two seasons. But Rutgers responded, notching big wins at home and on the road. No wonder the Scarlet Knights -- who are holding opponents to 53.2 points and harassing them into 19.9 turnovers per game -- flew into the top five this week after knocking off three top-10 teams in an eight-day period.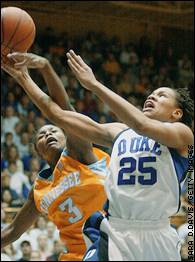 Monique Currie is averaging 17.3 points and 7.3 rebounds for Duke.
Michigan State, which has won nine of its past 10 games (including roads wins over Connecticut and Notre Dame), went 11-1 in its nonconference schedule. Four players average at least 11 points, and Liz Shimek, Lindsay Bowen and Kelli Roehrig each score 15 an outing. This team had a bright outlook from the start, returning everybody from a squad that reached new heights last season. But they just continue to get better and better playing together.
Voepel:
Rutgers knocking off Tennessee, Texas and LSU in a row ... yes, two of the games were at home and the Scarlet Knights are very talented, but did anyone see that coming? UConn is struggling more than some people (like me) expected. Also surprising have been the number of victories by some teams on other teams' home courts. That's a better indicator of rising parity than almost anything. And just how good Duke has been is a surprise. It's not like anyone expected the Blue Devils to plummet or anything like that. But they've continued to soar despite losing three starters off last season's team: Alana Beard and Iciss Tillis to graduation and Lindsey Harding to a suspension to deal with personal issues.
Biggest disappointments?
Lieberman:
Tennessee has not met the expectations. In returning a solid corps and bringing in the best recruiting class in the country, many experts figured the Lady Vols would run over the competition this season. That has hardly been the case. Yes, Tennessee's schedule is grueling, but it's not only the Lady Vols' three losses that are unsettling. They simply are not playing well, shooting very poorly and lacking some key leadership. Last season, Tennessee averaged 74.4 points per game, shooting 45 percent from the field, 37.3 percent from 3-point range and 72 percent at the line. This season, however, the Lady Vols are shooting 38 percent from the field, a woeful 32.1 percent from beyond the arc and 66.4 percent from the line. Numbers like these do not win national championships. Shyra Ely and Shanna Zolman, in particular, are not performing to their potential. Stars must come back better, not just
as good
as they were the year before. But both of these players' stats have dipped:
Ely		FG%	REB	PPG
2004-05		44	6.8	13.5		
2003-04		48.1	8.0	14.5
Zolman		FG%	3FG%	PPG
2004-05		32.4	32.6	8.5
2003-04		43.7	42.6	12.3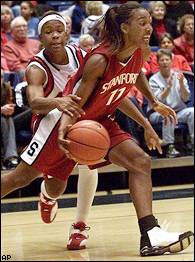 Stanford's Candice Wiggins averaged 29.5 points, 4.5 assists, 3.5 rebounds and 3.5 steals in two weekend games.
In addition to poorer shooting, fewer point and fewer rebounds, Ely doesn't seem to be taking as good a care of the ball this season, either. She committed 92 turnovers in 35 games last season; this year, she has 44 turnovers in just 13 games.
Voepel:
Every year, injuries are the biggest disappointment. This year, injury has kept Candace Parker sidelined so far for Tennessee, which has certainly been frustrating for her and for the Orange faithful. There's still time for her to make an impact this season, though, and she has the rest of her career, too. Charlene Smith's knee injury at DePaul is another big disappointment, both for her and because it's so much harder for "climbing" teams to deal with such a loss. Another disappointment is how some top teams scheduled. Admittedly, many of them did a great job -- Tennessee and Texas (it goes without saying), LSU (bravo), Penn State (brave). But North Carolina -- despite facing UConn, Penn State and Old Dominion -- could definitely have cut down on the cupcake consumption. And Vanderbilt really needed to do the same.
Which freshmen have been most impressive?
Lieberman:
Matee Ajavon and Essense Carson are a big reason Rutgers has been so successful. They have been impact players from Day 1, and combine for almost 20 points per game. Ajavon is second on the team in scoring with 12.0 points (on 42.3 accuracy from the field) despite starting just six games and averaging 24.8 minutes. Carson chips in 7.4 points and 5.7 rebounds. UConn's Charde Houston (9.6 points, 4.3 rebounds, 56.2 percent from the field, 15.9 minutes) already is incredibly productive and only getting better. At LSU, Sylvia Fowles (11.7 points, 9.0 rebounds, 59 percent from the field, 20.5 minutes) is a fantastic shot-blocker who is quick on her feet. More importantly, she has given the Lady Tigers an inside presence and made life easier for Seimone Augustus. And Candice Wiggins, who's 17.2 points per game leads Stanford, already is a star. Forget about coming in, sitting on the bench and learning your first season. Wiggins, who totaled 59 points against the Arizona schools in Pac-10 play this weekend, has already arrived and helping fill Nicole Powell's shoes.
Voepel:
We heard a ton about Tennessee's freshmen coming into this season. Of them, Alexis Hornbuckle has been the most impressive so far -- and one who has stayed healthy. But deserving as much hype as the Tennessee rookies are Rutgers' Matee Ajavon and Essence Carson. As are Stanford's Candice Wiggins, LSU's Sylvia Fowles and Duke's Wanisha Smith. There have, in fact, been freshmen making an impact in several conferences. Some of that just reflects opportunity -- with such a talented senior class departing after last season, many teams had holes to fill.
Nancy Lieberman, an ESPN analyst and Hall of Famer, is a regular contributor to ESPN.com's women's basketball coverage. Contact her at www.nancylieberman.com. Mechelle Voepel of the Kansas City Star, also a regular contributor, can be reached at mvoepel@kcstar.com.
MORE WOMEN'S BASKETBALL HEADLINES