Dogged Pursuit Of Perfection
AP Photo/Mark Humphrey
These Huskies might not be best ever, but they were the best in 2008-09
By Mechelle Voepel
ESPN.com
ST. LOUIS -- "The Haunting in Connecticut" is a recently released horror flick about, of course, a disturbed house with some not-so-pleasant spirits lurking around. The critics are being, well, rather unkind. The "Ghosts of Connecticut," on the other hand, are friendly spirits who are not
really
spirits (they're not even dead), but they do linger and are never forgotten. The critics loved them. They have names like Lobo, Rizzotti, Sales, Wolters, Jones, Bird, Taurasi, Williams and Cash. They led the UConn women's program to perfect seasons in 1995, when Husky Mania officially became manic, and 2002, when the starting five was so amazingly good it seemed perfectly perfect. The 2009 Huskies, with their 76-54 victory over Louisville on Tuesday in the NCAA title game, have made it a Holy Husky Trinity. "This is a story you'll tell for generations," said UConn junior Tina Charles, named the Final Four's Most Outstanding Player. "Not a lot of people have experienced it." It's the natural way of sports observers to put this group in historical perspective, comparing it to its UConn predecessors and the other two unbeaten teams in the NCAA era (which began in 1982): Texas in 1985-86 and Tennessee in 1997-98. UConn coach Geno Auriemma gave a rundown of the three UConn teams to be perfect. "The first one had no idea what they were doing," he said of the Rebecca Lobo-led 1995 Huskies. "Then we win, and we go home and there's people lining the streets and the kids are going, 'It's like the O.J. chase.' Cops everywhere, helicopters. And it dawned on them that they had done something that was just incredible. "Then the 2002 team, they were so [ticked] about what happened in St. Louis in 2001, they actually thought the first day of practice: If we lose a game, it's a disgrace. They thought that anybody that really believed they should be on the same court with them was out of their mind. And they played like it. "This team is young, fun-loving, enjoy each other's company. It wasn't until late, late, late in the season that they really started bearing down on it. That's when I think I started to see a different side to them."
More ...
Charles leads UConn to NCAA title, perfect season
By Graham Hays
ESPN.com
ST. LOUIS -- A team for the ages wasn't about to play a game that turned on a moment. Challenged early in Tuesday's national championship game by a Louisville team constructed to exploit any and all weaknesses, Connecticut pulled away for a 76-54 win and claimed the fifth unbeaten season in the history of women's college basketball. Most times, the Russians skate away with a win against the United States. Most times, Georgetown finishes off Villanova. Most times, the better team wins. And if it's the fact that sometimes the little guy triumphs that fuels our imaginations and fills the coffers in Las Vegas, it's only because more often than not, might makes right on the court. In other words, there are times when giants need to be as good as advertised to maintain a natural order. And in a city with a famous landmark that casts one of architecture's most recognizable silhouettes, Connecticut left the college basketball world in its shadow. "I kept thinking, I wonder how many times the best team in the country wins the NCAA championship," Geno Auriemma said of his thoughts watching North Carolina win Monday in the men's title game. "Sometimes it's just the best team for six games or the best team for one night. I thought, 'Well, that's what's going to happen with us. We're the best team in the country; we're going to win it.' Then five minutes later, I was like, 'Nah, just too much coincidence that it would happen two nights in a row.'" Eight years ago, Connecticut lost a Final Four game to Notre Dame in St. Louis and used the memory of that setback to fuel an undefeated title run the next season, the last previous perfect season in the sport. So the Scottrade Center was an appropriate setting for a squad that found its own motivation this season in a semifinal loss to Stanford a year ago. And it was equally fitting that the player who paved the way for the win on this night was neither Renee Montgomery, the senior All-American who leads the team on and off court, nor Maya Moore, the sophomore consensus national player of the year who brought a sense of invincibility back to Storrs when she arrived last season. The cornerstone of Geno Auriemma's sixth national title, at least for these 40 minutes, was junior center Tina Charles, the player who bore the biggest brunt of her coach's criticism after the loss to Stanford last season and again throughout much of this season.
More ...
Montgomery leaves behind championship team, legacy
By Graham Hays
ESPN.com
ST. LOUIS -- Renee Montgomery spoke for the Connecticut Huskies this season. The only senior in the team's regular rotation, she was spokesperson off the floor and coach-by-proxy on it. But her way with words aside, it's the point guard's eyes that have always told the real story. Big, bright eyes on a small face, they are a more reliable relay for her inner monologue than any of the translation devices that United Nations diplomats wear for their debates. Coach Geno Auriemma has said before that he can tell how she'll play, and by extension how well his team will play, just by the size of her eyes before a game. Big and bold and the Huskies are good as gold. They told the story again Tuesday night in St. Louis as the final seconds ticked off the clock at the Scottrade Center in St. Louis and the Huskies ascended the podium in the middle of the court to accept their championship trophy after beating Louisville 76-54. For perhaps the first time, those eyes that so often reflected intensity on the court or impassivity in her public dealings glistened with something else entirely: contentment.
More ...
Moore's offense, defense, deference help Huskies win
By Mechelle Voepel
ESPN.com
ST. LOUIS -- Maya Moore will own almost all the individual hardware for 2008-09, recognizing her as being the college game's top player. Yet among her greatest achievements in a perfect season for UConn was neither her offense nor her defense. It was her deference.
Despite her superstar status, Moore didn't need this to be "her" Huskies team. She was fine with it being senior point guard Renee Montgomery's team. Moore was the one who led the Huskies in scoring and rebounding this year, but she treated Montgomery as the team leader.
More ...
Spotlight shines again on Auriemma, Huskies
By Mechelle Voepel
ESPN.com
ST. LOUIS -- ST. LOUIS -- Five years ago in New Orleans, Connecticut coach Geno Auriemma had that James Cameron "I'm king of the world!" moment. Diana Taurasi, his player alter ego, had just led the Huskies to their third consecutive NCAA title.
It was UConn's fifth national championship overall, and it came at the expense of archrival Tennessee in the final for the second straight year. Then … well, how do you follow "Titanic"? It's not as if the Huskies' ship sank after "We Got Diana" graduated. It just didn't sail as far as Auriemma wanted it to. He always wants to cross the finish line first.
More ...
Searching For Kryptonite
By ESPN.com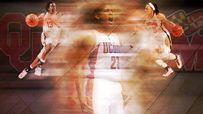 Since no one was able to beat UConn, it made us wonder: What combo of players or teams could top the Huskies?
• Mechelle Voepel: The Maryhoma Soonerps? »
• Graham Hays: Exploring the infinite abyss »
• Charlie Creme: Tigers-Cardinals could have a shot »
UConn By The Numbers

Through games as of April 7
Overall record: 39-0
Field goal percentage: 51.0
Opponent FG percentage: 33.4
3-point percentage: 37.3
Free throw percentage: 72.1
Points per game: 83.9 (plus-30.5)
Rebounds per game: 42.8 (plus-10.9)
• Click here to see how UConn compares statistically to the other four Division I women's college basketball teams that put together unbeaten seasons. Mechelle Voepel also recaps the five perfect seasons.
UConn captures perfect season, sixth NCAA title
Geno Auriemma on UConn's national title
UConn's Tournament Schedule
• FIRST ROUND
No. 1 UConn 104, No. 16 Vermont 65
Storrs, Conn.
• SECOND ROUND
No. 1 UConn 87, No. 8 Florida 59
Storrs, Conn.
• SWEET 16
No. 1 UConn 77, No. 4 California 53
Trenton, N.J.
• ELITE EIGHT
No. 1 UConn 83, No. 6 Arizona State 64
Trenton, N.J.
• FINAL FOUR
No. 1 UConn 83, No. 2 Stanford 64
St. Louis, Mo.
• NCAA TITLE GAME
No. 1 UConn 76, No. 3 Louisville 54
St. Louis, Mo.
Recapping UConn's perfect 39-0 season
Never Moore Unanimous

Great players make fans cheer. Transcendent players make them gasp. "And even if it's an unofficial stat, Maya Moore leads the nation in gasps induced," writes ESPN.com columnist Graham Hays. "Moore is the most complete offensive player in the college game, and yet by dint of her defense and work ethic, she could dominate a game without taking a shot -- not that Geno Auriemma would ever let that happen."No, but everything that has happened at Connecticut this season has revolved around Moore, a 6-foot sophomore forward who is ESPN.com's Player of the Year.
•
ESPN.com's player of the year, All-Americans »
Huskies talk title, perfection
Previous Perfection: Connecticut 2001-02
They went out as champions on March 31, 2002. But the four seniors on UConn's 2002 championship team also raised the level of women's basketball during their career. But were they the best ever?
Huskies go 39-0 »
Tennessee 1997-98
"A lot of people argue who had the best team to date," Pat Summitt says. "It's all who you talk to. I'll just say that team was the best pressing, running team that played. Looking back, that was the best team I've coached."
Lady Vols go 39-0 »
UConn 1994-95
"We didn't have a lot of big egos that year," Nykesha Sales says. "We had a couple of players that everybody was scared of. Jamelle Elliott and Jen Rizzotti, they were really aggressive and they wouldn't take any crap."
Huskies go 35-0 »
Texas 1986-86
"We screwed it up the year before, and it made us mad. We were a very senior-dominated, driven team," Kamie Ethridge says. "We were one of the few teams that, by today's standards, had that quality on the bench."
Longhorns go 34-0 »
How the Huskies' story began
A key recruit? The hiring of Geno Auriemma? The secret of UConn's success and the Huskies' rise to power are the results of many different factors.
UConn's breakthrough »
Almost Perfect
Losing is never easy, but when a season ends and the record is 30-something-and-one, that loss can be particularly difficult to process. Here are some precise memories of perfect seasons with a single lapse.
Ones that got away »
More Video
ESPN sat down with several Huskies for brief vignettes. Click on the players' names to find out more about
Tiffany Hayes
,
Lorin Dixon
,
Tina Charles
and
Kalana Greene
, or coach
Geno Auriemma
.