Smallwood runs for 2 TDs in Eagles' win
Wendell Smallwood runs for a pair of red zone touchdowns as the Eagles beat the Rams in Los Angeles.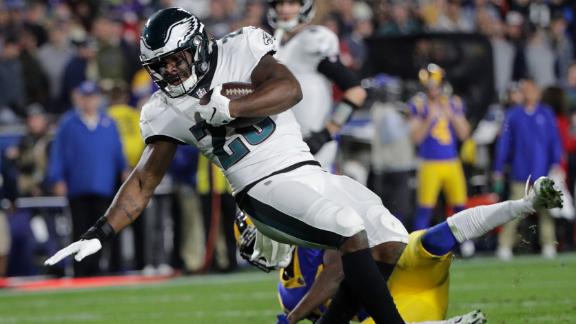 Long says Eagles can beat anybody
Chris Long expresses his thoughts on the Eagles win over the Rams, Nick Foles stepping up and how the team can keep up this momentum.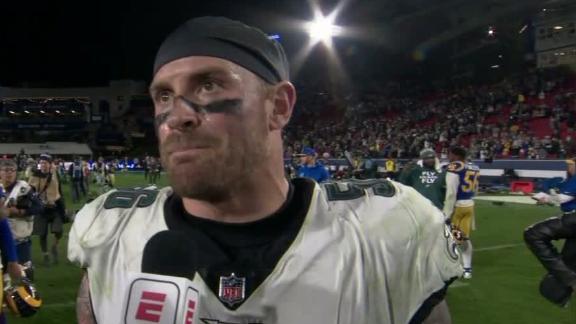 Goff falls dropping back then throws INT
Jared Goff trips as he's dropping back and tries to throw the ball away but is intercepted by Corey Graham.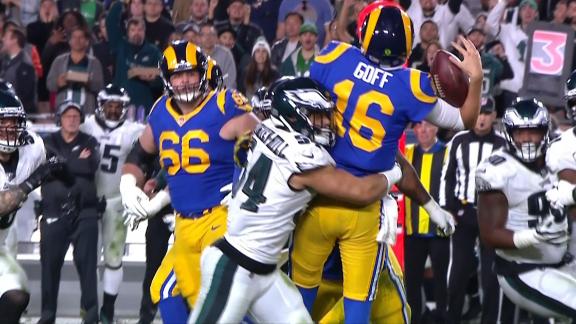 Goff misses target on final play as Eagles hold on
Jared Goff's potential game-tying throw falls incomplete as the Eagles hang on to beat the Rams 30-23.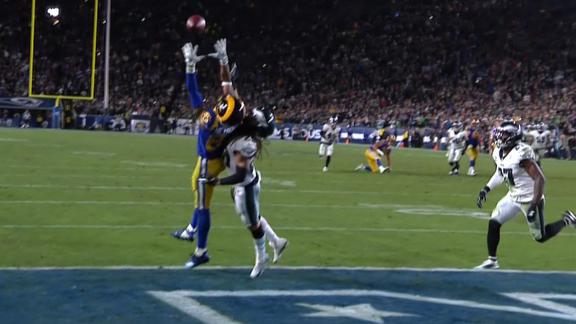 Foles airs it out to Jeffery 50-yard gain
Nick Foles unloads on a 50-yard pass to Alshon Jeffery who hauls it in at the Rams' 9-yard line.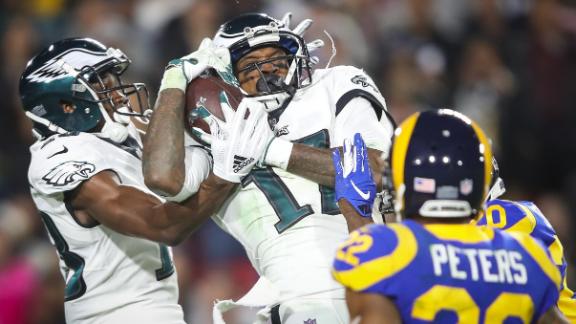 Talib picks off Foles in red zone
Nick Foles throws for Zach Ertz and is intercepted by Aqib Talib for his first pick with the Rams.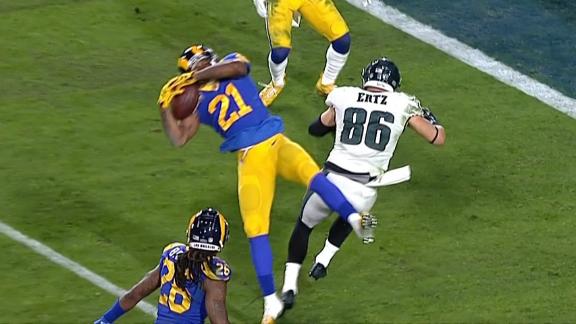 Adams runs in for Eagles' TD
Josh Adams takes the handoff up the middle and runs into the end zone for a 6-yard touchdown.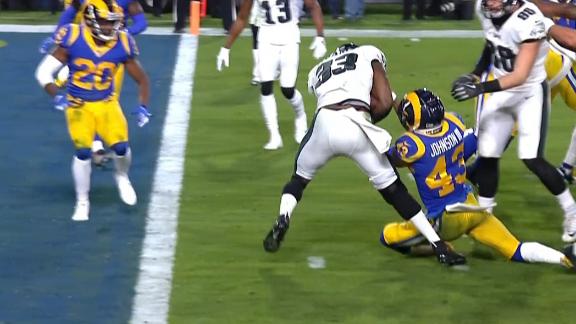 Gurley powers up the middle for 5-yard TD
Todd Gurley II bounces off Eagles tacklers on his way to a 5-yard touchdown run.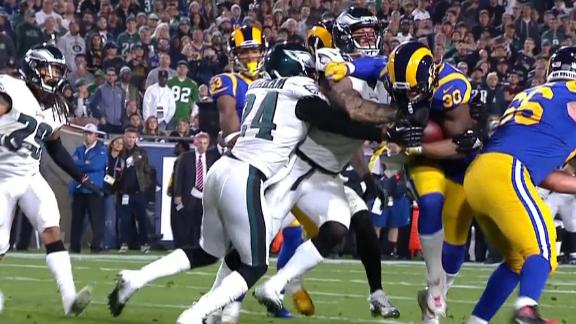 Top headlines
Big Ben's 2 TDs, Steelers' late stop fuel win vs. Patriots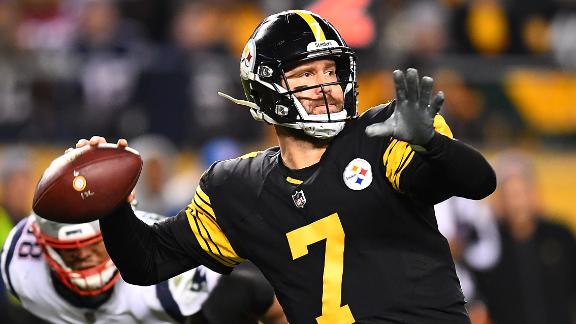 Roethlisberger: 'It's an honor' to play against Brady
Ben Roethlisberger says the Steelers beat a "playoff caliber team" and told Tom Brady after the game that he is "amazing" to watch.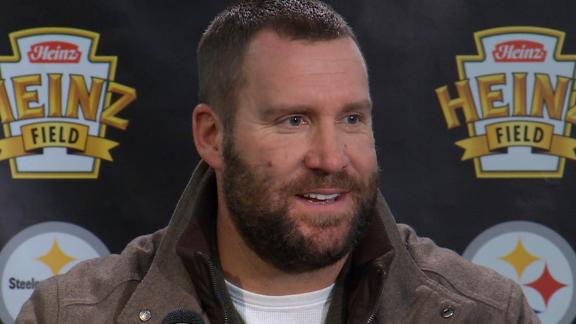 Tomlin on decision to give Boswell another chance after miss
Mike Tomlin says Chris Boswell is the Steelers' "kicker from start to finish" after he missed a third-quarter field goal, but made one later.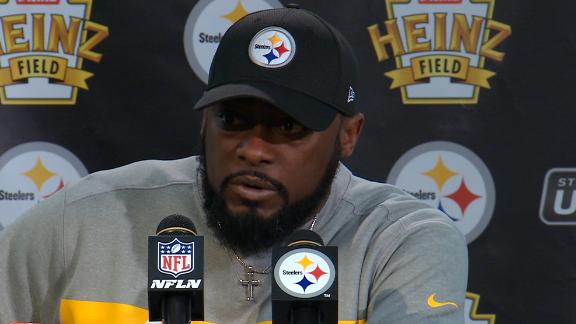 Tomlin: 'Good team effort, it was gonna be required' vs. Pats
Mike Tomlin praises the Steelers' team win vs. the Patriots and says "sometimes you gotta cut your eyelids off ... when it gets thick."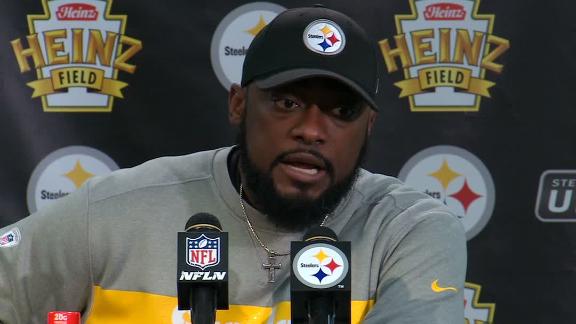 Belichick: 'Gonna go back to work and get ready for Buffalo'
Bill Belichick says the Patriots "came up a little short" vs. the Steelers, but is proud of the way New England battled.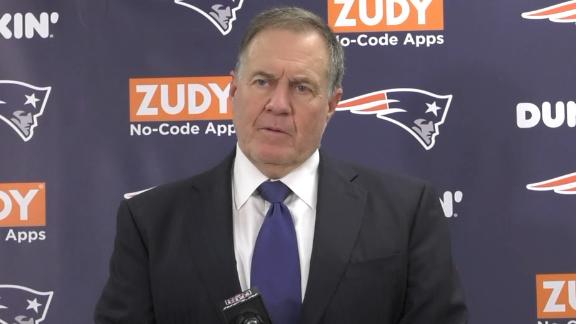 Brady: We're not playing well enough to win
Tom Brady discusses the Pats' loss, saying turnovers are killing them and they aren't taking advantage of the opportunities given to them.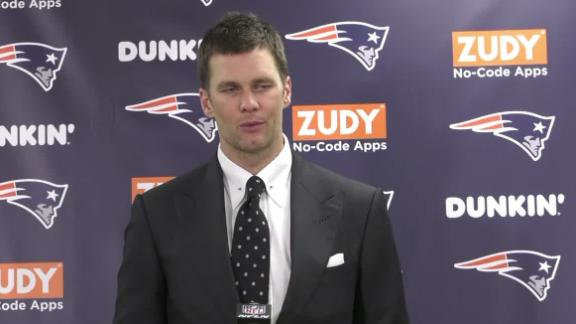 Clark: Win important for Steelers' psyche
Ryan Clark discusses the Steelers' victory over the Patriots, saying it's huge for them because of the lack of success Pittsburgh has had in previous matchups.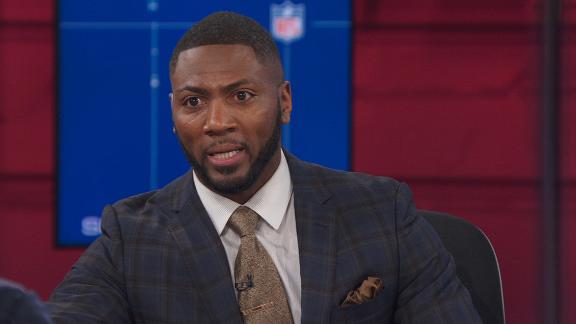 Saturday: Patriots are getting sped up
Jeff Saturday breaks down Tom Brady's late interception saying things are starting to speed up for the Pats causing their mistakes.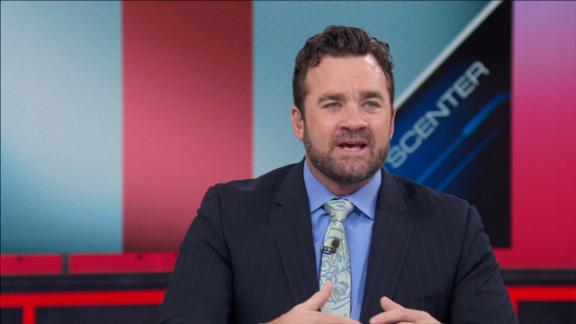 Haden: 'Feels good' to finally beat the Patriots
Steelers cornerback Joe Haden speaks to ESPN's Sal Paolantonio after the Steelers defeat the Patriots at home 17-10.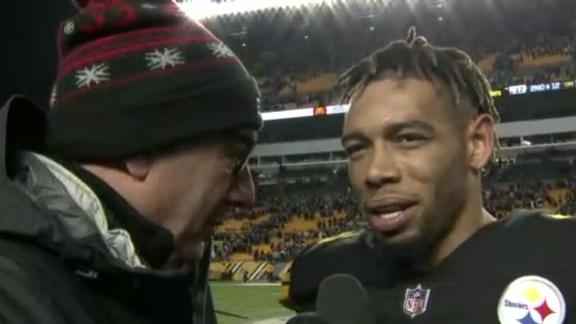 Steelers seal win vs. Patriots with late stop
Tom Brady throws to the end zone on fourth-and-15 in the final seconds, but the Steelers bat down the pass to secure the win.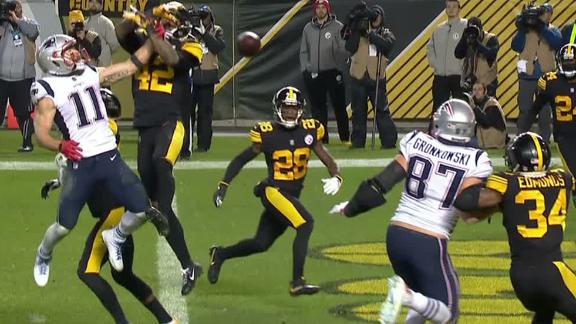 NFL
Bears beat Packers, clinch NFC North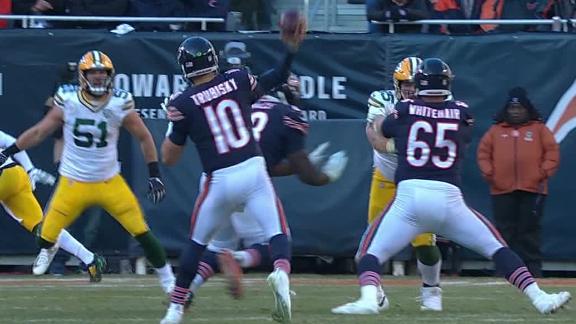 Cohen stretches out for a 12-yard score
Tarik Cohen beats the Packers defense to the edge and reaches out for a touchdown.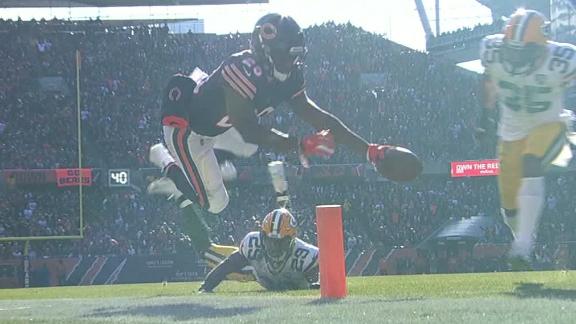 Leno proposes after Bears' win
Bears offensive lineman Charles Leno Jr. proposes to his girlfriend at midfield after the Bears clinched the NFC North.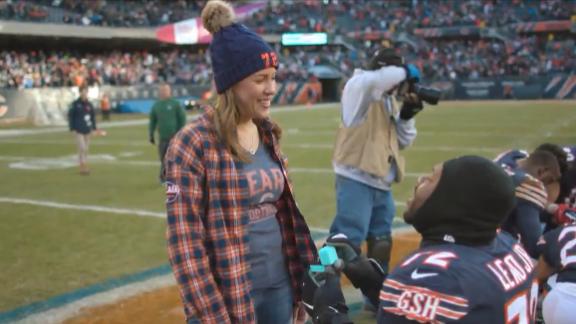 Rodgers: 'I feel pretty well about the way I take care of the ball'
Packers quarterback Aaron Rodgers talks about what changed from the last time he saw the Bears and what his pass attempts without an interception streak means to him.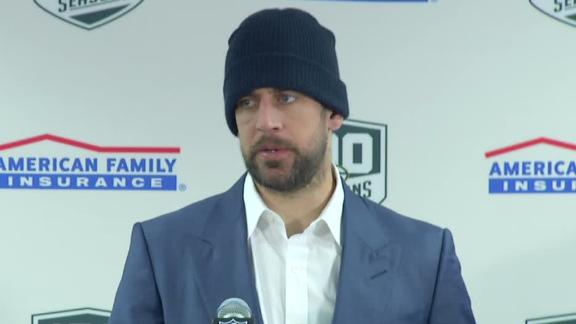 Leno 'took the proper procedures' with proposal
Charles Leno Jr. jokes he kept the engagement ring in his sock and hurried up the process to make sure he could propose when the Bears clinched.
Bears end Rodgers streak with a INT
Aaron Rodgers' pass is picked off by Eddie Jackson and ends Rodgers' record streak of pass attempts without an interception at 402.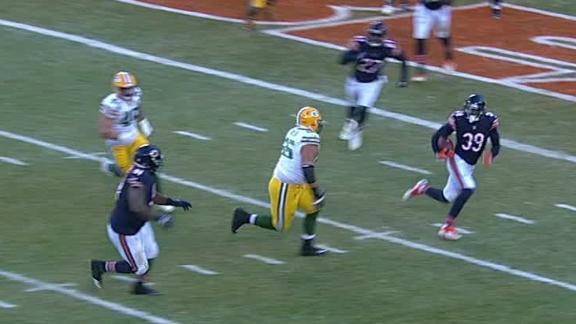 Trubisky zips it to Burton for TD
Mitchell Trubisky finds Trey Burton open in the end zone for a touchdown to put the Bears up 21-14.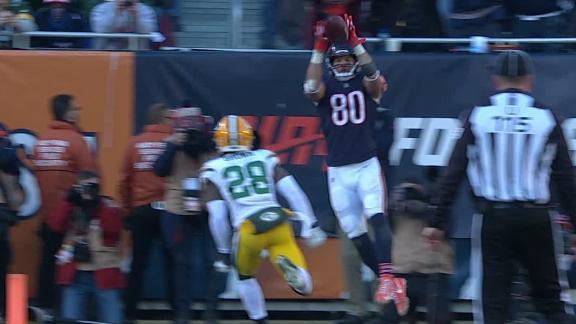 Williams runs in 10-yard TD for Packers
Jamaal Williams takes it from 10 yards out for a Packers touchdown.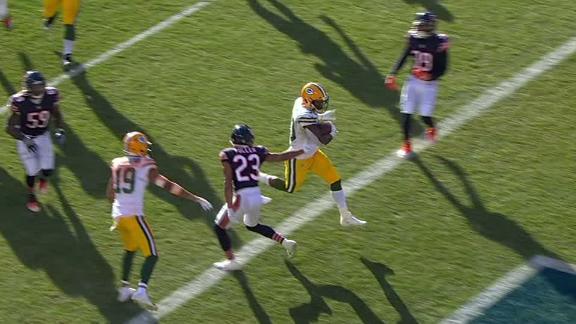 Mack sacks Rodgers without using his hands
Khalil Mack makes the bull rush towards Aaron Rodgers and sacks him with his back.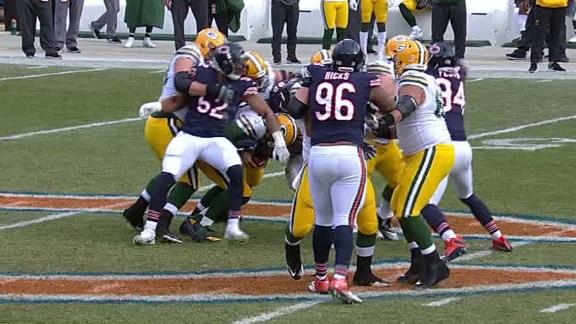 Howard takes it up the middle for six
Jordan Howard puts the Bears on the scoreboard first with a 9-yard rushing touchdown.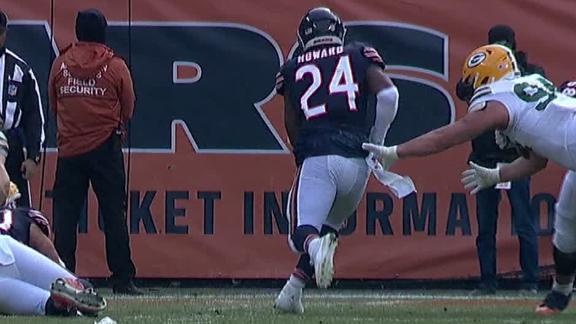 Mack finds the end zone twice for Colts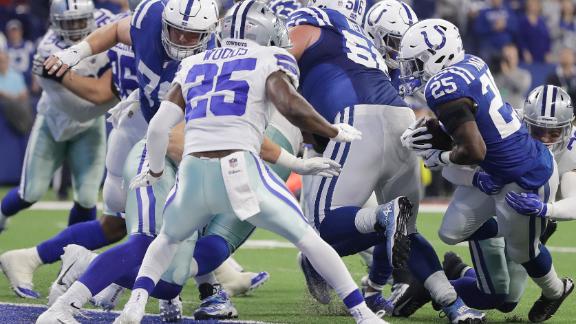 Colts stifle Cowboys on fourth down
The Colts' defense stops the Cowboys' offense four times on fourth down, including a fumble recovery and an interception, in Indianapolis' 23-0 win over Dallas.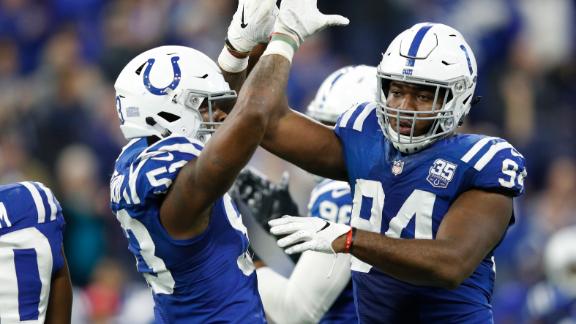 Cooper: 'We didn't handle adversity well today'
Amari Cooper tells Josina Anderson that the Cowboys didn't execute their game plan in a shutout loss to the Colts.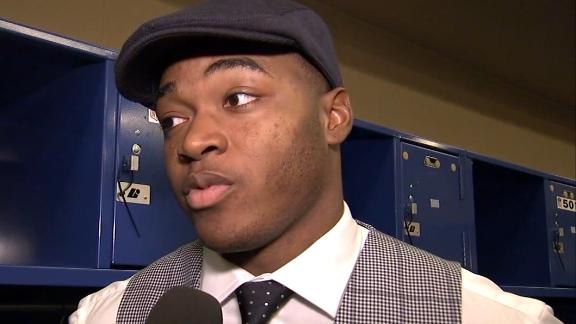 Zeke: Cowboys' disappointing performance was 'much-needed'
Ezekiel Elliott is embarrassed by the Cowboys' shutout loss to the Colts, but sees the positives with the team being put in check.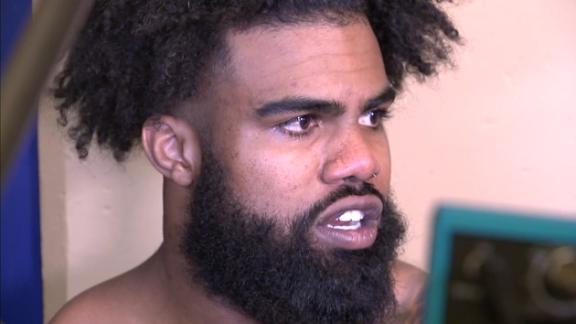 Prescott: 'We didn't give ourselves a chance'
Cowboys QB Dak Prescott says being shut out "hurts" and stresses the importance of doing better in the red zone.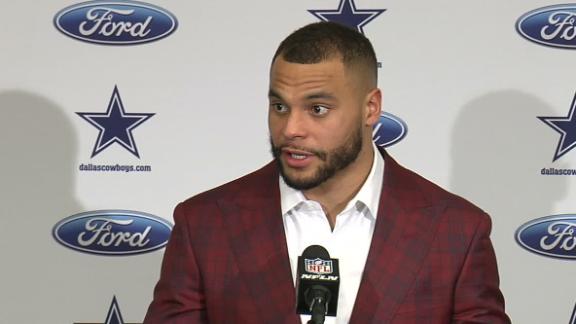 Reich, Luck call win vs. Cowboys 'best' game of year
Frank Reich and Andrew Luck are proud of the Colts' complete effort in the team's 23-0 win against the Cowboys.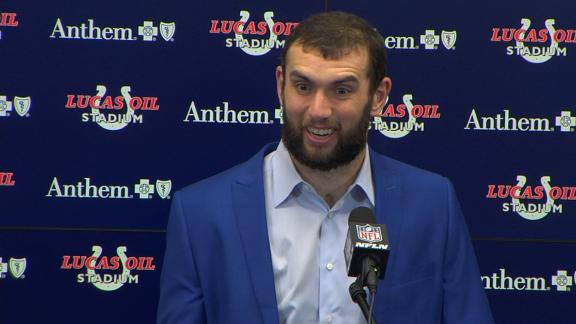 Colts block Maher's field goal attempt
Brett Maher looks to put the Cowboys on the board, but Colts DE Denico Autry gets his arm on the ball.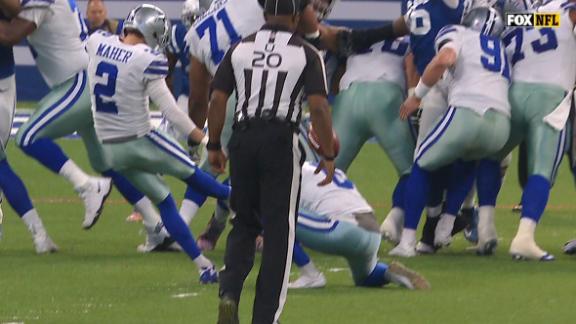 Baldwin's hauls in acrobatic catch for second TD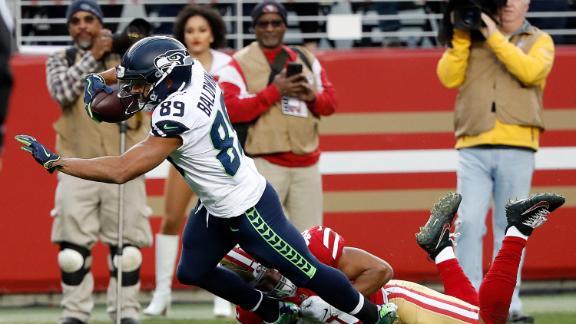 Westbrook returns punt for 74-yard TD
Dede Westbrook fields the punt and runs untouched down the sideline for a 74-yard Jaguars touchdown.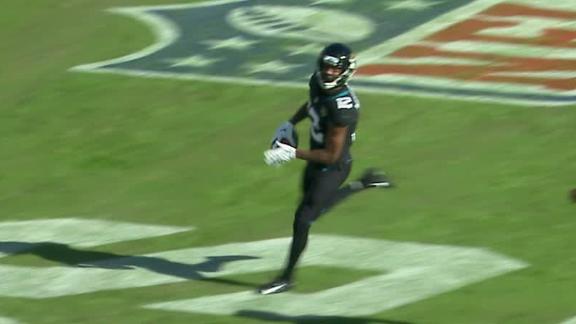 Cook spins and strolls in for 2nd TD run of game
Dalvin Cook eludes a tackler with a spin move and breaks free for a 21-yard touchdown run.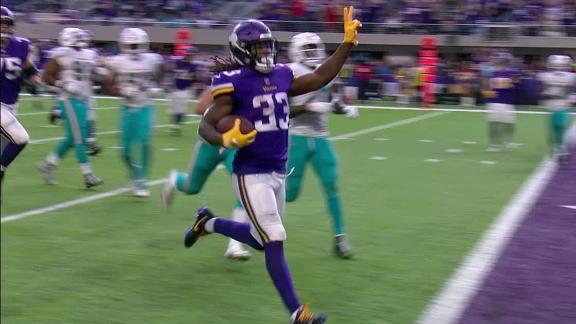 Jones lays out for spectacular TD grab
Julio Jones dives into the end zone for a 21-yard touchdown seconds before the end of the first half.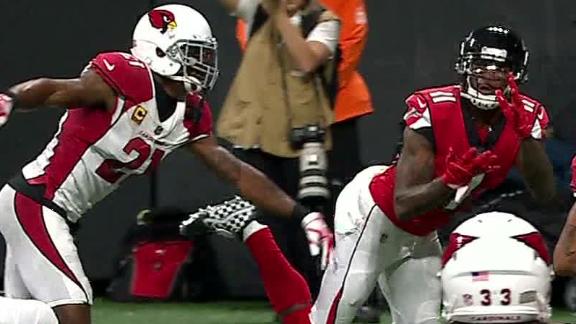 Allen connects with Foster for 42-yard TD
Josh Allen goes deep to Robert Foster for the touchdown to put the Bills up 14-13.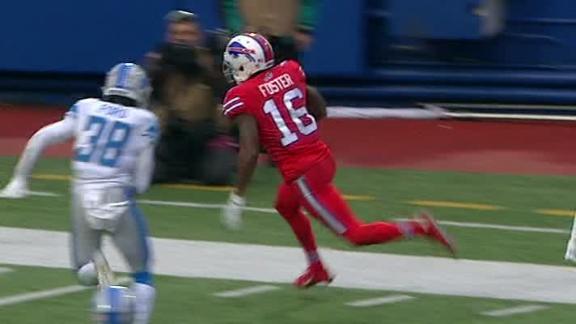 ESPN Illustration

Scoring is out of control in the NFL this season, with record highs in points, yards and passing touchdowns. We set out to answer why.
Why it pays to play defense
Espn.com Illustration

Aaron Donald and Khalil Mack are the two highest-paid defensive players in the NFL, and they haven't disappointed with dominant seasons.
AP Photo/Darron Cummings

With the Ravens heading to Atlanta, let's revisit the quarterback comparison.
Customize ESPN
ESPN Fan Shop
Powered By