Commentary
Looking for defense? Avoid Patriots-Cowboys
The Patriots have too much firepower for the Cowboys for the Duel in Dallas, John Clayton writes.
Originally Published:
October 4, 2007
By
John Clayton
| ESPN.com
Will Sunday's game between the 5-0 Patriots and 5-0 Cowboys be a Super Bowl preview or just another Patriots blowout?
It's a sure thing defense won't be the main attraction. The Cowboys and Patriots have the top two offenses in the NFL. But the question facing the Cowboys is whether they have enough offense to keep up with the Patriots. QB Tom Brady leads the NFL with 16 touchdown passes. Patriots coach Bill Belichick and vice president of player personnel Scott Pioli outdid themselves during the offseason, bringing in wide receivers Randy Moss, Donte' Stallworth, Wes Welker and Kelley Washington as well as blocking tight end Kyle Brady and backup running back Sammy Morris. With RB Laurence Maroney sidelined, Morris has pounded out consecutive 100-yard games.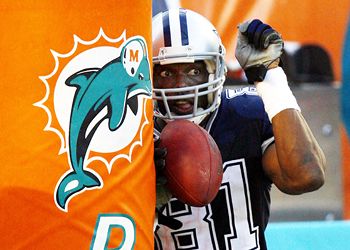 Eliot J. Schechter/Getty ImagesWith two high-powered offenses on the field at Texas Stadium on Sunday, T.O. may have some more end zone fun.
The offensive numbers have been staggering. Brady is completing 74.1 percent of his passes and the Patriots are scoring 36.4 points per game. There is no doubt the additions to the receiving corps have given Brady more firepower. From the shotgun formation, he's completing 70.6 percent of his passes (72 of 102 passes) and has seven of his 16 touchdown passes.
The abundance of receiving talent has allowed Brady to spread the field as never before. Only Jon Kitna in Detroit has thrown more out of four- and five-receiver sets, but nobody is doing it better this season. Brady has completed 56 of 76 out of four- and five-receiver sets and has a 102.9 quarterback rating. A year ago, he completed 63.1 percent of his passes out of these spread sets.
With cornerback Anthony Henry expected to miss the game because of a high ankle sprain, the Cowboys will have trouble matching up against the Patriots' passing attack. Cornerback Terence Newman is starting again, but he isn't completely healthy after missing the first four games with a foot injury. Jacques Reeves has done a nice job filling in at both corners, but according to Stats Inc, he's the most picked on corner in the NFL. Reeves has had 34 of 57 passes completed on him for 352 yards and four touchdowns. Face it, the Patriots simply have more receivers than the Cowboys -- and most teams -- have cornerbacks.
On the flip side, Tony Romo is doing a great job even though he needs receiver Terry Glenn to return from his knee injury. Romo can't spread the field as much as Brady until Glenn returns, and that's not happening this week.
Although the odds favor the Patriots, this should be good theater. Terrell Owens posted a note to reporters at his locker saying he's not answering questions about "the other 81 (Randy Moss)'' until after the game. Moss, leading the league in receiving with 551 yards and seven touchdowns, has been quiet. Both players will want to put on a show.
Cowboys coach Wade Phillips won't have the luxury of blitzing as much as he would like because he doesn't have enough corners to match up in man coverage. He also must make sure his safeties don't bite on play fakes and give up big plays.
This will not be a low-scoring game.
1. Washington Redskins at Green Bay Packers: Brett Favre can't let the Redskins come into Lambeau Field and escape with a victory. Last Sunday night against Chicago at Lambeau, he had a 10-point second-half lead. But Favre was intercepted by Brian Urlacher, sparking a Bears rally that kept their season alive and ruined the night for the Packers faithful. So much for the "We can get by without the running game" thoughts.
The Redskins enter with a little more offensive firepower than the Bears and a strong defense. Joe Gibbs has gone back to a more balanced offense, and
Jason Campbell
has done his part in advancing the passing offense. He should have
Santana Moss
back after missing a game, but he may not have
Antwaan Randle El
, who's injured. It doesn't matter. Gibbs won't try to get too tricky in this game. If he can pull off the upset, it will be because the Redskins can run the ball and the Packers can't.
2. Houston Texans at Jacksonville Jaguars: Jack Del Rio has been going under the radar with his Jaguars the past few weeks. David Garrard has quietly done a nice job running the offense. The defense is only giving up 10.3 points a game because they've been a hard to throw against. The next two games will determine whether Jacksonville is a contender or pretender.
The Texans are climbing in one of the NFL's tougher divisions. Matt Schaub was the right quarterback to acquire, and Gary Kubiak has been the right coach. He has kept the team competitive despite injuries to Andre Johnson and most of the receiving corps and to Ahman Green, who has missed two games with a knee injury. With Johnson out, the Texans won't have a lot of offensive firepower, so this figures to be a low-scoring, hard-hitting game.
3. Oakland Raiders at San Diego Chargers:
It's rare to get the Raiders into First and 10 this late in the season, so this either speaks to Lane Kiffin's coaching or the sad state of the AFC West. The Raiders are in first at 2-2, but their victories have come against teams with a combined 3-8 record. If the Raiders are for real, this is the game to show it. Unfortunately for the Raiders, they don't match up well against the Chargers.
LaDainian Tomlinson
has averaged 121 rushing yards a game against them since coming into the league.
Because the Raiders have coverage problems at safety, San Diego tight end Antonio Gates figures to have a big game. The Chargers bounced back nicely from a loss to the Packers by destroying Denver last week. If they are truly a Super Bowl contender, they must show their dominance again this week.
4. Tennessee Titans at Tampa Bay Buccaneers:
NFL Films caught Jon Gruden going over to his tight ends coach and the tight ends last Sunday, advising them he may need them to play some fullback and maybe running back because he was running out of backs. With Cadillac Williams down for the season and
Michael Pittman
out six to eight weeks, Gruden is trying to run a balanced offense without a running game. He's down to third-stringer
Earnest Graham
and practice squad players, and the prospects of a trade don't look good.
Gruden must envy Jeff Fisher, whose Titans are averaging 153.3 rushing yards a game, fourth best in the NFL. They have a talented third-stringer, Chris Henry, on the inactive list. They are running well now with LenDale White and Chris Brown, so they can slowly develop Henry. What makes things tough for the Bucs is the Titans are third in the league in stopping the run thanks to the strong right side of the defensive line: end Kyle Vanden Bosch and tackle Albert Haynesworth. The Bucs will be one dimensional in this game.
5. Carolina Panthers at Arizona Cardinals: At 43, Vinny Testaverde hit the lottery. Unemployed Sunday, he had the option to go to either team because of quarterback injuries. He turned down the Cardinals because Arizona was too far away from his home and family. On Tuesday, he accepted a one-year deal from the Panthers, and if David Carr's back doesn't get better, Testaverde might start or play Sunday. Where's Jeff George when you need him?
Kurt Warner has taken over for Matt Leinart and will mix the no-huddle with a conventional offense. The Panthers and Carr are still optimistic he can shake his back problems and be ready. But what does it say for the state of the quarterback market if a 43-year-old is the only option for two teams that lost quarterbacks?
6. Minnesota Vikings at Chicago Bears: With officials cutting back on their holding calls and quarterbacks completing a higher percentage of their passes, more games are being played in the 2-hour, 50-minute range. This game could easily exceed that mark. Because of poor quarterback play, the Vikings' offense is pretty much handoffs to Adrian Peterson or Chester Taylor.
The Vikings do a great job stopping the run, but the Bears must force as many running plays as possible to get Cedric Benson going. Benson is one of 10 backs in the league getting 20 carries or more a game, but he's averaging three yards a carry. The Bears saved their season in Green Bay last Sunday night, but they must get their running game going. The Bears don't figure to do well against the Vikings in terms of average yards per carry. The key is to get more than 35 running attempts as a team and sneak away with a win.
7. New York Giants at Atlanta Falcons: With Louisville at 3-3, it's clear the loss of Bobby Petrino had a major impact. The way things are going for Petrino, he might long for his college days. Petrino got the worst luck of any of the seven new NFL coaches this season. Michael Vick is heading to jail, and it's pretty evident he made a mistake in trading Matt Schaub to Houston.
On top of that, starting offensive tackles Wayne Gandy and Todd Weiner are injured, and tight end Alge Crumpler has questioned the offensive play-calling, suggesting Petrino is favoring the young offensive skill players over the older ones.
Meanwhile, Tom Coughlin is winning over his grumbling Giants. With the Falcons being part of an easy schedule, it's not out of the question for the Giants to be 6-2 before their bye.
8. Philadelphia Eagles at New York Jets: What do the 2007 Jets have in common with "The Sopranos"? They are having trouble finishing. Many Sopranos fans disliked the ending of the gangster series because it was completely undefined. The Jets are having a hard time finishing offensive drives and finishing defensive plays.
Chad Pennington is completing 71.2 percent of his passes mainly because he's throwing so short, but the Jets have only nine offensive touchdown drives and are scoring only 19.2 points a game. The defense isn't faring much better. The Jets have only three sacks and have allowed 15 touchdown drives, the fourth worst in the NFL. If the Jets fall to 1-5, they are finished.
Eagles head coach Andy Reid cleared the air by saying he is not going to quit for family reasons -- his sons Britt and Garrett face legal trouble -- and plans to fulfill his contract, which runs through 2010. With that out of the way, the Eagles can try to bounce back in the NFC East race.
9. New Orleans Saints at Seattle Seahawks: If you look at the Seahawks' schedule, it's possible they could go on a four- to six-game winning streak. That starts with Sunday night's game against the winless Saints, followed by a Week 7 visit to the winless Rams. The Seahawks have a closing schedule against teams with a combined 16-36 record. They will probably end up with the league's easiest schedule, which usually gives a team an 11- or 12-win season.
As it stands, the Seahawks don't face a team with a winning record until Dec. 9, when they host Arizona. Mike Holmgren will try to spark a struggling running attack featuring Shaun Alexander. Alexander has been bouncing more of his inside runs to the right. His average drops from 5 yards on left-side runs to 3.8 on the right.
10. Cincinnati Bengals at Kansas City Chiefs: Coach Herman Edwards knows he must get the Chiefs' running game going with Larry Johnson, who is averaging only 55 rushing yards a game. Johnson should be doubling that number. The pressure is on.
The Bengals have the 29th-worst run defense and a linebacking corps decimated by injuries. Johnson is going to explode one way or another this week. If he doesn't have a big game rushing, he might state his disappointments publicly.
John Clayton, a member of the Pro Football Hall of Fame writers' wing, is a senior writer for ESPN.com.
ESPN Senior Writer
Senior NFL writer and commentator
Joined ESPN in 1995
Member of the writers' wing of the Pro Football Hall of Fame in Canton, Ohio
THE DUEL IN DALLAS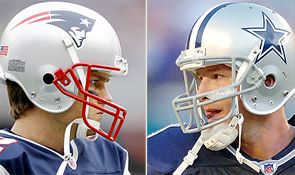 It's a battle of unbeatens ... and a potential preview of Super Bowl XLII. It's T.O. vs. Moss, Romo vs. Brady. It's 5-0 New England vs. 5-0 Dallas on Sunday at Texas Stadium (4:15 p.m. ET).
Commentary/features
•
Clayton's First and 10: Expect lots of offense
•
Garber: Moss and T.O. are two of a kind
•
Bendetson: Unsung Green gets job done for Pats
•
Sando: Brady, Moss among scheme-busters
|
List
•
Harasta: Sharing a moment with the Folk hero
•
Joyner: Cowboys defense passing the test

•
Wojciechowski: Mr. Belichick, meet Mr. Romo
•
Helyar: Romo's marketability a 'perfect storm'
•
Pasquarelli: Cowboy ugly win against Bills
•
Tafoya: Is Romo the next Brett Favre?

•
Power Rankings: Pats No. 1, Cowboys No. 3
•
Great Debate: Will Pats go 16-0 this season?
•
Hashmarks: Matt Mosley blogs on the big game
News
•
Cowboys' Phillips denies 'Spygate' comments
•
T.O. goes silent until after the game
Video
•
Belichick, Phillips sound off
•
Is T.O. nervous for the duel?
•
Werder: T.O. lets sign speak for itself
•
Nix: Brady, receivers keep improving
•
Parcells: What Romo, Dallas will face
•
Duel dialogue: Cowboys leaking oil?
•
EA Sports Madden Challenge: Dallas
Audio
•
Parcells, Keyshawn, Mort on Romo, more

•
Green: Game preview
•
Green: Debating which team is better
•
Tirico: Jerry Jones on QB Tony Romo

•
Mosley: Taking the temperature in Dallas

•
Mortensen: Romo will improve with age

•
Mosley: Bills wake-up call for Dallas

•
Clayton: Timeout rule needs a change

Scouts Inc.
•
Horton's Film Room: Romo's misreads
•
Pats will come hard after Romo
•
Take 2: Pats-Cowboys scouting report
•
Green: Cowboys should use more of Barber
•
Pats vs. Cowboys: Tale of the Tape
•
Green: The new Moss is same as old Moss
•
How to slow down the playmakers
•
Kretz: Newman gives Dallas options
•
Patriots-Cowboys scouting report
•
Kidd: Patriots key on Cowboys TE
•
Maalouf: Dallas special teams will struggle
•
Green: Romo can lead Dallas to Super Bowl
•
Horton: Here's why the Patriots could go 16-0
Zoom Gallery
•
Scouts Inc. on under-the-radar players
Simulations
•
EA simulation: Patriots 41, Cowboys 10
•
AccuScore: Moss makes major difference
SportsNation
•
Pats-'Boys: Who'll win? Who'll make the plays?
•
Rank the Patriots and Cowboys
Community
•
Post a comment on Dallas' Tony Romo
•
Join the conversation on Power Rankings
•
Readers discuss Cowboys' win in Buffalo
Animated Plays
The Cowboys could have their hands full with a defense that is the master of disguise. •
Patriots' games on defense
2007 Results
NEW ENGLAND (5-0)
•
Game 1:
Patriots 38, Jets 14
•
Game 2:
Patriots 38, Chargers 14
•
Game 3:
Patriots 38, Bills 7
•
Game 4:
Patriots 34, Bengals 14
•
Game 5:
Patriots 34, Browns 17
•
Patriots clubhouse page
DALLAS (5-0)
•
Game 1:
Cowboys 45, Giants 35
•
Game 2:
Cowboys 37, Dolphins 20
•
Game 3:
Cowboys 34, Bears 10
•
Game 4:
Cowboys 35, Rams 7
•
Game 5:
Cowboys 25, Bills 24
•
Cowboys clubhouse page