Commentary
Cutler, coach must work it out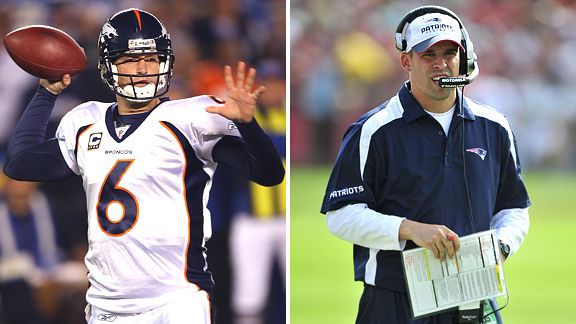 Getty Images/Kirby Lee/US PresswireWorking with a depleted running game, Jay Cutler and the Broncos finished 8-8 in 2008. Josh McDaniels, Denver's first-year head coach, was the Patriots' offensive coordinator last season.
There's a missing part to the Jay Cutler and Denver Broncos story and, no, it isn't about who leaked the story to the media (more on that in a bit).
Matt Cassel may be Josh McDaniels' dream quarterback, but you don't trade a first-round, franchise quarterback such as Cutler, who is coming off a Pro Bowl season in only his third season.
Even TV analyst Phil Simms, the former Super Bowl MVP of the New York Giants, sees it as a head-scratcher, despite the fact that early on he believed Cassel was the real deal.
"Cassel is big, strong, athletic, smart -- all the things you want in a quarterback, and he should only get better," Simms said last weekend. "But I'd say that the one guy who might be even stronger, just as athletic and clearly bright enough, is Cutler. It's very interesting."
For the record, let's acknowledge that McDaniels, a first-year head coach in Denver, is adamantly on the record saying that the Broncos did not attempt to trade Cutler during the first weekend of free agency. He added that they hadn't even entertained the idea.
Cutler has been just as adamant that the Broncos did shop him in an attempt to land Cassel. League sources support Cutler.
Cutler soon is expected to meet with McDaniels to discuss what happened. It really doesn't matter what McDaniels says publicly. What matters is what he tells Cutler.
There's something about Cutler that must bother the coach. So McDaniels can only be honest with his quarterback. Whatever it is about Cutler that made the coach yearn for Cassel must be laid on the table between the two men. For Cutler, anger needs to yield to humility. If McDaniels has a critique, professionally or personally, Cutler must take it to heart. And McDaniels must be honest with Cutler about what went on with Cassel and then move on. Anything else is counter-productive.
This is probably easier said than done when you're talking about young, high-testosterone, competitive people such as Cutler and McDaniels. But it's imperative that it work. It is often said that a coach and quarterback are joined at the hip. That's very true.
It's almost impossible to find anyone who'd speak an ill word about McDaniels. And just to put my initial speculative notion to rest: No, I don't believe Bill Belichick was the source of the leak that the Broncos were pursuing Cassel and shopping Cutler. Belichick has great admiration for McDaniels and, by all accounts, that hasn't changed. In other words, it was wrong to even suggest we could have a Belichick-Mangini redux.
On Tim Graham's AFC East blog on Sunday, I speculated about the Cassel deal, including the source of the leaks. I framed it as speculation without real foundation, but it seemingly has mushroomed into fact when it is not. Leaks happen in the business. I'd be out of work if they didn't. Why I participated in speculating about the source of the leak is so hypocritical I can't stand myself.
Bottom line, it isn't fair to Belichick or McDaniels to speculate how something confidential became public. I could have speculated more logically, if you really think about it. The only thing I'll do now is say that the Broncos were na´ve if they believed that a 24-hour run at Cassel would remain out of the public domain.
Or maybe the Broncos want to get Cutler's attention. It's true that Cutler was angry when Mike Shanahan was fired, followed by the exit of offensive coordinator and quarterback coach Jeremy Bates. Cutler was finally comfortable in a new offense, and no gifted quarterback ever embraces change like that. Cutler made no bones about it.
It was a priority for the Indianapolis Colts when they fired Jim Mora that the offense stay the same for Peyton Manning. Mora was fired after Manning's fourth season. Shanahan was fired after Cutler's third season. It was easy for Tony Dungy, Mora's replacement, to retain offensive coordinator Tom Moore because Dungy was a defense-oriented coach who was friends with Moore. McDaniels is an offensive coach, which is why some wondered whether owner Pat Bowlen should have hired a defensive guy and retained Bates to keep the offense intact. Time will prove the wisdom of the decision.
Some critics will say that Cutler hasn't won anything yet, something Cutler has openly admitted nags at him. However, he also carried the Broncos to eight wins in '08 on a team that had a weak defense, was riddled with injuries and had an offense that lost its first seven running backs. As Shanahan told me in December, there was more burden on Cutler than any quarterback in the NFL. and the coach really felt "Jay's fourth year is going to be a big payoff for us."
Cutler's fourth year will be under McDaniels. Yes, McDaniels' offense is very different in concept and terminology from Shanahan's -- and that's a big deal in the beginning. Cutler is almost back to where he was when he came into the league, trying to learn a new playbook and hoping to just get a play called right in the huddle. Once a playbook is mastered, it's all about execution. Manning hasn't had to change, Tom Brady hasn't had to change, Phillip Rivers hasn't had to change (Norv Turner originally implemented the Chargers' offense as coordinator before returning as head coach).
However, one thing Cutler can depend upon is that McDaniels' offense works and it is quarterback friendly once it's learned.
Now we wait to see if coach and quarterback can become friendly. Or, better yet, respectful and professional. Anything less could mean disaster for McDaniels and Cutler.
So get busy teaching, coach, and get busy learning, quarterback.
Chris Mortensen is ESPN's senior NFL analyst.
NFL reporter
ESPN Senior NFL Analyst
Joined ESPN in 1991
George Polk Award winner; Twice nominated for Pulitzer Prize
2009 FREE AGENCY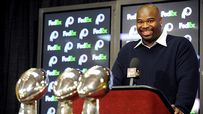 Free agency started with a bang when defensive tackle Albert Haynesworth signed a seven-year deal with Washington and the Redskins re-signed their own free agent, cornerback DeAngelo Hall.
Free-agency blog »
FA tracker »
COLUMNS/FEATURES/BLOG POSTS
FANTASY SPINS
SCOUTS INC. BREAKDOWN
SALARY CRUNCH