Commentary
Tip Sheet: Young QBs ready from get-go
Originally Published:
September 18, 2009
By
Len Pasquarelli
| ESPN.com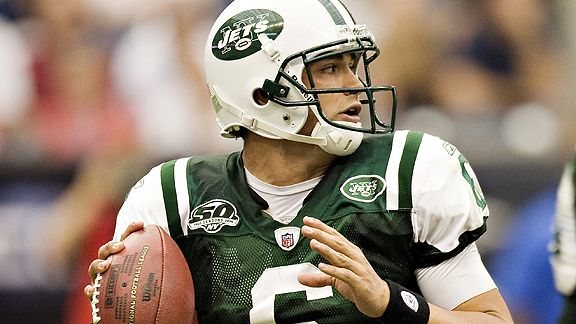 Wesley Hitt/Getty ImagesJets rookie QB Mark Sanchez looked good in beating Houston in his Week 1 start. "What I saw," said Hall of Fame quarterback Joe Namath, "was a kid who was ready."
In NFL drafts from 2000 through 2009, 131 quarterbacks were selected, including 26 in the first round. Yet those 10 lotteries produced only eight QBs who started the opening game of their careers.
And four of those starters, two each in 2008 and 2009, came from the past two drafts.
That represents a dramatic sea change of sorts in the league's long-held philosophy about starting rookie quarterbacks.
INSIDE TIP SHEET
Here's some of what you'll find in this week's Tip Sheet notes.

Where to list White?

Ware contract update

End of the line for Andrews?

Sign now, gripe later

Clark's altitude issues

Rams' serious business

Jets' battering ram

Patriots' linebacker issues

Young tackles thriving

"I don't know if it's a big change or not, because I really don't think about those kinds of things, to tell the truth," said Atlanta QB Matt Ryan, the 2008 NFL Rookie of the Year. "I know it's hard to play quarterback in this league if you're in your first year or in your 10th year ... and it's even harder to play well."
But judging from the events of the most recent two seasons, it's apparently not quite as unthinkable as it used to be. Ryan and Baltimore's Joe Flacco started their teams' opening games as rookies last season and led their franchises into the postseason, and Detroit's Matthew Stafford and Mark Sanchez of the New York Jets started in Week 1 of 2009.
Conventional wisdom is that the immediate success of Ryan and Flacco last season, with the two youngsters winning 11 games apiece and the latter taking the Ravens to the conference championship game, prompted the radical change in thinking around the league. That's probably true in part. It's not coincidence, after all, that Jets rookie coach Rex Ryan had a front-row seat last year as the Baltimore defensive coordinator, when Flacco was so impressive.
First-year starters
The Lions' Matthew Stafford and the Jets' Mark Sanchez became only the seventh and eighth quarterbacks drafted since 2000 to start the opening game of their rookie season. The quarterbacks' records as rookies:
| QB, team | Year | Record |
| --- | --- | --- |
| Joe Flacco, Bal. | 2008 | 11-5 |
| Matt Ryan, Atl. | 2008 | 11-5 |
| Kyle Boller, Bal. | 2003 | 5-4 |
| David Carr, Hou. | 2002 | 4-12 |
| Quincy Carter, Dal. | 2001 | 3-5 |
| Chris Weinke, Car. | 2001 | 1-14 |
But there are other factors as well , like the maturity level of quarterbacks coming into the league and the fact that sophisticated college passing games have created players who are ready to start early in their careers.
Economics also are an element in the equation, with owners eager to reap maximum benefits from eight-figure investments. And some head coaches, with more pressure to succeed quickly because of the short shelf life in their profession recently, are more apt to start the player who provides them the best chance to win, no matter the quarterback's tenure in the league.
"There is no doubt the [learning curve] has been accelerated some," said Miami's Chad Pennington, who in his first two NFL seasons appeared in only three games, started none, and attempted just 25 passes despite being a first-round pick of the Jets in 2000. "It's a difficult position in a difficult game, but because a lot of colleges are throwing the ball more now, guys are probably more ready to play [quickly]."
Of the 21 first-round quarterbacks selected from 2000-07, only David Carr (Houston) and Kyle Boller (Baltimore) started opening games as rookies. Yet four of the past five first-round quarterbacks were immediate starters, and from that group only Stafford lost his first game. Of the five quarterbacks chosen in the first round in 2008-09, only Josh Freeman of Tampa Bay was not an opening-day starter. The two opening-game starters since 2000 who weren't first-round picks were Quincy Carter of Dallas (second round, 2001) and Chris Weinke of Carolina (fourth round, 2001).
"When you're looking at [quarterback] prospects, you aren't necessarily thinking of the guy as an immediate starter for you," Baltimore general manager Ozzie Newsome said. "But anymore you're not thinking that he can't be your starter. Those kinds of guys are definitely unusual, but obviously they do exist."
Although their NFL debuts were nearly a decade apart, perhaps the cases of Pennington and Sanchez illustrate the change in attitude toward rookie quarterbacks. Pennington and Aaron Rodgers are the lone first-round quarterbacks in modern NFL history to not start a game in their first two seasons. Sanchez, on the other hand, was the Jets' starter last Sunday in their opening-day victory in Houston.
There was none of the three-year apprenticeship scouts historically talked about for quarterback prospects. In a 24-7 victory, Sanchez was calm and poised and apparently good enough to impress at least one former New York quarterback.
"What I saw," said Hall of Fame quarterback Joe Namath, "was a kid who was ready."
And given the way things are going lately, Sanchez probably won't be the last one.
Len Pasquarelli, a recipient of the Pro Football Hall of Fame's McCann Award for distinguished reporting, is a senior writer for ESPN.com.
NFL WEEK 2 PREVIEW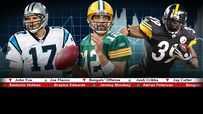 POWER RANKINGS
PICKS
FINAL WORD
STADIUM RATINGS
MVP WATCH
STOCK WATCH: Fallers, risers
COLUMNS/BLOG POSTS
SCOUTS INC.