Commentary
Five to fear: Manning, Brady, Moss, Smith, Gates
The NFL's truly elite players don't need individual statistics to validate their impact, Mike Sando writes.
Originally Published:
October 7, 2007
By
Mike Sando
| ESPN.com
Unwilling to face Peyton Manning on conventional terms, the Denver Broncos recently named both starting defensive tackles inactive, opting instead for a line featuring four defensive ends.
That is respect.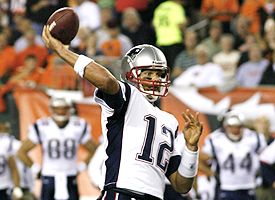 AP Photo/David KohlOn Tom Brady and the Patriots, an AFC scout says: "If you don't walk around on defense and disguise, you are going to get killed."
After watching Randy Moss average close to eight receptions per game this season, the Cleveland Browns enlisted everyone but Romeo Crennel to defend against him Sunday.
Moss finished the game with only three receptions for 46 yards, but no player beyond quarterback Tom Brady was more influential in New England's 34-17 victory.
"Moss has been killing people, and we didn't want him to kill us," Browns coach Romeo Crennel told reporters, "so we died by the hands of somebody else."
Manning passed for only 193 yards against the Broncos' tricked-out line, but the Colts finished with 226 yards rushing and 30 first downs in a 38-20 win.
The NFL's truly elite players don't need individual statistics to validate their impact. Their game-breaking ability compels opponents to change their schemes and their play calling. They force opponents out of their comfort zones well before the opening coin toss.
Asked to filter players using that strict criteria, an 11-man panel of NFL general managers, scouts, coaches and players produced five unanimous selections: Manning, Moss, Brady, Carolina receiver Steve Smith and San Diego tight end Antonio Gates. The panel's unvarnished evaluations, secured in exchange for anonymity, produced a nuanced set of classifications -- and a few surprises.
Scheme-changers and more
ESPN.com set out to identify the best of the best in the NFL, players dominant enough to force opponents into changing their schemes and play calling. Five names kept rising to the top. Quite a few others enjoyed strong if not unanimous support from an expert panel of 11 league insiders.

• The List

LaDainian Tomlinson, universally regarded as the NFL's best running back, didn't make the short list of scheme-changers. Our league insiders -- two general managers, two pro scouts, two coordinators, two position coaches, two quarterbacks and one linebacker -- helped us understand why.
Three receivers -- Houston's Andre Johnson, Dallas' Terrell Owens and Cincinnati's Chad Johnson -- nearly made the list. No defensive linemen drew unanimous support, largely because Carolina's Julius Peppers has been strangely silent this season. The Colts' Dwight Freeney has zero sacks in 15 of his last 21 regular-season games, but he and Peppers still strike fear into opponents, panelists said.
Some lobbied for other impact players, notably Tomlinson. But others argued convincingly that no running back since Marshall Faulk has forced defenses to dramatically alter their game plans. Faulk, who retired in March, averaged 83 receptions and 1,279 yards rushing over a five-year period. Defenses had to account for him as a wide receiver and as a running back.
Purely from a scheme perspective, opponents play Tomlinson the way they would most great running backs, scouts and coaches said. It's not like they put a ninth defender in the box.
"LT doesn't change your scheme," one AFC defensive coordinator said, "but you play more eight-man fronts and it changes your calls."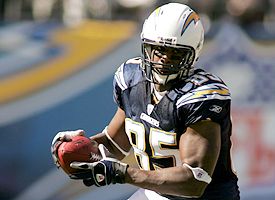 Stan Liu/US PresswireChargers tight end Antonio Gates routinely occupies multiple players on defense.
Manning and Brady made the list largely because they control games even before the ball is in their hands. While Manning has long been known for shrewd pre-snap adjustments, the Patriots have given Brady more responsibility that way in recent seasons.
Quarterbacks have only seconds to break the huddle, size up defenses, identify potentially superior plays and relay changes to their offensive teammates. Manning can take 30 or 40 pages of notes on an opponent and process the information almost instantly. His superior physical talent becomes a factor after the snap.
Though Brady was a sixth-round pick, an NFC scout discounted any notion that he's any less gifted physically. The scout described Brady's pocket presence and ability to maneuver in the pocket as outstanding, calling him the best at feeling pressure and knowing when to step up, away from the rush. And while he emphasized that Brady can make every throw he'll ever need to, the mental side of the game separates him and Manning from most other quarterbacks.
"Those guys beat you in pre-snap, and there are not a lot of quarterbacks who do that," an AFC scout said. "The Patriots run when they know you can't get to an eight-man front; if you don't walk around on defense and disguise, you are going to get killed."
An NFC general manager ranked Manning as the Colts' best defensive player.
"He puts up enough points to let that defense pin its ears back and go," he said.
In the NFC Championship Game in Seattle two years ago, the Seahawks used a linebacker to rough up Smith at the line of scrimmage. Defensive backs took over from there. The tactic worked mostly because the Seahawks, with crowd noise on their side, pressured Carolina quarterback Jake Delhomme into errant throws. But when the Panthers have time to throw, there isn't a coverage Smith can't conquer. No one is scarier after the catch.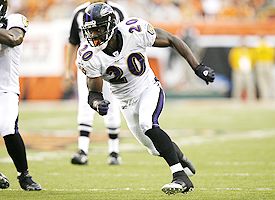 Joe Robbins/Getty ImagesBaltimore safety Ed Reed's range impresses quarterbacks.
"He can make you pay in so many different ways," one defensive coordinator said. "He can catch the ball underneath, he can win in man coverage, he can take a short pass and go the distance. You can do everything right and he can still beat you."
Gates made the list because he forces defenses to account for him with a safety or cornerback, not just a linebacker. Putting an extra defensive back on the field to handle Gates leaves defenses more vulnerable against Tomlinson and the ground game. Even then, Gates has the size/speed combination to beat defensive backs. And if teams try to cover him with a linebacker, forget about it.
"He absolutely belongs on the list," a veteran NFL quarterback said, "because you flank him out on the perimeter and it's very hard to play man coverage."
Philosophical differences marked our panel's assessment of defensive backs.
Each listed Denver's Champ Bailey as the best cornerback in the game, but none thought he influenced game plans the way Deion Sanders did in the 1990s, taking away half the field. With teams running the ball close to half the time and settling into zone schemes against most pass plays, even the best cornerbacks have a hard time impacting games from play to play.
The Broncos have matched Bailey against Colts receiver Marvin Harrison, only to watch Manning funnel the passing game through Reggie Wayne, to great effect.
"Ed Reed and Troy Polamalu have a far greater impact on the game than any corner, and it's not even close," one quarterback on our panel said.
Baltimore's Reed and Pittsburgh's Polamalu were the only safeties who came close to earning spots on the short list of scheme-changing players. Reed came closer than Polamalu.
Quarterbacks marvel at Reed's range and overall playmaking ability. An interception Reed made against San Francisco on Sunday left the 49ers in awe. Reed somehow picked off a short pass to the flanker after lining up in the middle of the field, as if he'd been in two places at once.
Polamalu moves around constantly and blitzes from various angles. He moves around so much that some offensive coordinators tell their quarterbacks not to worry about him too much. They would rather ignore Polamalu than let him bait them into guesswork.
In that sense, safeties can be wild cards to the extent that teams resist making significant changes to their plans for fear of outsmarting themselves.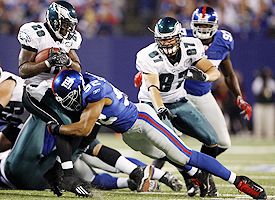 Rich Kane/US PresswireGiants defensive end Michael Strahan, a 15-year veteran, still commands respect.
"Polamalu is an issue in protection while Reed is a factor for the quarterback and where his throws are going," the defensive coordinator said. "He's supposed to be in the post, but he might be jumping a route on the other side of the field."
Two scouts believe even the greatest safeties are generally too far from the football on most plays to force significant changes to game plans. Quarterbacks disagreed, saying Reed could change what they do.
"Ed Reed is special," another GM said. "The guy at Pittsburgh [Polamalu] is really good, not overrated, but there are some holes in his game."
Panelists disqualified other outstanding players from scheme-changing status because the players were part of a tandem or broader package. Teams don't change their plans for the Colts' Harrison as much as they would for Manning, or the tandem of Harrison and Wayne. Minnesota defensive tackles Pat Williams and Kevin Williams affect game plans, no question, but they do so together.
The same principle applied for Bengals receivers Johnson and T.J. Houshmandzadeh and for Arizona's Larry Fitzgerald and Anquan Boldin. Scouts and coaches ranked Boldin ahead of Fitzgerald because he's tougher after the catch and the Cardinals line him up in more places, asking him to run a wider variety of routes. But changing the scheme for one of them would diminish efforts to address the other.
No receiver can flourish consistently if his quarterback is under constant pressure. But with some of the NFL's elite pass-rushers well into their 30s -- the Giants' Michael Strahan and Miami's Jason Taylor come to mind -- none commanded universal support from panelists. Taylor has started slowly before and flourished. Peppers has zero sacks in five games after getting 13 last season.
A veteran quarterback insisted Strahan remained a "beast" to the point that Philadelphia kept doubling him even after Osi Umenyiora became a sack machine in Week 4 working against Eagles backup tackle Winston Justice on the other side. But scouts and coaches said a good tackle can handle Strahan or Umenyiora without changing their game plans.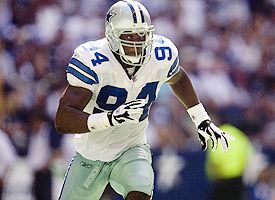 Rob Tringali/Sportschrome/Getty ImagesCowboys linebacker DeMarcus Ware "can do it all," according to one AFC scout.
A veteran quarterback said there are "no more Reggie White game plans" in which teams change everything to stop one defensive player. With San Diego apparently still figuring out how to unleash Shawne Merriman, Dallas linebacker DeMarcus Ware stood out as the pass-rusher most likely to achieve elite status. Offenses seeking to account for Ware in blitz pickup can pay a heavy price if they ask a running back to block him. And offenses can't be sure how the Cowboys will use Ware on a given play.
"You know where Strahan is going to be," one AFC scout said, "but Ware changes the game when he plays down, plays up. Guys who play that position in that defense must be able to rush the passer and then turn their hips to cover and drop. Ware can do it all."
Mike Sando covers the NFL for ESPN.com.
ESPN Senior Writer
ESPN Insider NFL columnist and blogger
Covered the NFL since 1998
Member of Pro Football Hall of Fame selection committee
THE DUEL IN DALLAS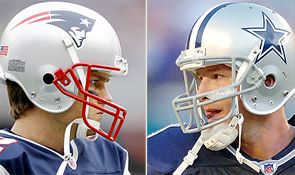 It's a battle of unbeatens ... and a potential preview of Super Bowl XLII. It's T.O. vs. Moss, Romo vs. Brady. It's 5-0 New England vs. 5-0 Dallas on Sunday at Texas Stadium (4:15 p.m. ET).
Commentary/features
•
Clayton's First and 10: Expect lots of offense
•
Garber: Moss and T.O. are two of a kind
•
Bendetson: Unsung Green gets job done for Pats
•
Sando: Brady, Moss among scheme-busters
|
List
•
Harasta: Sharing a moment with the Folk hero
•
Joyner: Cowboys defense passing the test

•
Wojciechowski: Mr. Belichick, meet Mr. Romo
•
Helyar: Romo's marketability a 'perfect storm'
•
Pasquarelli: Cowboy ugly win against Bills
•
Tafoya: Is Romo the next Brett Favre?

•
Power Rankings: Pats No. 1, Cowboys No. 3
•
Great Debate: Will Pats go 16-0 this season?
•
Hashmarks: Matt Mosley blogs on the big game
News
•
Cowboys' Phillips denies 'Spygate' comments
•
T.O. goes silent until after the game
Video
•
Belichick, Phillips sound off
•
Is T.O. nervous for the duel?
•
Werder: T.O. lets sign speak for itself
•
Nix: Brady, receivers keep improving
•
Parcells: What Romo, Dallas will face
•
Duel dialogue: Cowboys leaking oil?
•
EA Sports Madden Challenge: Dallas
Audio
•
Parcells, Keyshawn, Mort on Romo, more

•
Green: Game preview
•
Green: Debating which team is better
•
Tirico: Jerry Jones on QB Tony Romo

•
Mosley: Taking the temperature in Dallas

•
Mortensen: Romo will improve with age

•
Mosley: Bills wake-up call for Dallas

•
Clayton: Timeout rule needs a change

Scouts Inc.
•
Horton's Film Room: Romo's misreads
•
Pats will come hard after Romo
•
Take 2: Pats-Cowboys scouting report
•
Green: Cowboys should use more of Barber
•
Pats vs. Cowboys: Tale of the Tape
•
Green: The new Moss is same as old Moss
•
How to slow down the playmakers
•
Kretz: Newman gives Dallas options
•
Patriots-Cowboys scouting report
•
Kidd: Patriots key on Cowboys TE
•
Maalouf: Dallas special teams will struggle
•
Green: Romo can lead Dallas to Super Bowl
•
Horton: Here's why the Patriots could go 16-0
Zoom Gallery
•
Scouts Inc. on under-the-radar players
Simulations
•
EA simulation: Patriots 41, Cowboys 10
•
AccuScore: Moss makes major difference
SportsNation
•
Pats-'Boys: Who'll win? Who'll make the plays?
•
Rank the Patriots and Cowboys
Community
•
Post a comment on Dallas' Tony Romo
•
Join the conversation on Power Rankings
•
Readers discuss Cowboys' win in Buffalo
Animated Plays
The Cowboys could have their hands full with a defense that is the master of disguise. •
Patriots' games on defense
2007 Results
NEW ENGLAND (5-0)
•
Game 1:
Patriots 38, Jets 14
•
Game 2:
Patriots 38, Chargers 14
•
Game 3:
Patriots 38, Bills 7
•
Game 4:
Patriots 34, Bengals 14
•
Game 5:
Patriots 34, Browns 17
•
Patriots clubhouse page
DALLAS (5-0)
•
Game 1:
Cowboys 45, Giants 35
•
Game 2:
Cowboys 37, Dolphins 20
•
Game 3:
Cowboys 34, Bears 10
•
Game 4:
Cowboys 35, Rams 7
•
Game 5:
Cowboys 25, Bills 24
•
Cowboys clubhouse page