Commentary
The real Michael Irvin pours out in emotional speech
If you ever wondered how teammates, friends and family could blindly support Michael Irvin all you had to do was watch and listen his Hall of Fame speech, writes Jeff Pearlman.
Updated:
August 5, 2007, 6:10 PM ET
By
Jeff Pearlman
| ESPN.com
CANTON, Ohio -- In the summer of 1995, Scott Semptimphelter was a rookie free agent quarterback from Lehigh University, an invitee to the Dallas Cowboys training camp with as much chance of earning a roster spot as the Memphis Showboats had of winning Super Bowl XXX.
To be blunt, Semptimphelter was invisible. He was a schlub in a red jersey just happy to be living out the fantasy before -- Poof! -- a career in medical-supply sales awaited.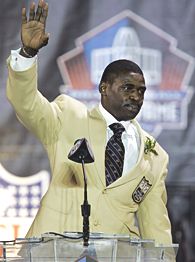 Tony Dejak/AP PhotoMichael Irvin was emotional, spontaneous, poignant, insightful and humbled in his speech.
On one particularly blistering Austin afternoon, Semptimphelter was tapped upon the shoulder by Michael Irvin, the veteran receiver known as much for his myriad off-field problems as his status as one of the NFL's elite pass catchers. "C'mon," Irvin said, "I need you to throw to me."
Semptimphelter was stunned. Hadn't practice just ended 20 minutes ago?
Wasn't the temperature 102 degrees?
Shouldn't Irvin have been ... tired?
Nonetheless, the two trudged to a side field where Irvin ran one route after another, never jogging or stopping or taking so much as a sip of water. "In the middle of the workout he literally threw up on himself as he ran a route," Semptimphelter said. "I mean, he barfed profusely. Most guys would put hands on knees, say screw this and call it a day. Not Michael. He got back to the spot, ran another route, and caught the ball. It was absolutely amazing."
That, more than anything, is why they came to Saturday's ceremony. Why one former Cowboy after another shuffled his gridiron-battered body (or, in the case of Deion Sanders, shimmied his gridiron-battered body in a suit straight out of 3001: A Space Odyssey) through the gates of the Pro Football Hall of Fame to pay homage to a man described as "the best teammate ever," "the ultimate team, ultimate hard-work guy," "the man who led us to where we wanted to go," "the heart of the Cowboys" and so on and so forth.
"We're here for Mike because Mike is always there for us," said Russell Maryland, Irvin's teammate at the University of Miami and with the Cowboys. "Good times, bad times, ups, downs -- you never have to worry about Mike's support. It's yours 100 percent of the time."
To get past the inevitable: Yes, Michael Irvin was caught with two exotic dancers and some cocaine in a motel room. And yes, Michael Irvin wore a mink coat to court. And yes, there was the White House and the strip clubs and the insufferable arrogance and insatiable cravings. And yes ... yes ... yes ... yes ... yes ... yes (Fill in here the ones we're missing).
But as any ex-teammate, Cowboy loyalist or family member will tell you, those were not Michael Irvin. Sure, they were elements of the legendary wide receiver. Newsworthy ones.
The real Michael Irvin, however, was a man who worked his tail off. A man who never threw a teammate or coach under the bus. A man who treated the auditioning kicker with the same respect given to Troy Aikman or Emmitt Smith. A man who signed one autograph after another. A man who refused to see race.
Mostly, the man who would surrender his subclavian in the name of catching a football.
To find the real Michael Irvin, all one had to do was watch Saturday night as he stood at a podium inside Fawcett Stadium and gracefully, gratefully accepted the honor of his lifetime. Irvin may well be the first inductee into any pro sports Hall of Fame to speak without notes or prepared words, and it played wonderfully.
"I want to send love to every fan everywhere because you hear so often that people say, 'Oh, these are the guys that built this game,'" he said, the words engulfed by cheers. "No. It's your hunger and your love for the game, your love for what we do that make this game what it is. I thank you for loving the game like we love it."
Irvin was who he has always been -- spontaneous and heartfelt. Rambling and babbling. Poignant and insightful. Most of all, Irvin was humbled. He spoke of gridiron triumphs, but the most jarring moment came when Irvin discussed his two sons, Michael, 10, and Elijah, 8, and how he prayed for them to avoid the lapses that, sadly, pock his brilliant 12-year career. It was a page out of latter-day Mickey Mantle; a snapshot of a flawed hero succumbing to his shortcomings.
"I say, please, help me raise them for some young lady so that they can be a better husband than I," he said. "Help me raise them for their kids so that they could be a better father than I. And I tell you guys to always do the right thing so you can be a better role model than dad."
The tears streamed from Irvin's eyes, forming small puddles alongside his nose that refused to dry.
They told the story of a broken man.
Of a redemptive man.
Of a triumphant man.
Of a Hall of Famer.
Jeff Pearlman is a former Sports Illustrated senior writer and the author of "Love Me, Hate Me: Barry Bonds and the Making of an Antihero", now available in paperback. You can reach him at anngold22@gmail.com.
EDITORS' PICKS
Jameis Winston's pro day workout wasn't exceptional, but he confirmed he's worthy of being the top pick.
McShay

As ESPN.com celebrates two decades of coverage, we rank the top players and teams of the past 20 years.
Story »

Mailbag: John Clayton explains why expanded playoffs are on hold and discusses overtime rules and extra points.
Story »