Commentary
Rating the top senior prospects
Updated:
August 31, 2005, 1:02 PM ET
By
Todd McShay
| Scouts, Inc.
Scouting the NFL draft has become a year-round trade, and with the number of underclassmen increasing on an annual basis, scouts and NFL personnel officials must start getting a feel for potential prospects during their sophomore seasons.

However, those scouts can't get official heights, weights and speeds on potential prospects until the spring of their junior seasons, so NFL teams spend most of their energy evaluating seniors whose "measurables" and draft eligibility are known.

At Scouts, Inc., we structure our scouting process the same way. During the offseason we get the official numbers on rising seniors, compile notes from live-game visits from the previous season, and study as much film as we can get our hands on in order to make a proper evaluation of potential NFL prospects.

After that process is complete, we make an educated guess as to which top underclassmen could declare and add those prospects to our rankings. The only differences between a senior evaluation and that of an underclassman are that we have official "measurables" for seniors and typically more film to study.

The results is our preseason NFL draft guide, which we're rolling out on ESPN Insider beginning this week.

With so many underclassmen undoubtedly being added to the mix, it's difficult to forecast the strengths and weaknesses of a draft class this early. However, just taking the seniors into consideration, this year's group is in stark contrast from that of a year ago.
In 2004, quarterbacks and wide receivers were the dominant positions. While there are potentially still a few first round receiver prospects in this year's class, there are a lot more question marks because of top players such as Georgia's Fred Gibson and Florida State's Crophonso Thorpe, who will need strong senior seasons to solidify a top selection after struggling with durability problems and overall inconsistency.
As for the quarterbacks, the class could really benefit from the additions of underclassmen Matt Leinart (USC) and Aaron Rodgers (Cal), because there isn't a guaranteed first-round prospect in this class. Arizona State's Andrew Walter and Purdue's Kyle Orton show the potential but have been too erratic to be considered sure things.
With Cedric Benson (Texas) and Carnell Williams (Auburn) electing to return for their senior seasons, the power at the skill positions has clearly shifted to running back in 2005. With prospects such as Walter Reyes (Syracuse), Ronnie Brown (Auburn), Anthony Davis (Wisconsin), Darren Sproles (Kansas State) and even Maurice Clarett behind the "Cadillac" and Benson, the running back class is just as deep as it is strong at the top.
NFL teams in search of big guys to solidify their offensive fronts also should be smiling as they break down the upcoming draft class. OTs Alex Barron (FSU) and Jammal Brown (Oklahoma), OGs Elton Brown (Virginia), Adam Snyder (Oregon) and David Bass (Michigan), and OCs Ben Wilkerson (LSU) and Vince Carter (Oklahoma) are all fine looking NFL prospects worth first- and second-round consideration.
Lastly, if you're looking for the next Tony Gonzalez, Todd Heap, Jeremy Shockey or Kellen Winslow, you won't find him in this class. There are some prospects with potential to blossom -- such as Miami's Kevin Everett -- but there isn't a sure-fire blue-chip tight end prospect in this class, at least as it stands right now.
Next week we will make available the top senior defensive draft prospects, followed by the top underclassmen at each position.
For now, check out our top prospects at each position, beginning with the quarterbacks:
Offensive prospects:
QB | FB | RB | WR | TE | C | OG | OT | Grade explanation
Defensive prospects:
DE | DT | IL | OL | S | CB | P | K | RS

Quarterbacks


Andrew Walter, Arizona State
Grade: 91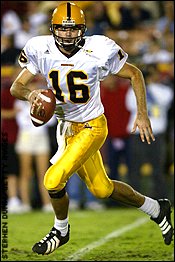 Andrew Walter has posted back-to-back seasons with 3,000 yards and 20 TD passes.

Bottom line: Walter started two games as a freshman in 2001. He began the '02 season as a backup but quickly took over the starting job and exploded onto the national scene in Dirk Koetter's wide-open offense, putting up 3,877 passing yards and 28 touchdowns compared to 15 interceptions. However, while Walter didn't play terribly as a junior in '03, he did not make the progress that was expected. His supporting cast was not what it was in '02, when he had go-to WR Shaun McDonald, and he also suffered an ankle injury against UCLA that forced him to miss one game and hindered him for the final three. As a result, the pressure is on Walter as a senior in '04.

He reminds us a lot of a young Drew Bledsoe; a big pocket passer with great arm strength and a calm demeanor. While he isn't a good athlete, he is a little bit quicker than Bledsoe, and it seems he'll continue to grow into his body and become much less awkward. If Walter bounces back as a senior and is able to make strides in terms of his footwork and mobility, he could be the first senior quarterback selected in the '05 draft.

Kyle Orton, Purdue
Grade: 87
Bottom line: Orton split time as a sophomore in 2002 before developing into a quality starter as a junior in '03. He has always had very good physical tools, but as a junior he finally seemed to grasp what it took in terms of preparation, leadership and intangibles to be a successful quarterback. He has as much upside as any quarterback in this class, but he needs to continue to get better as a senior and prove that his junior season was a building block, not a one-time deal. If he does, Orton could be drafted as high as the first round and could challenge to be the first quarterback taken.

Charlie Frye, Akron
Grade: 84
Bottom line: Frye, who has been a starter since his redshirt freshman season in 2001 and set the Zips' single-season passing record in '03 with 3,549 yards, seriously considered skipping his senior year and making himself available for the '04 NFL draft. Lee Owens, who recruited Frye and was the head coach at Akron for Frye's first three seasons, was fired after the '03 season, prompting Frye to consider leaving, as well. However, he made a wise decision to return to school for his senior season.

For starters, the '05 quarterback class does not have the same potential as the '04 class did, with four first round selections. Almost as importantly, Frye needs to use his senior season to prove to NFL scouts that he can adjust to a new system, continue to get bigger, and play better against top competition early in the season -- at Penn State (9-4) and at Virginia (9-18). If he does those things, Frye should be one of the top five quarterbacks selected and likely between the second and third round.

Dan Orlovsky, Connecticut
Grade: 80
Bottom line: Orlovsky, who already has accepted an invitation to play in the East-West Shrine Game, enters his senior season primed to break all of the school's career passing records. His 61 career touchdown passes rank second in the nation amongst returning quarterbacks, and his 7,352 career passing yards rank him eighth nationally. Orlovsky led his team to nine wins as a junior in '03, and he has helped the program to exceed expectations thus far. He has played well against top competition; he is a proven winner and a tough competitor. He needs to recover from a broken toe suffered in March at spring practice, and he also needs to build on last year's performance against a much tougher schedule in the program's first season in the Big East. If, as expected, he continues to improve, Orlovsky should be one of the top five quarterbacks selected in the 2005 draft.

David Greene, Georgia
Grade: 77
Bottom line: Greene has been a very solid starter since his redshirt freshman season, when he was named SEC Freshman of the Year in 2001. Most impressive about Greene are his leadership and proven ability to run an offense. Greene has held onto his job despite highly touted youngster D.J. Shockley breathing down his neck. Greene doesn't have elite overall physical tools, but he's steady, he knows how to win and he is a high-character player who does things the right way. In many ways, he reminds us of Patriots' QB Tom Brady. Greene won't be drafted as late as Brady (6th round), but his lack of ideal physical tools likely will cause him to slip to the end of Day 1. He is one of those players, however, who has the intangibles to overcome his physical limitations in the NFL, which is why we think he'll eventually become a starter at the next level.

Stan Hill, Marshall
Grade: 76
Bottom line: Hill redshirted in 2000 and saw limited action as the backup to Byron Leftwich (Jaguars) from '02-'03 before taking over the starting job as a junior last season. For starters, Hill needs to return healthy from the season-ending knee injury he suffered in '03. Second, he must prove he can stay healthy as a fulltime starter for the duration of an entire season. Hill has the physical tools to potentially become a solid backup or even a decent starter in the NFL, but he still has much to prove having made just five starts entering his senior season. Furthermore, he stayed out of trouble off the field last year, but Hill has a history of run-ins with the law, including two arrests and a misdemeanor conviction before his junior season. With all of that said, Hill grades out as an early Day 2 prospect because of his potential. If he puts it all together as a senior, he could be drafted as high as the third round. However, if he suffers another setback of any kind, he also could slip to the later rounds.

Chris Rix, Florida State
Grade: 63
Bottom line: Rix will be the only four-year starting quarterback in the Bobby Bowden era, but that wouldn't be the case if FSU had another legitimate candidate at the position. Rix started all 12 games as a freshman in 2001 and showed tremendous upside, but he has failed to make progress in his areas of weakness on the field, while also frustrating coaches and teammates with an arrogant attitude and numerous minor off-field incidents. He was benched for a period of time as a sophomore in '02 and a junior in '03, but he once again enters the season as the Seminoles' starting quarterback with no competition for the job. If Rix could ever put it all together, he has the potential to be a dynamic NFL quarterback. After three years of teasing with promise but failing to improve, we're confident his senior season will be much the same. Rix might be worth drafting on Day 2 if you're an NFL team with room for a developmental No. 3 and have a very good quarterback coach. However, unless he has a monumental turnaround as a senior in '04, Rix is not worth wasting a Day 1 selection on.

Jason White, Oklahoma
Grade: 58
Bottom line: Before his Heisman Trophy junior campaign last season, White had started just four games because of two separate ACL injuries. White was able to avoid injury for the first time in his career and made the most of it by setting school records for touchdown passes and consecutive completions en route to a 12-2 record and an appearance in the BCS national championship game. While he didn't miss any time as a junior, he did continue to struggle with his durability down the stretch, as he severely bruised his shoulder, broke a bone in his right hand and broke a toe against LSU. White obviously needs to stay healthy and continue to prove that his knees are not a major, long-term concern. He will never have great size, arm strength or mobility, but White does everything else right. He has the potential to develop into a solid backup-type in the NFL, which is why a team will likely take a chance on him on Day 2.

Derek Anderson, Oregon State
Grade: 56
Bottom line: Anderson was one of the most highly-touted athletes in the county as a senior in high school, not only in football but also in basketball. He has always had tremendous natural tools and upside, but he has yet to come close to reaching his potential. Anderson played in five games as a backup his true freshman season in 2001, and he has been a fulltime starter since, with 26-consecutive starts entering his senior season. Anderson has put up some big numbers and has had his moments, but it is his inconsistency that has killed him. In '03 he threw as many interceptions (24) as he did touchdowns. Overall, Anderson has the physical tools of a Day 1 prospect, but unless he makes considerable strides in his consistency and decision-making in '04, he'll likely slip to Day 2 of the '05 draft.

Gino Guidugli, Cincinnati
Grade: 53
Bottom line: Guidugli has been Cincinnati's starting quarterback since his true freshman season in 2001. He is a durable and tough quarterback with adequate-to-good arm strength and mobility. He seems to have decent leadership skills, and he is a competitive player, but something is missing. On top of concerns about his accuracy as a passer, Guidugli simply makes too many mistakes and is too inconsistent at the quarterback position. He commits too many turnovers, and his inability to take care of the football will scare many NFL teams away on draft day, which is why he's nothing more than a mid-Day 2 prospect at this point.

Scouts, Inc., watches games, breaks down film and studies football from all angles for ESPN Insider.
ESPN Senior Writer
ESPN College Football and NFL Draft Analyst
Joined ESPN in 2006
Played quarterback in high school and was a backup QB for the University of Richmond.
EDITORS' PICKS
Jameis Winston's pro day workout wasn't exceptional, but he confirmed he's worthy of being the top pick.
McShay

As ESPN.com celebrates two decades of coverage, we rank the top players and teams of the past 20 years.
Story »

Mailbag: John Clayton explains why expanded playoffs are on hold and discusses overtime rules and extra points.
Story »