Commentary
Ward a perfect symbol of selfless Steelers
Hines Ward began training camp in a contract dispute with the Steelers but ended the campaign as MVP of Super Bowl XL.
Updated:
February 7, 2006, 2:30 PM ET
By
Len Pasquarelli
| ESPN.com
DETROIT -- Next to future Pro Football Hall of Fame tailback Jerome Bettis, wide receiver Hines Ward is inarguably the player who is most often cited as personifying what it means to be a Pittsburgh Steeler.
As confetti rains around him, Steelers receiver Hines Ward describes what it feels like to be named Super Bowl MVP.
And so it was only fitting that, on an evening in which the retiring Bettis was finally able to hoist the Vince Lombardi Trophy as confetti rained down on him, Ward was chosen as the Most Valuable Player in Super Bowl XL. Fitting because Ward, an eight-year veteran, has played for one franchise, one owner and one head coach his entire career, and figures to retire in a black-and-gold uniform.
Fitting, too, because Ward is often noted by teammates as a great team leader, a veteran who exemplifies what the selfless Steelers are all about.
"You know, with the [franchise] records I've been setting the last year or two, people like to keep comparing me to Lynn Swann and John Stallworth," said Ward, conjuring up the names of the Steelers' two Hall of Fame wideouts from Pittsburgh's halcyon days of the 1970s, when the club won four titles in six seasons. "Until tonight, I never really thought I should even be mentioned in the same breath as those two. But you know what? Winning a Super Bowl, being the Most Valuable Player, now I feel like I belong in that club with those two."
This was a season -- and a Sunday -- that began unevenly for Ward, a four-time Pro Bowl performer who's known almost as much for his down-field blocking as his receiving. Ward missed the first week of training camp in a contract dispute. On Saturday, Ward was so anxious about his first Super Bowl appearance, he missed a good night's sleep.
Ward awoke at 5:30 a.m. Sunday, ready then to play the game. Ironically, once Super Bowl XL kicked off, he felt like he was sleepwalking through the action.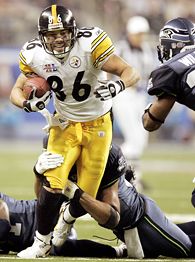 AP Photo/Mark J. TerrillHines Ward had five receptions for 123 yards and was named the Super Bowl MVP.
In the second quarter, he missed a touchdown catch when he was wide open in the right corner of the end zone. His feet seemed to get tangled on the play, set up by a nifty pump fake by quarterback
Ben Roethlisberger
, and he misjudged the ball. At best, it would have been a difficult catch, but it was a catch Ward has made many times before, and felt he should have made on Sunday night, too.
"I don't know, for as anxious as I was to play this game, it took me a long time to really get into it," Ward said. "I think it was maybe the second quarter when I woke up and thought to myself, 'Hey, man, you're playing in a Super Bowl. Snap out of it.' Once I got through that, I think I was fine."
Finer than fine, in fact, was Ward, who finished with five catches for 123 yards, and a 43-yard touchdown grab from fellow wide receiver Antwaan Randle El on a well-executed reverse in the fourth quarter. Ward also added 18 yards on a second-quarter reverse.
Super Bowl MVPs
2006: Hines Ward, WR, Pittsburgh
2005: Deion Branch, WR, New England
2004: Tom Brady, QB, New England
2003: Dexter Jackson, FS, Tampa Bay
2002: Tom Brady, QB, New England
2001: Ray Lewis, LB, Baltimore
2000: Kurt Warner, QB, St. Louis
1999: John Elway, QB, Denver
1998: Terrell Davis, RB, Denver
1997: Desmond Howard, KR, Green Bay
1996: Larry Brown, CB, Dallas
1995: Steve Young, QB, San Francisco
1994: Emmitt Smith, RB, Dallas
1993: Troy Aikman, QB, Dallas
1992: Mark Rypien, QB, Washington
1991: Ottis Anderson, RB, N.Y. Giants
1990: Joe Montana, QB, San Francisco
1989: Jerry Rice, WR, San Francisco
1988: Doug Williams, QB, Washington
1987: Phil Simms, QB, N.Y. Giants
1986: Richard Dent, DE, Chicago
1985: Joe Montana, QB, San Francisco
1984: Marcus Allen, RB, L.A. Raiders
1983: John Riggins, RB, Washington
1982: Joe Montana, QB, San Francisco
1981: Jim Plunkett, QB, Oakland
1980: Terry Bradshaw, QB, Pittsburgh
1979: Terry Bradshaw, QB, Pittsburgh
1978: Randy White, DT
and Harvey Martin, DE, Dallas
1977: Fred Biletnikoff, WR, Oakland
1976: Lynn Swann, WR, Pittsburgh
1975: Franco Harris, RB, Pittsburgh
1974: Larry Csonka, RB, Miami
1973: Jake Scott, S, Miami
1972: Roger Staubach, QB, Dallas
1971: Chuck Howley, LB, Dallas
1970: Len Dawson, QB, Kansas City
1969: Joe Namath, QB, N.Y. Jets
1968: Bart Starr, QB, Green Bay
1967: Bart Starr, QB, Green Bay
On the touchdown pass, Ward and Randle El switched positions, with the latter moving into the "X" receiver spot. Ward sold the reverse well, and when backup safety Etric Pruitt bit and moved up into the intermediate zone area, Ward burst past both he and cornerback Marcus Trufant and into the open. The touchdown was critical, given that the Steelers had squandered some promising scoring opportunities, and it boosted Pittsburgh into an insurmountable 21-10 advantage.
"At times like that," wide receiver Cedrick Wilson said, "you want your premier guys to step up for you. You want athletes to do athletic things to win the game. And we put the game into the hands of two of our best athletes. And you see what happened, right?"
Ward, 29, hasn't always been recognized by those outside the game as one of the NFL's great wide receivers, but don't try telling that to his teammates or to most opponents who appreciate the diversity of his skills. The former University of Georgia standout, who played five positions during his Bulldogs' career and wasn't selected until the third round of the 1998 draft, catches, runs and blocks.
He has posted a 112-catch season, four 1,000-yard campaigns, and once again led the Steelers in receptions (69), receiving yards (975) and touchdown catches (11) in 2005. But he also, characteristically, subjugated elements of his game for the common good. Talk to opponents and they generally rave about him.
Said Seahawks cornerback Kelly Herndon late Sunday night: "I don't know anyone in the league who ever underrates the guy. He's a player's player, you know? He does all the little stuff well. Guys around the league respect the heck out of him. I know we tried to pay a lot of attention to him."
In becoming the fifth wide receiver to garner MVP honors -- Swann, Fred Biletnikoff (Oakland), Jerry Rice (San Francisco) and Deion Branch (New England) are the others -- Ward won't have to worry about a lack of attention now. Then again, he never really fretted very much about individual accomplishments, which is why he is so respected by his teammates.
"Doing this with this team, man, it means so much," Ward said. "Honestly, this is what my holdout last summer was all about. I wanted to be with these guys, finish my career with this organization, and be an important part of this franchise's great legacy. Hey, a lot of great players never got this opportunity. Believe me, it's humbling, and it's something I will never forget."
Len Pasquarelli is a senior NFL writer for ESPN.com. To check out Len's chat archive, click here
.