Commentary
Jaguars defense has been better than Seahawks' Legion of Boom
Updated:
November 3, 2017, 12:04 PM ET
By
Seth Walder
| ESPN.com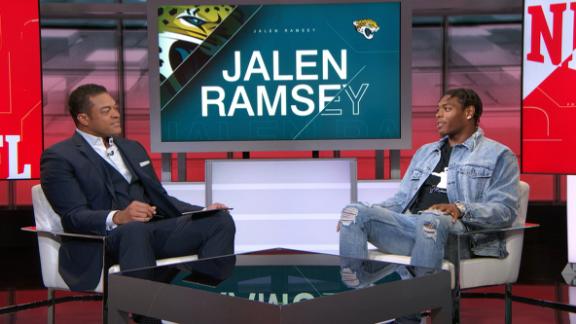 Ramsey: 'We put it all on our defense'
Jaguars CB Jalen Ramsey is OK with the the team putting all the responsibility for winning on his defense.
Ramsey: 'We put it all on our defense'
Move over Legion of Boom, the Jags are here.
Your 4-3, playoff-contending Jacksonville Jaguars are playing better defense, in terms of expected points added per game, than anyone since at least 2001. That means they are, so far, besting the 2013 Seattle Seahawks team -- peak Legion of Boom.
While no one has topped the Jaguars' defensive performance on a per-game basis overall, what is most remarkable is how much of an outlier their pass defense is.
Best Pass Defense EPA Per Game, 2006-17
So on a per-game basis, the Jaguars are blowing other teams completely out of the water in preventing opponents' aerial attack. Granted, Jacksonville has played only seven games while most of its competition in this category had to play 16. But the point stands: This Jaguars pass defense is playing at an elite level.
And this isn't a matter of one huge play distorting the Jaguars' season average. Even if we remove Jacksonville's biggest play against the pass all year -- a Yannick Ngakoue strip sack of Tom Savage that Dante Fowler Jr. returned for a touchdown -- these Jags would still easily outpace the Seahawks.
So what makes the Jaguars so successful? It's a two-pronged combination of a disruptive pass rush combined with opportunistic pass coverage. This isn't just about high-profile cornerbacks Jalen Ramsey and A.J. Bouye, though they are certainly part of the equation.
Sam Greenwood/Getty ImagesYannick Ngakoue's ability to pressure opposing QBs has been a major reason for the Jags' renaissance.
Let's start with the pass rush. What makes this group special isn't only the pressure it generates, but the pressure it generates without having to rely on the blitz. Despite blitzing on only 19.5 percent of dropbacks (fourth lowest), the Jaguars generate pressure on the second-highest percentage of passing plays, 32.5 percent. For context, the only team to put opposing quarterbacks under duress more frequently than the Jaguars is the Rams, who blitz 39.3 percent of the time, almost double what the Jaguars do.
This, by the way, is similar to the Seahawks in 2013. That team had, by a decent margin, the best pressure rate in the league while blitzing at the eighth-lowest rate.
The Jaguars' pass rush isn't a one-man effort: All four of their top pass-rushers have been productive. Ngakoue, Calais Campbell, Fowler and Malik Jackson all rank in the top half of players with at least 100 pass rushes this season, according to NFL Next Gen Stats. (Note: the pressure from Next Gen Stats is calculated differently than our aforementioned pressure numbers, so might vary slightly). Ngakoue has the best pressure rate on the team, but Campbell has the most sacks, with 10.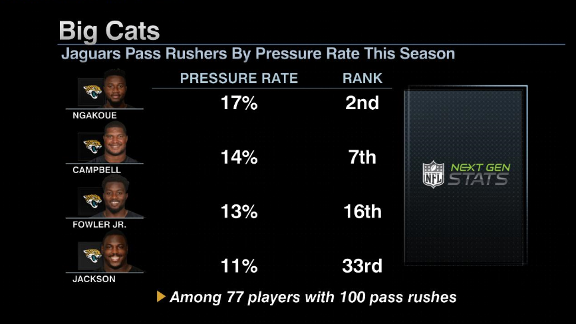 ESPN Analytics
Adding to the discomfort the Jaguars' defense provides to opposing quarterbacks, Jacksonville averages the third-lowest separation between the quarterback and the nearest defender at time of throw, according to Next Gen Stats.
The Jaguars also recently traded for Marcell Dareus, though the former Bill figures to be a bigger asset against the run than the pass.
Once/if quarterbacks do get rid of the ball against the Jaguars, they face an imposing coverage unit. Perhaps partially a result of the Jags' ability to generate pressure without blitzing, receivers are rarely left uncovered by Jacksonville. In fact, no team has allowed targets to wide-open receivers -- defined as receivers who have at least 3 yards of separation between them and a defender, on passes that travel at least 5 air yards -- as infrequently (16 percent of such attempts) as the Jaguars have, per Next Gen Stats.
And then when quarterbacks throw into tight coverage -- with a defender within one yard of the intended receiver at the time of the target -- the Jaguars have taken advantage, and then some. On 39 such targets the Jaguars have allowed 10 receptions for 153 yards, 0 touchdowns and five interceptions, according to Next Gen Stats. In terms of adjusted yards per attempt (AY/A), which takes yards per attempt and adds a 20-yard bonus for a touchdown pass and a 45-yard penalty for an interception, the Jaguars are the best in the league at defending passes thrown in tight windows. In fact, they are so good that their AY/A is actually negative.
Best Tight Window Passing Defenses, 2017
Obviously, this sort of pass coverage is a team effort, and the pass rush plays a role here, too. But Ramsey and Bouye, the high-profile cornerbacks, have been critical in these situations and each has allowed only a single reception when they are within 1 yard of the intended receiver at the time of the target.
All of this is to say that quarterbacks slated to face the Jaguars soon -- and that's a list that includes Andy Dalton, DeShone Kizer, Drew Stanton and Jacoby Brissett -- are likely in for a rough day. Four years ago the Seahawks turned an elite pass defense into a Super Bowl win. That might be too lofty a goal to be realistic for the Jaguars this year given that Blake Bortles is the team's quarterback, but the playoffs are certainly within reach. On the back of their unstoppable pass defense, Jacksonville has an 84 percent chance to reach the postseason, per ESPN's Football Power Index, for the first time since 2007.
For more from ESPN Analytics, visit the ESPN Analytics Index.
Seth Walder
ESPN Analytics
EDITORS' PICKS
Jameis Winston's pro day workout wasn't exceptional, but he confirmed he's worthy of being the top pick.
McShay

As ESPN.com celebrates two decades of coverage, we rank the top players and teams of the past 20 years.
Story »

Mailbag: John Clayton explains why expanded playoffs are on hold and discusses overtime rules and extra points.
Story »