12. John Madden: More than a game
Oakland Raiders were villains, constant contenders during decade of excellence
Originally Published:
May 31, 2013
ESPN.com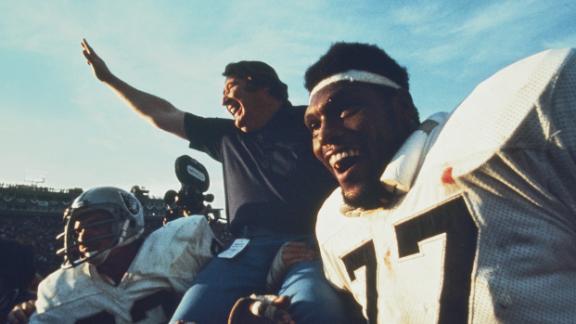 No. 12 - John Madden
Al Davis, Dennis Allen, Curt Gowdy and Phil Villapiano discuss why John Madden is one of the greatest coaches in NFL history.
No. 12 - John Madden
ESPN celebrates the 100th anniversary of Vince Lombardi's birth with the "Greatest Coaches in NFL History" series, saluting the finest innovators, motivators, tacticians, teachers and champions ever to stalk the sidelines. Follow along as we reveal our list of the top 20 coaches of all time and document the lineage of the league's most influential coaching trees.
GREATEST COACHES IN NFL HISTORY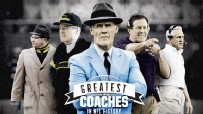 This series is a collaborative effort between ESPN TV, ESPN.com, ESPN Digital Video, ESPN The Magazine,
the Elias Sports Bureau, ESPN Radio
and ESPN Stats & Info.
Counting down to the 100th anniversary of Vince Lombardi's birth on June 11, 2013, we selected the top 20 coaches of all time, as chosen by a blue-ribbon panel of ESPN analysts and writers.
We've also traced the NFL's evolution with 14 extensive features on the league's most significant coaching trees.
In all, we've profiled 175 coaches in more than 50,000 words, a colossal project befitting the greatest coaches in NFL history.
Also see:
• Madden on Don Coryell coaching tree
• "Greatest Coaches" home page
Before he was famous as the face of a successful video game franchise, and before he was famous as a TV analyst and pitchman, John Madden was famous as a coach.
In 10 seasons as head coach of the Oakland Raiders, Madden never had a losing record and won 17 straight games at one point. His teams won seven division titles, including five in a row, and one Super Bowl. They made eight playoff trips and got at least as far as the conference championship game seven times. He compiled a regular-season career winning percentage of .763, best in NFL history among coaches with at least 100 games. Only George Halas and Curly Lambeau reached 100 career wins at a younger age than Madden.
Madden played both offense and defense at Cal Poly and was drafted by the Philadelphia Eagles, but an injury cut short his playing career. His main coaching experience before reaching the pro level came on Don Coryell's staff at San Diego State in the mid-1960s.
At the age of 30 in 1967, Madden joined the Raiders staff as linebackers coach under John Rauch. That season, Oakland won the AFL championship and lost to the Green Bay Packers in Super Bowl II. The Raiders went 12-2 the next season and lost in the AFL Championship Game. Rauch, tired of Al Davis' hands-on ownership style, resigned and became head coach of the Buffalo Bills. Davis handed over the reins to Madden, who helped the Raiders establish themselves as an NFL power in the post-merger era.
Madden retired from coaching at age 42 after the 1978 Raiders failed to make the playoffs. He was succeeded by receivers coach Tom Flores, who would lead the team to two Super Bowl victories. Madden then began a storied career in broadcasting and eventually reached new levels of fame thanks to the video game bearing his name. Madden was inducted into the Pro Football Hall of Fame in 2006.
-- Shawna Seed
MADDEN THROUGH THE EYES OF A PLAYER: GEORGE ATKINSON
John was a players' coach. He demanded excellence from us. Our practices were basically harder than the games we played. He demanded perfection. He demanded that you be in shape. He demanded that you knew exactly what you were doing. He prepared us, and that's what coaches do. He prepared us by putting us in position to make plays.
[+] Enlarge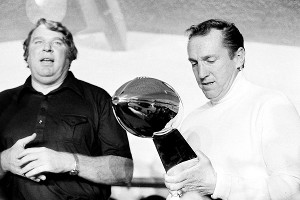 AP PhotoJohn Madden's coaching and Al Davis' willingness to take risks on players combined to make the Raiders an unorthodox but successful franchise.
And he did a great job of managing the guys. We had some characters. For him to manage us and keep us engrossed in playing football and winning, that was in and of itself a hell of a job. A lot of guys had been rejected from other teams. The NFL had basically given up on them, and Al Davis was smart enough to see something, and John was smart enough to understand what he had.
We as players, we played hard for him. He was a guy who was easy to play for. He treated us like men. We knew he wanted us to be successful as far as winning football games. He prepared us.
We had been through so many things with controversy attached to it that are in the annals of pro football history. I think I played, with John as a head coach, in eight championship games. That's one step from the Super Bowl. To be that close so many times and not get there, that could've been a lot for some people. We struggled, but we continued to believe we would win it. One year would be our year, and finally in 1976 it was our year.
The best memory of John was when we won the Super Bowl to finally see him being hoisted on the players' shoulders and being carried off the field. We'd been there so many times before and hadn't succeeded in the championship games. To win the Super Bowl and to see the smile on his face and players taking him off the field was special. He was very happy. We had some great teams. I'm pretty sure it was a great relief for him to get that monkey off his back because people were saying we couldn't win the big one. We proved that to be wrong.
-- Former Raiders defensive back George Atkinson, as told to Ashley Fox
ESPN "Greatest Coaches in NFL History" voting panel: Chris Berman, Jeffri Chadiha, John Clayton, Colin Cowherd, Mike Ditka, Gregg Easterbrook, Herm Edwards, David Fleming, Ashley Fox, Greg Garber, Mike Golic, Suzy Kolber, Eric Mangini, Chris Mortensen, Sal Paolantonio, Bill Polian, Rick Reilly, Mike Sando, Adam Schefter, Ed Werder, Seth Wickersham, Trey Wingo.
GREATEST COACHES IN NFL HISTORY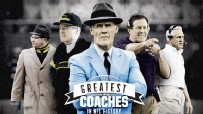 ESPN lists the top 20 coaches of all time and examines the most influential coaching trees.
Greatest Coaches in NFL History home page


EDITORS' PICKS
Jameis Winston's pro day workout wasn't exceptional, but he confirmed he's worthy of being the top pick.
McShay

As ESPN.com celebrates two decades of coverage, we rank the top players and teams of the past 20 years.
Story »

Mailbag: John Clayton explains why expanded playoffs are on hold and discusses overtime rules and extra points.
Story »