Nick Fairley discipline mulled
Updated:
August 2, 2012, 7:12 PM ET
Associated Press
ALLEN PARK, Mich. -- NFL commissioner Roger Goodell respects the due process that players in the league are entitled to if they're arrested.
Goodell just knows he doesn't have to wait for court cases to play out to determine how to discipline those he thinks have tarnished the league's image.
"We don't by policy, particularly if there's a pattern of behavior," Goodell said Thursday during a visit to Lions' training camp. "If there is not a pattern, we certainly do acknowledge the legal process and want to be respectful of that."
Chadiha: Lions Try to Restore Order

The Lions overcame years of misery by making the playoffs last season. ESPN.com's Jeffri Chadiha examines whether they are disciplined enough to keep the good times going. Story
The NFL has already suspended Detroit running back Mikel Leshoure for two games for off-field conduct.
Defensive tackle Nick Fairley likely will have to sit at some point this season, too.
Fairley has two scheduled days in court, including one in late November, after getting arrested in Alabama twice in two months.
The 2011 first-round pick has pleaded not guilty to driving under the influence and attempting to elude police charges after troopers say in May he was driving about 100 mph and initially refused to pull over. He is scheduled for trial beginning on Aug. 14 on those charges, potentially putting him in a court room between Detroit's first and second preseason games.
Fairley also faces a hearing on Nov. 27 -- two days after the Lions' 11th game -- on a marijuana possession charge from April.
Goodell said he planned to meet with Fairley and Leshoure.
Fairley refused to say if he would lobby for leniency.
"I can't talk about that, but I look forward to talking to him," Fairley said after Thursday's practice.
Leshoure, who pleaded guilty to marijuana possession in May in one of two marijuana-related charges he faced, said a letter he got this offseason informed him of his suspension without much input from him.
"I'm not really for sure how that all went down," he said. "I just know I was given my punishment and I dealt with it. I've learned from it. I knew there was going to be some kind of repercussion from it."
The Lions didn't wait for Goodell to punish cornerback Aaron Berry or offensive tackle Johnny Culbreath after both had run-ins with the law, cutting both players. Berry was arrested during the offseason on suspicion of DUI and again after authorities say he brandished a weapon. Culbreath was arrested for marijuana possession. Goodell said Berry and Culbreath are still subject to punishment from the league.
Just when the Lions thought their off-the-field woes were over heading into training camp, they recently found out defensive tackle Corey Williams was charged with drunken driving last year.
Lions general manager Martin Mayhew has defended the job he and his staff have done to look into players' past before drafting or acquiring them.
"I think we've done a really thorough job analyzing guys' backgrounds," Mayhew said earlier this week. "I think there's some times where we've taken a little bit of risk. We continue to look into guys' backgrounds and try and anticipate what behaviors guys might get involved in, but I think this offseason was different for us. I think there will be a reversion toward the mean.
"As an organization we have not had a lot of those problems off the field. I think we'll head back toward that as we move forward."

Copyright 2012 by The Associated Press
The NFL on ESPN.com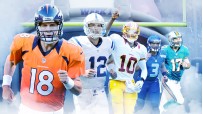 CLAYTON/FOX/SCHEFTER
MONDAY NIGHT FOOTBALL
WEEK 1 PICKS
BOUNTY BANS OVERTURNED
FINAL WORD
2013 NFL DRAFT
MORE NFL COVERAGE