Self-help books, some youth hockey coaches, micromanaging by micro-brained managers, Tony Robbins, Red Bull and the first 1:07 seconds of "Vicarious" by Tool. All have contributed to an amped-up society that takes almost every waning second of life rather seriously.
There are others, but these are the first six examples that hit my brain. These examples help partly explain Tom Cruise, binge drinking and why NHL All-Star Games no longer work for some.
This is not our fault. It's not our fault. It's not our fault. Now, have yourself a good Will Hunting/Matt Damon cry.
Shot of the Week
You know how it works. We will present an NHL photo, and Bucci will provide a caption. E-mail him your suggestions (include your name and hometown/state) and we will use the best ones and provide a new photo the following week.
LAST WEEK: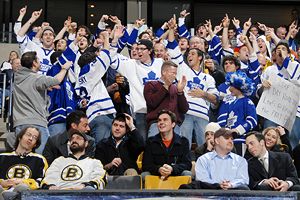 The Tragically Unhip (Getty Images)
Your captions:

Leafs fans celebrate their victory over Boston for the "Running a Franchise Into the Ground, Original Six Division" award.
--
Charles Youel (Minneapolis)
"Come on down! You're the next contestant on 'The Price is Right'!"
-- John Kelly (Washington D.C.)
"Who needs a beer?"
-- Kevin Evancio (Copenhagen, Denmark)
Leafs fans at their 41st annual "Cup Celebration Practice."
--
Steve Saunders (Calgary)
THIS WEEK: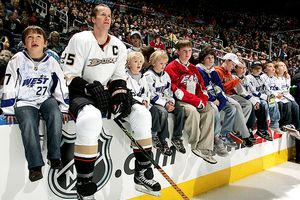 "And the 2008 Hart Trophy winner is: Mrs. Chris Pronger." (Getty Images)

Because we are under constant surveillance at school, work and play, our lives are almost fully documented. With phone records, surveillance cameras, credit-card receipts, cable/satellite TV statements showing Center Ice purchases, banking records and work identification cards, it is a wonder any crime is left unsolved. This neutral-zone trap has resulted in a culture in which people are subconsciously careful, aware and tired. This has resulted in a lot of us pacing ourselves for what's really important so we can adequately battle it out with other people doing the same thing. We seek advice to be better, engorge ourselves with caffeine and then play Tool as loud as we can to get ready for our task at hand. Work or pleasure, we tend to function at extreme levels for both. We work 12-hour days, then drink a quart of Jim Beam while tailgating for a Buffalo Bills game and call this balance.
One problem is some of us can't handle downtime. Some of us listen to people who say golf is for the frivolous, naps are for the lazy and hockey is for the strange and violent. All three have been very good to me.
People who drive Harleys are also professional downtimers, and thus likely well-adjusted and peaceful. They probably still like All-Star games. Others -- the compulsively amped, tired and careful -- don't find the NHL All-Star Game appealing because regular-season games have become so competitive so early in the season. There is so much on the line with making the playoffs, with the salary cap and three-point games, that teams and fans have been gripping for months. The "chill" of the All-Star Game is too much of a downer for people to deal with. They are tired.
All of this 21st century gobbledygook has left us with a lot of unsure, lazy people afraid to take a stand, stick to a plan and ignore what other people think. This explains why some NHL teams make such dreadful decisions in their organizational planning. There is not a textbook for every situation in life. You just have to be informed, passionate and energized, and that is difficult for a lot of people in a fast-paced world. If we worked fewer hours and took more naps, we would all be more productive.
"Moneyball" works in baseball, but it doesn't work in hockey because hockey is about personality, instinct and heart before everything else. The suffocation of coaching and systems has taken some of that personality out of hockey at all levels, but it is still the essence of the game. If you try to follow a textbook in running a hockey team, you will constantly be one step behind and will make bad decisions. If you are trying to devise and employ "Moneyball" like statistics for hockey, you are wasting your precious downtime. You would be just as productive wearing a wrestling suit and singing George Michael songs in Sarnia, Ontario, in the hope that a puck-moving defenseman will appear during the second stanza of "Father Figure" and jump on your back for a piggy-back ride to Air Canada Centre in Toronto.
One must have talent and gut instincts to build something involving personalities and passion.
As Will Hunting said in The Bow and Arrow Pub to an arrogant Harvard poseur named Clark:
WILL
Wood drastically underestimates the
impact of social distinctions predicated
upon wealth, especially inherited
wealth ? You got that from 'Work in
Essex County,' page 421, right? Do
you have any thoughts of your own on
the subject or were you just gonna
plagiarize the whole book for me?
Clark is stunned.
WILL (cont'd)
Look, don't try to pass yourself off
as some kind of an intellect at the
expense of my friend just to impress
these girls.
Clark is lost now, searching for a graceful exit.
WILL (cont'd)
The sad thing is, in about 50 years
you might start doin' some thinkin' on
your own and by then you'll realize
there are only two certainties in life.
CLARK
Yeah? What're those?
WILL
One, don't do that. Two, you dropped
a hundred and fifty grand on an
education you coulda picked up for a
dollar fifty in late charges at the
public library.
I often receive e-mails from young people in college or high school, asking how to get into the same field I am in. First, I say to myself that life is largely a fluke-fest and I am primarily a benefactor of luck. But, that can't explain everything, right? So, I try to keep my advice personal and simple (and borrowed from R.E.M. singer Michael Stipe's 1989 MTV Rockumentary interview on why his band succeeded):
"Have a vision."
"Stick it out."
"Don't listen to anybody but yourself because everybody else is wrong."-*
(*This one requires some self-examination. I can't possibly beat up Riley Cote of the Philadelphia Flyers no matter how much I repeat No. 3 in my brain, no matter if I did 765 push-ups a day, no matter if my right hand were the size of a raccoon. If I were to employ No. 3 and ignore Flyers captain Mike Richards' advice not to fight Cote, I would be left with a broken nose, bleeding ears and the inability to do simple division for the rest of my life. Ignore No. 3 when Cote says it is best that you stay clear of his lady. Listen to Riley.)
No. 3 also plays into what Will Hunting was talking about when he pointed out the difference between himself and Clark, the trust-fund baby. Clark couldn't think for himself and Will could. While Will had struggles, "Good Will Hunting" finishes with his having some peace of mind, channeling his goodness. That's what thinking for yourself often does. It gives you energy and clarity. Something lacking in Atlanta this weekend.
All of this brings us to the question: Why did this year's All-Star weekend have little buzz, and should the All-Star Game be discontinued?
That seems like a gigantic leap that some have apparently taken. That's like breaking up with Eva Mendes just because she woke up one morning with bad breath.
A quick recap:
The negatives
1. The game was on a network that more than 50 million homes do not have access to. That is not commentary; that is a fact.
2. This was the unsolicited banter from my children while watching the skills competition:
Jack (age 8): "Why aren't the fastest skaters going around in a circle?"
Brett (age 15): "Dad, why aren't the microphones working? And the clocks?"
Malorie (age 13): "That big Las Vegas ad is distracting me."
Jack: "Yeah, they should put it in the corner."
Brett: "I can't tell what's happening on the breakaways with that camera they are using with the guy chasing him."
Malorie: "Why is it so dark?"
Jack: "Did Rick DiPietro just swear?"
Malorie: "Yes."
Brett: "Cool."
3. Sidney Crosby was not available because he is recovering from a high ankle sprain.
The positives
1. Manny Legace miked up. Dude is a maniac and I love it.

2. Seeing all of the best hockey players in the world lined up on the blue lines, tapping their sticks after the anthems.

3. Having the YoungStars introducing themselves on camera. That's the first time I heard a lot of them speak.

4. Drinking in the personality of the players and watching them interact.

5. The accuracy shooting contest because they are breaking things. Always fun.

6. Zdeno Chara's fist pump after winning the hardest shot. He wanted that. He was competing.
The negatives can all be fixed. The Crosby factor is an issue only in the United States. He is the only player who likely will have crossover appeal for the foreseeable future. He has a name and a game that is very telegenic and casual fan-friendly. His game translates on TV like an NBA or NFL player does. Columns like this one talk glowingly about hundreds of players; but advertising agencies talk about only one, and Crosby will be back next season at the All-Star Game in Montreal.
Tweaking the skills competition and its presentation is easy, and worthy.
1. Have the fastest skaters go in a circle again. We love this.
2. Keep the hardest shot as is. It is hockey's home run derby. And if they can find creative things to break, even better.
3. Accuracy shooting. It's simple and fun, and we always get to see that grainy footage of Ray Bourque's Boston Bruins black jersey clashing with his red All-Star pants as he goes 4-for-4. I would even consider a relay accuracy shooting contest. Line up five nets at each end with targets. Five from the West, five from the East. Player A starts, and after all four of his targets are gone, the next player starts shooting. You have simultaneous, split-screen action in a relay-race form. The first team with all of the targets gone wins.
4. Have a score-o-contest like you see at NHL games. Attach a fan to each All-Star skater through a season-long contest using your broadcast and Internet partners. All of those fans will be at the game. As a name is drawn, a player goes to center ice. All of the contest winners will be on the ice. If the player scores, the fan could win a car, season tickets for his/her favorite team or just give them a million bucks. How exciting would that be? And talk about giving back! It might take one shooter, it might take 15.
5. You could give a lifetime achievement award at every All-Star Game to a player with 10 years or more experience. Call it the "Bobby Orr Lifetime Achievement Award." Make a killer trophy of Orr's famous leap in the air. Every player would covet that trophy. Produce a killer montage of that player's career, showing why he should be put in conversation with Orr, Mark Messier, Ray Bourque, Steve Yzerman, Wayne Gretzky and the others that came before and played with childlike joy.
Why would the NHL want to discontinue this? It's your best chance to sell the game to this new generation. People keep forgetting what a massive player turnover the NHL has had over the past decade. Mario Lemieux, Messier, Yzerman, Brett Hull, Patrick Roy, Scott Stevens, Al MacInnis, Bourque and all of the other iconic names that all seemed to leave on the same day. The NHL needs to keep putting this new crop of amazing talent on display any time it has eyeballs watching so the bond can strengthen. The mainstream media isn't doing it anymore, so the NHL has to do it for itself whenever possible.
And as far as the game goes, if the NHL has to do what baseball did at its All-Star Game and give the winning team home-ice advantage in the Stanley Cup finals, I would do it. To the serious here, that would seem blasphemous; but the best overall record is not always indicative of the most deserving team anyway because conference balance can be off in some seasons. A weak division can skew a team's point total. The All-Star Game is too important of a public-relations vehicle to come off as poorly produced or dispassionately played. It should not be de-emphasized as some apparently want it to be in the NHL offices; it should be enhanced with fun, a little competition and a celebratory feel for the game and players.
This midwinter classic should continue. It should be fun, joyful, intimate and creative. And it should always be viewed by the NHL and NHL Players' Association as a vital vehicle that is important to the game. This takes energy and vision, and anyone who doesn't have that in the NHL offices should get out.
The NHL does a professional, classy job in the overall staging of its big events. It's the one area the current regime does not get enough credit for. The league has elevated the game in that regard. Now, just relax and incorporate some love and fun into the festivities on Saturday and a little incentive on Sunday, and this hockey weekend will return to what it should be -- a fun, joyful get-together that celebrates the most joyous game in the world and the players who play it.
And, by all means, crank the Tool.
Mother of All Mailbags
Mr. Buccigross,
Just wanted to get your thoughts on the Crosby situation. Any chance this might help out the team in the long run? With Sid out, guys like [Evgeni] Malkin have already started to step up their games. If the guys prove they can hold their own without the Kid, just imagine what they'll feel like when he's back.
Andrew Tverdosi
Pittsburgh
There is very little "good" about the Crosby/high ankle sprain situation for Penguins fans. It puts the playoffs in jeopardy and probably takes any hope of a home-ice opening series away from the Pens.
Even assuming Crosby is out the full eight weeks, I think the Penguins will hang on to a playoff spot, but it will be close.
The only thing I hope it fortifies in the Penguins' front office is that they must let Crosby and Malkin center their own lines and find them wingers either within the roster or somewhere else. And I would trade Jordan Staal for Marian Hossa and take my chances on convincing him to sign for a little less to play the next five years with Crosby or Malkin. Maybe a contract that is front loaded next season before Malkin's extension kicks in and averages $6.5 million.
Meanwhile, the Malkin extension is going to be very tricky for the Penguins. If Malkin were to enter restricted free agency, you know there would be a team with future cap space, like Toronto (if they are smart), that would offer a minimum 10-year, $80-million deal. How do the Penguins deal with this?
The NHL, never strong in the foresight department, didn't saw this restricted free agency volcano erupting into a salary-inflating natural disaster. It will probably prevent some teams from keeping young teams together, or it will keep good young teams from blossoming because so much cap space will be gobbled up. It will take all the creativity, scouting and drafting to keep as many young, inexpensive players as possible ready to replace lost assets. Now, if the NHL salary cap continues to rise with increased revenues, or artificially by the NHL to keep their marquee, television-friendly teams together, the problems may be alleviated and the long-term deals signed by some of these players will favor teams with deeper rosters and more wins.
---
Dear Mr. Buccigross,
Who are your picks to go into the Hockey Hall of Fame in 2008?
Joey Merling
Hamilton, Ontario
Limited to four players, I would choose Rogie Vachon, Glenn Anderson, Pavel Bure and Phil Housley. But that's just me. I believe in positional and geographical balance whenever possible. I also believe Teemu Selanne's return to the Anaheim Ducks, with Doug Weight and Chris Kunitz, will once again give the Ducks two efficient scoring lines.
John,
A few months ago, you wrote in one of you columns that you believe Peter Bondra is Hall of Fame-worthy. As a Bonzai fan since 1996, I was glad to see that someone of your stature believes that. But, with all of the great players waiting to get into the Hall, do you think Bondra's time will ever actually come? Do other people around the NHL community share your feelings?
Michael Emrich
McLean, Va.
As I broke down Bondra's numbers in this space, my research revealed to me that Peter Bondra shouldn't have to wait long:
"Peter Bondra was scoring goals when no one was scoring goals in the late '90s. Bondra had 52 of the Capitals' 219 goals during the 1997-98 season. That's almost 25 percent of the team's goal. If Wayne Gretzky had scored 25 percent of the Oilers' goals in 1981-82, he would have finished with 104. That's what kind of season that was for Bondra. The second full season after the 1994-95 partial lockout is when the NHL got very defensive.
The NHL's golden era for offense was 1970-96. If you played a bulk of your career during this era, and especially with Bobby Orr, Wayne Gretzky or Mario Lemieux, then your numbers were skewed. Good news for offensive players, bad news for some goalies. If Frank Brimsek played in that era instead of 1938-50, he would not have been 'Mr. Zero.' He would have been 'Mr. 3.45.' And he would have been Don Beaupre."
---
Bucci,
I was updating my daily NHL info and was doing a double take on the current playoff standings. Could the Atlantic Division really send all five teams to the playoffs?! This is bizzaro!
Jon
Huntsville, Ala. (by way of Pittsburgh, go Pens!)
While it is possible, in the end, I do not think all five will qualify. Right now, the numbers for the Islanders and Rangers will make it challenging for either team to make the postseason; so, I'll say one of those two get in. The Flyers, Penguins and Devils seem secure, if the Crosby injury is limited to 10-15 games. In my season preview, I picked four of the five Atlantic teams to make the postseason and I'll stick with that for now. Things can change with moves before the trade deadline. We'll see if someone does something big. You have to think the Rangers need to do something. Mark Messier behind the bench?
---
John,
If I see Darryl Sittler talking about eating Swiss Chalet and scoring 10 points one more time, I'll try to make it out with a running outboard motor.
Seth Rorabaugh
Is this the year Jarkko Ruutu slew-foots Tuomo Ruutu? Is this the year Sean Avery directly recognizes, perceives and feels the emotion of another human being? Is this the year an 8-year-old Boston Bruins fan, born in the summer of 1999, will experience the first Bruins playoff series win of his lifetime? Is this the year Barry Melrose gets a haircut? Is this the year Patrick Marleau (eight goals, minus-20, over $6 million a year starting next season) gets a pulse? Is the year Ana Ivanovic becomes my lifelong tennis partner?
---
John,
Word in Buffalo just came down the today that Brian Campbell is cutting off negotiations with the Sabres until after the end of the season. What gives? Hasn't Buffalo management learned anything from the fiasco of last year when they lost [Chris] Drury and [Daniel] Briere? This team is killing me -- it rips the heart out to many Western New Yorkers to see what has happened to this team. How can they let this happen? Also, given all of this, Tom Golisano, Larry Quinn and Darcy Regier are getting a pretty bad reputation in Western New York -- and understandably so. How are they seen outside Buffalo? None of this can be good in attracting potential free agents.
John
Erie, Pa.
Brian Campbell turns 29 in May. He should be about what he is for the next six years, at the minimum. Although, six penalty minutes this season? Dude, get your nose dirty a little bit. Playing it safe for the big contract?
The minute Brian Rafalski signed his five-year, $30-million deal with Detroit, the Sabres should have contacted Campbell's agent and finished a deal. Five years, $25 million would have probably sealed it. Although, as Campbell's agent, I would have argued that my client, at about six years younger, deserves the same as Rafalski got in Detroit because the chances of Campbell staying productive is greater and more commensurate to his salary than Rafalski could be in his last season or two.
Maybe the Sabres could have signed Campbell $5 million rate if they were proactive. Instead, they have again dragged their feet and will now either have to pay Campbell A LOT more money over the life of the deal if they keep him, making their team weaker with less cap space, or trade him. In the open market, Campbell will get a minimum seven years, $42 million. The Sabres blew it again. The Rangers, Devils, Kings, Stars, Canucks and others would love to have Campbell. This stuff really isn't that hard. I'm available for consultant work.
---
John,
Thursday, you write a detailed, real possibility of Ovie heading to L.A.
Thursday p.m., I write you an e-mail stating how much you just scared me.
Tuesday, you publish said letter in your mailbag.
Thursday, Ovie signs his 13-year deal to stay in D.C.
Glad we could get together and help the Caps work this out!
Alicia Krawitz
Player/President, American University
Women's Ice Hockey
I'm happy the Capitals held on to Alexander Ovechkin, the brightest star the franchise has ever had. Now, I would like to see more seats filled in D.C. as the Caps push for the playoffs.
It is a joke that the Capitals don't draw better. Ovechkin is the best athlete in Washington D.C. You are wasting money if your season-ticket cash is going to a professional sports team in D.C. before the Capitals. It has been said by others that D.C. is not a good sports town, just a Redskins town. The way the Capitals are drawing validates this to some degree. You see the difference in Pittsburgh, which has sold out just about every game since Crosby arrived.
There is a hard-core group of Capitals fans who are trying to carry the torch, but man, their backs must be getting tired. Ovechkin isn't just one of the brightest and most watchable stars in the NHL, he is one of the best in all of sports. If it doesn't work with him, it will never work in D.C. Owner Ted Leonsis should take this team to Ontario and watch sellouts every night for the next 13 years if things don't get better in Washington.
That being said, I still believe these contracts lasting a decade or longer are absolutely insane from a team perspective (and sometimes the player). Those contracts also limit their freedom of movement. And for teams, the risk is huge because of the risk of injury.
---
Hi John,
I read the e-mail from the guy who said his girlfriend has agreed to go to Ottawa and skate the canal with him. The Rideau Canal Skateway is my favorite place on earth and when my (now) wife Kelly agreed to go with me, I took the opportunity to propose while we skated the canal under the moonlight in the shadow of Parliament Hill. I should mention that it was the year of the lockout. Now my wife says, "I had no idea there was this much hockey on TV when I agreed to marry you." She says it with a smile while she brings me food. Lifetime contract, no-trade clause.
Don
Virginia
P.S. -- She got me "Jonesy" for Christmas.
Good to see the little lady has excellent taste in fine literature.
---
Hey John!
I would like to congratulate both you and Keith on a job well done. "Jonesy" is a fantastic book from start to finish. The best surprise is the last chapter, "Overtime." I can't express how well-written and moving that chapter is. It doesn't matter if you know who Keith is, or if you are a fan of hockey. Read it, and you become a fan of both.
Mike Kuzma
Plenty of good books still available. Buy one for yourself and 37 of your closest friends today. I want to go on "Oprah" and talk about the quality of person Mike Eastwood is. America deserves that.
---
John,
The Stars announced that they signed Mike Ribeiro to a five-year deal for $25 million. While the Stars got a great deal in their trade for him before last season, do you think he's worth $5 million a year?
Matt
Dallas
As I write this, Ribeiro is in the offensive production neighborhood of Mike Richards, Mats Sundin, Marc Savard and Joe Thornton. He turns 28 in February. He is Dallas' best offensive player right now. The negative is he has been a playoff flop so far in his NHL career -- two goals and six assists in 24 games. But players don't get paid in the playoffs; so, in terms of a regular-season contract, it is about right even though it seems excessive on the surface. It's a good deal for Ribeiro because he will never be a $7 million player in this market. And it's a good deal for Dallas because there is a pretty good chance he comes close or matches the assumed production of a $5 million player. This also allows Dallas to be in the running next summer for a $7 million player like Marian Hossa if Hossa doesn't re-sign with Atlanta.
---
Bucci,
I have a pet peeve and I need to vent. I hope that you, being the well-respected American sports journalist you are, could shed some light on it for me.
Why do American media outlets often (not always, but enough to irritate me) refer to a Canadian's hometown or birthplace as, for example, "Toronto, Canada." Last I checked, Toronto was in Ontario, eh? Yes, Ontario is in Canada, but I don't hear Canadians say "Mike Modano was born in Livonia, USA." We know that Michigan is in the USA.
We only have 10 provinces and three territories. That's a whopping 13 total geographic regions to remember! Is it that hard to get to know them? How much confusion would it cause if someone said Randy Jones was from Quispamsis, New Brunswick? Would people in New Jersey really need clarification?
Ahh, I feel better already.
Tom
Well, there is a Toronto, Ohio. Home of Robert Urich (Dan Tanna from "Vega$" and "Spencer For Hire"), Pro Football Hall of Famer Clarke Hinkle, and Baseball Hall of Famer Rollie Fingers. I also played multiple high school games in Toronto, Ohio, which in vital information.
I agree that overall Americans' knowledge and understanding of geography is abysmal, although I imagine that is somewhat true for most humans. Could you pick Missouri out on a map of the U.S.? How about a dude from Botswana? I've always enjoyed maps and knowing my surroundings, including Canada. I love the GPS deal because, as you drive, you can see all the names of ponds, lakes, rivers and assorted golf courses. Is it any wonder the ladies flock to me like sprinkles on a doughnut?
I'll often go multiple ways to the same location, get lost, find my way, and then it all connects in the end. I once worked in a deli section of a South Boston grocery store called Flanagan's in 1986, and when I told a co-worker I lived in Ohio they replied, "Is that near Colorado?" I beat him to death with a pound of German bologna.
---
John,
Just a quick thought on the timing of either the Winter Classic or the NHL All-Star Game. I know that Jan. 1 worked out well this year and it's nice to have the game on a holiday, but why put the game up against what is probably one of the bigger days in college football. Why not schedule the game for the Sunday between the NFL championship games and the Super Bowl?
Larry
I like the fact that the Winter Classic was played on a holiday. It enabled the 500,000 people involved in USA Hockey (players, coaches and referees) to watch the game. And all of the parents, too. That's why I think the game should always be played on Christmas or New Year's. I understand the CBA states that there is no activity around Christmas, but imagine if they set up outdoor games where they had a couple of miniature ice rinks near the main rink. How cool would it be for a kid of an NHL player to celebrate Christmas in that atmosphere? And having the game around noon on New Year's Day, the NHL won't have to worry about going against a bowl game with national title implications. Plus, I say, take on football. We hockey fans all know it's the better game. Just as physical and faster with more continuous action. Football is a five-second play followed by 30-40 seconds of standing around. And the TV timeouts are INTERMINABLE.
---
John,
I noticed that you put pictures of little ones on the bottom of your column. I am not sure if this is the correct e-mail address to be sending such a thing to, but I thought, hey, why not? Kendall just turned 2 and she is so into hockey. She begs us to put hockey on and loves pointing out anything hockey related wherever she goes. When asked who her favorite player is, she will very enthusiastically reply "SEEENEEE CROBEEE!"
Jessie McKelvey
May Kendall take the news of Sidney's boo-boo well.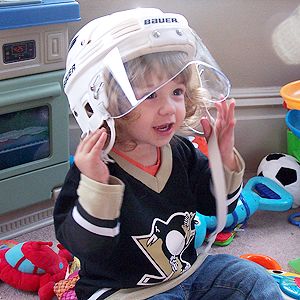 John Buccigross is an anchorman for "SportsCenter" and ESPNEWS. For questions, comments or crosschecks, e-mail him at john.buccigross@espn.com. To check out his new book, "Jonesy: Put Your Head Down & Skate," click here.