Commentary
After all these years, Belfour still as fierce as ever
TORONTO -- Tick, tick, tick.
That was the sound that accompanied Ed Belfour when he arrived in the center of the hockey universe in the fall of 2002.
And if you listen very closely, you can still hear that tick. In some ways, it is more the sound of a beating heart, the heart of one of the fiercest competitors in NHL history, the heart of a goaltender who in a matter of days will pass an equally fierce competitor, Terry Sawchuk, into second place on the all-time goaltender wins list.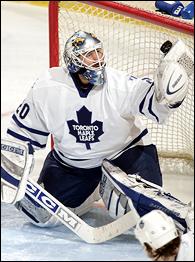 Eliot J. Schecter/Getty ImagesEd Belfour says he is working hard to bring the Cup back to Toronto.
Is there a way to quantify Belfour's achievement in surpassing a player such as Sawchuk, who recorded 103 shutouts en route to 447 wins? Pat Quinn, coach of the Toronto Maple Leafs and the man who brought Belfour to the center of the hockey universe back in the fall of 2002, paused.
"I don't know if I'm eloquent enough to describe it," Quinn said. "He certainly compares to any of the great names you'd want to mention. Obviously, he measures up with the best ever."
"It's quite an honor to be part of it [passing Sawchuk]," added teammate Tie Domi. "He's everything you'd expect in a goalie and more. I remember when we signed him, Chris Chelios said you're getting one of the best goalies ever and he wasn't far off, that's for sure, if it wasn't bang on."
In the medical area of the Leafs' practice facility, Belfour was getting treatment, nothing new for a man who treats his 40-year-old body with the obsessive care he lavishes on his goaltending equipment and race cars, his off-ice passion.
"Oh yeah. I have a lot of respect for [Sawchuk]. I read the book [written with the help of Sawchuk's son in the late 1990s]. And after reading the book, it was a tragedy how he died and I have even more respect for him with what he went through and the accomplishments that he had," Belfour said. "Never did I ever think that I would come close to that."
If there are similarities between Belfour and Sawchuk, given their fiery nature, there are also stark, perhaps even surprising differences.
Where Sawchuk was an abusive father and husband and an alcoholic, Belfour has redefined his relationship with his family, especially son Dayn, 16, who is a promising goaltender in his own right.
Prior to the start of the 2003-04 season, Dayn and his mother, Belfour's ex-wife, moved from Chicago to the Toronto area, so Dayn could continue his hockey career and spend more time with his father.
During the lockout, Dayn played on a junior team in the Toronto suburb of Streetsville, Ontario, and now plays on a midget AAA team in the Detroit area. Belfour said it's been one of the most difficult aspects of this season, not seeing his son on a regular basis.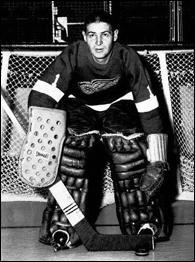 AP PhotoTerry Sawchuk played 971 games over 21 seasons.
"It was great to get spend some quality time with him. I got a chance to watch him play quite a bit," Belfour said. "I got a chance to get on the ice with him a lot last year and this year it's going to be difficult. It already has been a little bit difficult because I don't get to see him play, I don't get to see him hardly at all."
Others recall Belfour's tearful speech at close friend Vladislav Tretiak's 50th birthday party several years ago.
"He's a lot like Messier. Messier had the same kind of philosophy," Domi said. "The team's got to be tight and it's got to be like a family and that's how Eddie feels. He likes being loved and he also likes loving."
Belfour continues to roll along at age 40. Even if he has turned in some uneven performances this season, struggling with both the new equipment and limitations on handling the puck, Belfour remains the most important player in blue and white. It has been so since the moment he arrived in Toronto.
Sawchuk died at age 40. After a few drinks with teammate Ron Stewart, the two were horsing around when Sawchuk awkwardly fell and had to be rushed to the hospital. A few weeks later, he died of complications from the internal injuries. Sawchuk played 971 games over 21 seasons, and for years, it seemed his 447 wins would be unassailable. But Patrick Roy bested him, retiring with 551 wins through 19 seasons.
Roy, Belfour and Sawchuk, are all considered among the most competitive players to step between the iron posts. All three saw that molten competitive nature boil over into their off-ice lives.
No coincidence, said Belfour's former coach in Dallas, Ken Hitchcock. Anger is a fuel that many top athletes burn to push themselves further and higher, often "at an age when other athletes are in their rocking chairs."
Angry at themselves when they fail. Angry at teammates and coaches who don't push themselves in the same way. Angry at those around them who might not understand what drives them.
"To me, [Eddie] is like a lot of elite athletes. They're special people," Hitchcock said. "They're not just competitive on game nights, they're competitive every day."
| | | |
| --- | --- | --- |
| | " | I still get angry, it's just I handle it maybe a little differently. Maybe when I was younger, it bothered me for, you know, 24 hours, now it maybe bothers me for an hour or a half hour. I try to let it go sooner so I don't harbor the anger. " |
| | | — Ed Belfour |
Hitchcock believes Belfour's competitive nature is the one constant in Belfour's success. It is a quality that bleeds into every aspect of his game.
"He has never lost his competitive edge and I find that absolutely amazing," Hitchcock said. "His focus is relentless, as is his concentration in critical times."
There was a time when Belfour might simply have gone on to be another wacky goalie with nothing to show for it but some busted-up sticks and a pile of regrets. Maple Leafs senior scout Craig Button, the former director of player personnel for the Dallas Stars, recalls what he believes was Belfour's defining moment.
During the 1998 Western Conference finals, the Stars appeared to have a significant edge in goal over the defending Stanley Cup champions from Detroit. But the Red Wings ended up getting the better of Belfour, a process that culminated with Belfour's slash of Martin Lapointe's groin area in Game 4 that seemed to swing the tide in the series.
The Wings won in six games and then swept Washington to win their second consecutive Cup. Showing that he has a sense of humor, even when it comes to his own foibles, Belfour later donated the stick in question to a Detroit radio station for a charity auction.
That offseason, Dallas GM Bob Gainey sat down with Belfour and told him he needed a more complete focus on the big prize.
"And do you know what? Eddie did it," said Button. "He made adjustments to his game. And when he put his mind to it, it was amazing."
The following playoff year, the Stars went on to win the 1999 Stanley Cup with Belfour turning in a remarkable 1.67 goals-against average in 23 postseason games.
"Eddie today is exactly the same way," Button said. "Every day, every single day, he is looking for a way to be better."
As for all the other stuff, the highly publicized incident with Dallas police, and Belfour's attack on some electronic equipment while on a road trip in Vancouver, Button merely shrugs his shoulders.
"Things happen," Button said. "The good ones learn from it and the good ones keep it in balance."
If there is a word that seems to define Belfour's tenure in Toronto, it is that: balance.
Playing in Toronto means playing where the game is king but where the pressure to perform is, for some, unbearable, especially those who value their privacy as Belfour does.
"It's been alright. I think the media's been real fair with me, first asking of my time. I think they give me my space, I appreciate that, and at the same time, I try and give them as much as I could after games and stuff," Belfour said. "Sometimes in the past, I didn't always do that. For whatever reason, I was in the back working out or rehabbing or I was just angry. I think as you get older you try and be better at that. I think the media's been fair with me here."
Is he less angry now?
Belfour smiles.
"No, I still get angry, it's just I handle it maybe a little differently," he said. "Maybe when I was younger, it bothered me for, you know, 24 hours, now it maybe bothers me for an hour or a half hour. I try to let it go sooner so I don't harbor the anger."
This isn't to suggest Belfour has mellowed. He is still to be avoided on game days and teammates take care to give him his space. But he is different.
Critics may point to Belfour's lapses during the first 25 games of this season as a signal he's reaching the end of the line. Yet whenever the Leafs and their underwhelming defensive corps struggle, it is Belfour who helps right the ship. After a particularly sloppy outing against Buffalo in November, Belfour made a rare appearance in back-to-back games the next night in Montreal. Belfour sparkled as the Leafs came back to win in overtime, setting up a string of strong performances.
Those kinds of performances transcend the two points in the standings, Quinn said.
"It's not the guy that gets knocked down you have to worry about, it's the guy that doesn't get up," Quinn said. "I think it was a terrific lesson for other people who go through the same things."
Back in the summer of 2000, after popular netminder Curtis Joseph left for Detroit, there was much skepticism when Quinn signed Belfour. But Quinn had had an opportunity to see Belfour up close during the Salt Lake City Olympics, where Belfour was Canada's third goaltender, and was able to form his own opinions. It was an opinion that differed greatly from the public perception of a man on the edge.
"He was anything but [a distraction]," Quinn said. "He was the opposite of that."
Belfour is described as an unsung hero, working with the team's power-play units and helping prepare for opposing netminders. Perhaps it's approaching Sawchuk's record, perhaps it's this simple passage of time, but Belfour admits he is more reflective.
"I think every once in awhile, you reflect back to your younger days, whether you're trying to learn from the past to try and help the present or just some of the good times or some of the bad times," Belfour said. "You always, or I do anyways, seem to look back at things and maybe you do a little bit more as you get older."
Back in the Leafs' training room, there is some joking with Belfour about the evening's Hall of Fame ceremonies and how he'd better get familiar with the process, maybe start thinking of who'll he thank in his acceptance speech. But Belfour isn't thinking Hall of Fame just yet. Still some unfinished business in Toronto.
"I didn't know what to expect [when I came to Toronto]," he said. "Obviously, I heard all of the stories about the media. But at the same time, being such a focal point, I thought it was going to be a great challenge and I always have liked challenges and this would be the best place to win a Stanley Cup.
"Still working hard toward that and praying for that."
Scott Burnside is an NHL writer for ESPN.com.
ESPN Senior Writer
Covers hockey for ESPN.com
10 years at Toronto Sun, Windsor Star and National Post
Wrote best-selling true crime book "Deadly Innocence"
EDITORS' PICKS
Boston dealt a blow to Florida, while other Eastern playoff contenders looked to keep pace.
Inside the NHL

While it's too late for this season, the Blue Jackets are getting healthy and showing how tough they will be moving forward.
LeBrun »

Marc-Andre Fleruy has to prove he can dominate in the playoffs before anyone will expect the Penguins to make noise this spring.
Inside the NHL