Commentary
Kings have the goods to rebound
Editor's note: Our weekly "Faceoff" features ESPN.com NHL writers Scott Burnside (based in Atlanta) and Pierre LeBrun (based in Toronto), who duke it out over any given hockey topic. Let the games begin!
This week's topic: Which teams out of this season's playoff hunt have a shot in 2010?
Scott Burnside: Bonjour, Pierre. Ouvrez la fenêtre, fermez la porte. That's French for "open the window, close the door." Or something like that. Well, we'll be talking playoffs almost nonstop leading up to the end of the regular season two weeks from Sunday. But I think it's good to take a brief look at the teams that won't be taking part in the tournament and which ones might be capable of taking a step forward next year as we've seen Columbus and Chicago do this year. Can the Islanders get up off the mat? Is Colorado really as bad as it looks? I know we've spent a lot of time this year talking about the Kings and how close they are. I think it will be a huge disappointment if the Kings aren't in a playoff spot next year, given the additions of veterans like Justin Williams and Jarret Stoll to the Kings' lineup. The key, as it always seems to be in L.A., is goaltending, whether they've got it in Jonathan Quick and/or Erik Ersberg et al. Thoughts?
Pierre LeBrun: The Kings have taken huge strides this year, and I would be shocked if they weren't in the party next season. For starters, I think GM Dean Lombardi is going to try to add one or two big pieces in the offseason. The economy will scare off many teams, but the Kings have lots of cap room and I believe the go-ahead to add at least one important piece up front. Calder Trophy candidate Drew Doughty is only going to get better, and Jack Johnson gets a full year on a blue line that also includes Matt Greene, Kyle Quincey and, perhaps next season, Thomas Hickey. Colorado, on the other hand, is out of the playoffs for at least another year, as it needs to blow this thing up and rebuild. The Avs need willing partners to take some of those big contracts off their hands, but it's time to redo this thing. Whether head coach Tony Granato or GM Francois Giguere is around for the rebuild remains to be seen.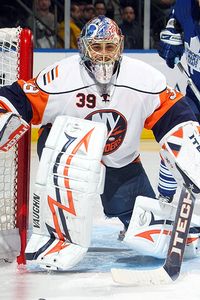 Bruce Bennett/Getty ImagesOft-injured Rick DiPietro and a lack of star-quality players doesn't bode well for the Islanders' future.
Burnside: The Avs represent a cautionary tale about what happens when you consistently mortgage the future for short-term success, as they did before the lockout. They haven't fully recovered, and now they're in that unhappy limbo between a next generation of top players and aging veterans like Joe Sakic, Adam Foote and Ryan Smyth. The pain continues there, and I will be surprised if, at the very least, the Avs don't have a new bench boss after Granato failed to move the team in his second go-round (and yes, we know, lots of injuries; still, an embarrassing year for the Avs). How about the Coyotes? After hitting the All-Star break looking like a playoff team, they have fallen completely off the map. Another setback for a team that remains mired in financial problems. Liked what GM Don Maloney did at the deadline in moving Olli Jokinen and Derek Morris, but I look at this team and still have no sense of whether they can be a playoff team a year from now. My guess is that means no -- again.
LeBrun: One more thought on the Avs: How about Patrick Roy behind the bench there? Or as GM? Just a thought. As you know, Roy gave me the impression during my interview with him a few weeks back that he was perhaps ready for the jump. We all assumed that meant Montreal because of Guy Carbonneau's firing, but I'm sure Colorado would also intrigue him just as much -- the other NHL team that he played for. Not to mention far less pressure and media attention. The Coyotes? Listen, in my mind they overachieved in the first half. This was a full-fledged rebuild last summer with so many young faces in the lineup. I think they're on the right track. But the off-the-ice problems could be a huge distraction. This team needs a new owner ASAP. Speaking of possible off-ice problems with ownership, how about the Islanders?
Burnside: Even with John Tavares or Victor Hedman in the Isles' lineup next year, they're still a bottom-feeder. Kyle Okposo is a bona fide NHLer, but what's going to happen to the ever-injured Rick DiPietro? (I wouldn't even have him on my U.S. Olympic team.) Worse building by far in the NHL, and though it's just rhetoric at this point, owner Charles Wang's much-ballyhooed Lighthouse project is heating up. Bottom line is this franchise is doomed to the nether regions of the NHL until its building situation is rectified and it can attract quality free agents to support the young players.
LeBrun: Well, at least Tavares won't balk at going to Long Island, as some people had rumored. The kid, as you know, Scotty, told me a few weeks back that he would have no issues going to Long Island if drafted by them. So that's good for the team and the league. Josh Bailey is another good kid, and there's a few more in the organization. As much as GM Garth Snow takes a beating from people, I think he's done a good job assembling some youth in that organization. But you're right: I still don't think the playoffs are on the horizon next season. We'd be remiss if we didn't bring up your hometown Atlanta Thrashers. Speaking of GMs who take a lot of criticism, call me crazy, but I think Don Waddell is assembling a team here. Bryan Little, as you wrote recently, is the quietest top goal-scorer in the league and rookie Zach Bogosian, if not for games missed to injury, would be right up there with Drew Doughty in commanding impressive first seasons on the blue line. The question is, what happens to the captain?
Burnside: I will give the Thrashers credit; they never quit. Watched them erase a 4-1 deficit against the Rangers on Thursday to win in a shootout. Kovalchuk was dominant. Is there enough incentive for him to stay in Atlanta as opposed to bolting as a free agent at the end of next season? The guy's played in just four playoff games in his career, and I'm not sure they're close enough to entice him to stay. Agree with you on Little, Bogosian and a couple of other interesting pieces, but I find it hard to believe Kovalchuk will want to stick around for the two or three years it's going to take this team. And I'm still not convinced Kari Lehtonen is the real deal in goal. Don Waddell will have to swallow hard and, if he doesn't think Kovalchuk will re-up, deal him either at the draft in June or before next season's trade deadline. Either way, I don't think this team is ready to get back to the playoffs.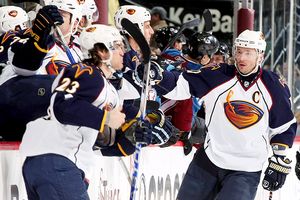 Michael Martin/NHLI/Getty ImagesThe Thrashers' outlook might be predicated on the future of Ilya Kovalchuk.
LeBrun: I believe Waddell will indeed put Kovalchuk in play at the draft in Montreal, if he's received the message from Kovalchuk's camp that an extension is not in the cards. But we'll see, maybe he will indeed sign. How about my hometown Toronto Maple Leafs? Interesting column Friday in the Toronto Star by our colleague Damien Cox, who suggested that given past draft-day deals, perhaps GM Brian Burke might try to move up and grab Tavares or Hedman. Of course, it might have been easier had the Leafs just lain down and died like they were supposed to this season instead of, once again, winning the No-Man's Land award. In my mind, they hired Ron Wilson one year too early. He's too good a coach and made this team overachieve.
Burnside: Does Burke try to move up to one of the two studs at the top of the draft, or does he go back to the well and try to pry the Sedins out of Vancouver, where it looks like the Canucks will have trouble bringing the twins under contract? Hmmmm. Given the impressive work ethic of the no-name Leafs, would the Sedins be enough to push them into the playoff bracket next year? Maybe. The other team that's shown it's not in straits as dire as first believed is the Ottawa Senators. Too little, too late this season, but Nick Foligno has shown signs of being a top-6 forward, and if Pascal Leclaire can return to health, he and Brian Elliott might make a pretty effective goaltending tandem. They still need a puck-moving defenseman, but the Sens, at least in my book, will be back in the hunt next year. Thoughts? And one more before we say au revoir. (That's French for "goodbye.") What about the team that failed to dream this year, the Tampa Bay Lightning? Was it just one year early on their renaissance? Or not?
LeBrun: I think the Sens are a playoff team for sure. Head coach Corey Clouston will get a contract extension at some point over the next month, and I think GM Bryan Murray, despite the acquisition of Chris Campoli, will try hard this summer to add another puck-mover. Tampa? It's nice to see Steven Stamkos round into form late in the year. He should have a nice season next year. But the blue line is full of holes, easily the worst in the NHL. GM Brian Lawton needs to address this in the offseason. Mike Komisarek, anyone? Either way, I think they're still out next season. Which means you'll owe me another $50, Scotty. Ha ha. OK, buddy, catch ya on the other side.
Burnside: I'm not so sure about the Lightning. Crippling injuries have made it hard to assess just how bad (or potentially good) the blue line might be. Karri Ramo has been solid in relief of Mike Smith, and assuming Smith recovers from his concussion, they'll be very good between the pipes. I'll say it now, my friend, the Lightning will be back in the postseason next year. See ya.
Scott Burnside and Pierre LeBrun cover the NHL for ESPN.com. Despite their upside, both writers failed to make the playoffs this season.
ESPN Senior Writer
Covers hockey for ESPN.com
10 years at Toronto Sun, Windsor Star and National Post
Wrote best-selling true crime book "Deadly Innocence"
ESPN Senior Writer
Covers the NHL for ESPN.com and TSN in Canada
Six years on the "Hockey Night In Canada" Hotstove panel
13 years at The Canadian Press national news agency
EDITORS' PICKS
Boston dealt a blow to Florida, while other Eastern playoff contenders looked to keep pace.
Inside the NHL

While it's too late for this season, the Blue Jackets are getting healthy and showing how tough they will be moving forward.
LeBrun »

Marc-Andre Fleruy has to prove he can dominate in the playoffs before anyone will expect the Penguins to make noise this spring.
Inside the NHL