Commentary
Babcock's line changes help Wings soar past Ducks
ANAHEIM -- The line between genius and moron, deft and dumb, is perilously thin in playoff hockey.
Detroit head coach Mike Babcock knows that. He also knows on which side of that thin line he will wake up on Wednesday morning after his Red Wings pounded the hometown Ducks 5-0 to take a 2-1 series lead in this Western Conference final.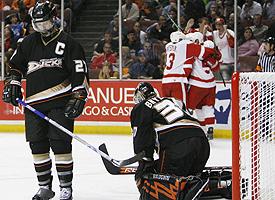 AP Photo/Mark AveryScott Niedermayer, left, and goalie Ilya Bryzgalov hang their heads as the Red Wings celebrate their offensive onslaught.
With Game 4 set for Thursday evening in Anaheim, the Red Wings suddenly have emerged as a team not solely reliant on special teams for success, as a team capable of adjusting and turning flaws into success. Such a dramatic turn of affairs was the direct result of Babcock's bold lineup moves.
After the Ducks' top shut-down trio of Rob Niedermayer, Samuel Pahlsson and Travis Moen wreaked havoc offensively and defensively in Game 2, Babcock was determined to minimize their effectiveness in Anaheim, where he would not have the luxury of the last line change.
Babcock gambled that by splitting up dynamic offensive duo Henrik Zetterberg and Pavel Datsyuk, they would generate more offense. The danger in splitting up two players who had combined for 23 postseason points heading into Game 3 was that it might not redistribute the offense but negate it.
The two talented forwards have enjoyed tremendous chemistry this spring, and along with the third member of the trio, Tomas Holmstrom, had collected six goals and eight assists in the Wings' previous four playoff games.
Yet the decision worked to perfection.
"We knew we were going to do that before the series started. We've kind of been prepared for that all playoff. If what we were doing wasn't going to work, we were prepared, kind of scripted what we thought would work," Babcock said.
"We're not scared to go back with them, together," Babcock added. "That was our plan tonight, depending on how things were going. We were going to go away and back and make it hard [for the Ducks]. But just because things went the way we wanted them to, we just left it like that."
It was a revamped all-Swede line featuring Zetterberg, Johan Franzen and Mikael Samuelsson that opened the scoring and provided a seminal moment for the Wings -- the team's first five-on-five goal in the series.
Just past the midpoint of the first period Samuelsson danced down the right side and fed a long, cross-ice pass to Franzen who found the back of the net.
Later, while on the power play, Babcock reunited the big line and Holmstrom ripped home another delightful Zetterberg feed to give the Wings a 2-0 lead with just 42.9 seconds left in the opening period.
It was in the second period, however, when the game and perhaps the series turned on a variety of fronts.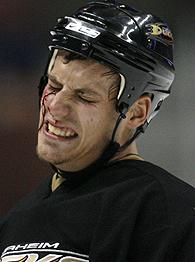 AP Photo/Mark AveryRyan Getzlaf and the Ducks were beaten up by the Wings on Tuesday night.
First, Todd Bertuzzi had a goal go in off his skate after he and line mates Robert Lang and Daniel Cleary had controlled the puck in the Ducks' zone for a long shift. The goal, another even-strength marker, prompted Anaheim coach Randy Carlyle to yank netminder J.S. Giguere who gave up four goals on 22 shots, in favor of Ilya Bryzgalov in an effort to give his team a lift.
But 17 seconds later, Holmstrom earned his second of the night when he shoveled in the rebound of a Valtteri Filppula wraparound attempt. The third member of that new forward combo, Datsyuk, took a big hit at the Anaheim blue line to make the pass to spring Filppula down the left side.
An already ugly night for the Ducks turned even uglier about five minutes later when Holmstrom was sandwiched between Rob Niedermayer and Chris Pronger against the boards with both players hitting Holmstrom high.
The Detroit forward crumpled to the ice, blood running from two cuts on his forehead that would require 13 stitches to close. Niedermayer was given a five-minute major for boarding and a game misconduct although replays seemed to show that as much of the damage was done by Pronger. Holmstrom returned to start the third period and added an assist on the Wings' fifth goal. He said after he didn't really know what had happened on the hit.
Babcock said he wanted to be cautious in how he responded to the hit because he hadn't seen multiple replays. But he suggested the play was irresponsible.
"I'm big believer in you're supposed to finish your check. But I'm a big believer in looking after each other. And what I mean by that is, I don't care how much is on the line, you have to look after the other player. And when he doesn't see you and you decide you're going to bury his head off the turnbuckle or whatever, that's a decision you make," Babcock said.
The incident follows a pattern the Ducks have established throughout the season as being a punishing physical team often capable of crossing the line into mayhem.
"Well, obviously things really spiraled down quickly for our group in the second. I think we must have taken five penalties in a row or something like that," Ducks coach Randy Carlyle said.
"Obviously, our frustration level got up there, and we didn't show the necessary discipline that's required," he added. "Did we lose our composure? I'd have to say that it left lots of room for improvement."
Earlier in this series it appeared the Ducks' physical play and the subsequent edge playing at even strength might be what carried them past Detroit into the Stanley Cup final.
But with Tuesday's emphatic win, the most lopsided loss in Ducks playoff history, the series dynamic has been dramatically altered.
"Yeah, you know, I think we were successful with all the four lines going. We started scoring from lots of guys, too. We had lots of speed tonight. We played a really, really solid hockey game," Holmstrom said.
When lines are juggled as they were Tuesday night, the pressure is on players to respond, Bertuzzi added.
"I think when you switch up the lines, I think you put a little bit of pressure on yourself to step up. When things change, you've got to be able to adapt to it, go out and play hard. I think that's what we did tonight," he said. In terms of confidence, the issue for the Ducks will be how much theirs is shaken by such a beating on home ice where they had lost just once thus far in the postseason.
Captain Scott Niedermayer, who scored the overtime winner in Game 2 but whose play in this series has been less than inspiring, had a dreadful night Tuesday.
He seemed surprised on the pass to Franzen on the first Detroit goal and midway through the third he was late getting back into the play and allowed Holmstrom's pass to reach Filppula for his second of the night. Overall, Niedermayer was minus-3 on the night with an uncharacteristically lazy hooking penalty thrown in for good measure.
The Ducks captain said he thought the first 10 minutes of the game looked good.
"Then, after that, they showed us how to play," Niedermayer said.
Teemu Selanne, likewise, has been a nonfactor in this series as he was held pointless for a fourth straight game.
"Well, we have a motto all year that you're allowed to enjoy a win for 10 minutes, and you suffer a loss for 10 minutes. We have to take the necessary steps tonight from a physical standpoint. Mentally it will be tough 'cause these are tough ones to turn the page on," Carlyle acknowledged.
"We'll be judged by our effort on the next one. We can't do anything about this one."
Game Notes
Given the traffic in front of both goalies this series with Holmstrom harassing Giguere and the Ducks crashing Dominik Hasek, Babcock was asked if he has a clear understanding of what the goalie interference rule is during the playoffs. "You're setting me up here to fail, aren't you?" Babcock said before Game 3 Tuesday. "If we want to have a beer and talk about that, we can, but ... you've got me in a tough spot here. The rule is straightforward," he said with a grin. "It's the way it's been all year. It's the way it's always been. You know the rule and I know the rule." ...
Weary of Kyle Calder's ineffective play (Calder has one point in 13 postseason games), Babcock benched the former Philadelphia forward acquired at the trade deadline in favor of Tomas Kopecky. The 6-foot-3 Slovak was activated from the injured reserved list April 26 after a broken clavicle and was playing in his first-ever playoff game. Kopecky's playoff debut was an inauspicious one as he took his team's first two penalties, one for hooking, one for delay of game when he shot the puck over the glass. Still, Babcock has high hopes for the 38th pick in the 2000 draft who played most of Game 3 with grinders Kirk Maltby and Kris Draper. "I like Tomas. Tomas going forward is going to be a center ice man for us. He's going to be an effective player. He's 6-foot-3, can shoot the puck a ton," Babcock said. "He's a competitive kid who can score. He can bang, make plays, skate, compete. So there's always a tough decision when you put a kid in. What's he going to do? Yet I look around the league, there's a lot of kids that can make a contribution. He was out for a long time. We would have liked to get him back with four or five games in the regular season. But because of his clavicle injury, our medical people thought we were putting him at risk. So now they don't and we need more I think grit on the puck, will to want the puck, more skating from that unit, so we're asking him to provide some of that." ...
Chris Kunitz underwent successful surgery to repair a broken bone in his right hand sustained late in Game 1 of the Western Conference final. He is doubtful for the rest of the playoffs. ... Announced attendance was 17,358 including standing room only, the 29th straight sellout for the Ducks.
Scott Burnside is the NHL writer for ESPN.com
ESPN Senior Writer
Covers hockey for ESPN.com
10 years at Toronto Sun, Windsor Star and National Post
Wrote best-selling true crime book "Deadly Innocence"
EDITORS' PICKS
Boston dealt a blow to Florida, while other Eastern playoff contenders looked to keep pace.
Inside the NHL

While it's too late for this season, the Blue Jackets are getting healthy and showing how tough they will be moving forward.
LeBrun »

Marc-Andre Fleruy has to prove he can dominate in the playoffs before anyone will expect the Penguins to make noise this spring.
Inside the NHL