Bryant's defense locks down Barbosa as U.S. stays perfect at TOA
Updated:
August 27, 2007, 2:21 AM ET
Associated Press
LAS VEGAS -- After containing Leandro Barbosa, Kobe Bryant still had time to keep up with LeBron James and Carmelo Anthony.
James scored 21 points, Bryant added 20 and harassed Barbosa all over the court, and the United States clinched the top spot in its group by beating Brazil 113-76 Sunday night in the FIBA Americas tournament.
Anthony also had 21 for the Americans (4-0), who for the second straight game pulled away by holding their opponent without a field goal for more than 6 minutes in the second quarter.
"When you see Kobe Bryant diving for loose balls," USA Basketball managing director Jerry Colangelo said, "and you see LeBron and Carmelo giving it the kind of work that they're putting into this, that commitment and passion, that's a message."
The Americans improved to 30-0 in Olympic qualifying games and will open second-round play Monday night against Mexico, the fourth-place finisher in Group A, in a matchup of former coaching rivals: Nolan Richardson beat Mike Krzyzewski for the 1994 NCAA title when Arkansas edged Duke.
Bryant led the defensive effort that held Barbosa to just four points on 1-of-7 shooting before a Thomas & Mack Center crowd that included former UNLV coach Jerry Tarkanian and NBA Hall of Famer Bill Russell. Injured U.S. star Dwyane Wade watched from the bench for the second straight day.
"My role here is different here than it is with the Lakers," Bryant said. "We have so many talented players and I don't have to score a lot of points. I just try to do the best I can defensively."
Barbosa entered averaging a tournament-best 27 points after scoring 36 Saturday in a 93-89 victory over the U.S. Virgin Islands. But the Phoenix guard and NBA's top sixth man never got into this game because of Bryant's early defense, and was on the bench in foul trouble when the Americans broke open the game late in the second quarter.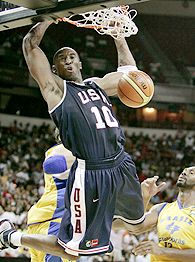 AP Photo/Jae C. HongKobe Bryant was solid on offense and defense as Team USA stayed perfect with a 113-76 blowout Sunday over Brazil.
"I knew that he was going to come up and defense me and guard me like he did and all I was trying to do was get the ball, but I didn't have many balls in my hand," Barbosa said. "But that's OK. It's about tomorrow now, let's forget about this."
James, Bryant and Anthony combined for the first 19 U.S. points in the second half, turning the game into another romp. The Americans are beating opponents by 48.4 points per game.
Brazil nearly beat the United States last year, losing 90-86 in an exhibition game ahead of the world championships. But Barbosa acknowledged that this is a different U.S. team, one that features nine different players this summer.
And the Brazilians are lacking one of their key players, Cleveland forward Anderson Varejao, who doesn't have an NBA contract for next season and opted not to take the risk of playing.
Still, the Brazilians kept it close until ending the first half without a field goal after Alex Garcia's basket with 6:09 remaining.
Brazil (3-1) settled for second place in Group B and will face Puerto Rico on Monday. The teams with the four best records after second-round play advance to the semifinals next Saturday. The winners of those two games earn spots in Beijing.
Brazil trailed only 37-32 with 5:50 remaining in the half before Bryant scored the next three points and James followed with a basket for a 10-point lead. After a Brazil free throw, Bryant and Michael Redd hit 3-pointers in an 8-0 spurt that pushed the U.S. advantage to 50-34 with 2:21 to play.
With the game slipping away, Brazil coach Aluisio Ferreira reinserted Barbosa, but he picked up his third foul with 2:21 remaining in the half after trying to stop Bryant on the break. James threw in a runner from beyond 30 feet as time expired, giving the Americans a 57-38 lead.
"Brazil is one of the best international teams and they had a terrific game plan but our defense in the second and third quarters was at the highest level it's been in this tournament," Krzyzewski said.
The Americans hit their first five shots and raced to a 12-1 lead a little more than 2 minutes in. Brazil fought back to get within four on Tiago Splitter's follow with 29 seconds left, and the U.S. was only leading 27-21 going into the second.
Splitter, drafted by San Antonio, led Brazil with 13 points.
American reserve Tayshaun Prince left the game in the first half after spraining his left ankle while battling for a defensive rebound. Krzyzewski said after the game the Pistons swingman would probably miss a day or two.

Copyright 2007 by The Associated Press
Road To Beijing
By virtue of making the finals in the Tournament of the Americas Olympic qualifier in Las Vegas, Team USA earned a spot in the 2008 Summer Games in China.
Scoreboard
|
Standings
|
Schedule
|
Roster
News
•
James, Team USA bury Argentina for TOA gold
•
Puerto Rico holds off Brazil, wins third place
•
USA's outside shooting delivers Olympics berth
•
Scola, Delfino help Argentina clinch Olympics bid
•
U.S. trounces Argentina, coasts into FIBA semis
•
Roundup: Second half outburst fuels Brazil's win
•
Perfect LeBron leads U.S. rout vs. Uruguay
•
Carmelo out vs. Uruguay with bruised heel
•
Roundup: Argentina remains undefeated in TOA
•
LeBron, U.S. avenge Olympic loss to Puerto Rico
•
Roundup: Argentina gets to Canada early in win
•
Mexico hangs around, but U.S. pulls away for win
•
Roundup: Argentina's 3-point shooting keys win
•
Bryant's defense highlights U.S. win vs. Brazil
•
Prince sprains ankle in first quarter vs. Brazil
•
Roundup: Argentina wins in OT to stay perfect
•
Roundup: Barbosa lifts Brazil past Virgin Islands
•
Without Nash, Team USA blasts Canada by 50
•
Roundup: Dalembert sparks Canada's FIBA win
•
Redd's touch spurs U.S. blowout of Virgin Islands
•
Roundup: Scola's balanced play carries Argentina
•
Melo, Kobe find range as U.S. routs Venezuela
•
Roundup: Arroyo struggles in Puerto Rico's loss
•
Durant, Collison not on team
•
Coach K not worried about shooting woes
•
Anthony nets 28 in scrimmage
•
Bosh withdraws from camp with foot injury
•
Hinrich, Battier withdraw; Collison added
•
Select team of young stars to face Team USA
•
After tonsils issue, Oden likely to skip camp
•
Sheridan: Kobe the star of intrasquad game
Columns
•
Sheridan: What players get last spots?
•
Sheridan: Handing out grades for Team USA
•
Sheridan: Previewing the TOA semifinal matchups
•
Sheridan: Coach K cautions against arrogance
•
Sheridan: Dueling again with their Pampas pals
•
Altieri: Previewing game with nemesis Argentina
•
Sheridan: No captain crunch for Team USA
•
Sheridan: Cause for concern?
•
Sheridan: Bryant is 'pacesetter' for Team USA
•
Neel: Team USA puts the hammer down
•
Morales: Day-by-day notebook
•
Morales: Don't count out Argentina
•
Sheridan: Can Coach K lead this team?
•
Wojciechowski: Coach K reliving a dream
•
Katz: Nolan Richardson leads Mexico
•
Sheridan: LeBron not stressing, Durant impresses
•
Sheridan: Scrimmage team has work to do
•
Sheridan: Top 10 questions facing Team USA
•
Sheridan: Kidd's national record perfect
•
Sheridan: Kobe arrives focused on new team
•
Morales on Group A
|
Sheridan on Group B
Blog
•
Sheridan: My picks for final 12-man roster

Chat
•
Sheridan: Durant improving quickly

Podcast
•
Sheridan: Team director Jerry Colangelo

•
Ford: USA Basketball scout Tony Ronzone

•
Ford: Talking Team USA with Sheridan

En español
•
Portada de Básquetbol
•
Resultados
|
Calendario
|
Posiciones
• Planteles completos:
Grupo A
|
Grupo B
•
Altieri: EE.UU. busca acompañante
•
Morales: Panorama del Grupo A
•
Sheridan: Panorama del Grupo B
•
Morales: Blog desde Las Vegas
•
Wojciechowski: El sueño olímpico de Coach K
•
Sheridan: En busca del equilibrio NBA-FIBA
•
Morales: Argentina, con las chances intactas
MORE OLYMPIC BASKETBALL HEADLINES