Commentary
Tram no monkey wrench for Games
Updated:
July 22, 2004, 5:59 PM ET
By
Brian Church
| Special to ESPN Insider
ATHENS, Greece -- New week, new tram.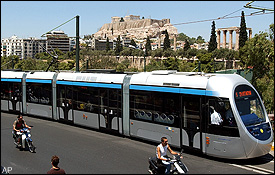 The trams can handle up to 80,000 passengers a day -- but no monkeys.
Despite another obvious victory for modern technology, Greeks still honored tradition Monday, as mobs muscled their way to a seat on the tram while the posse on board simultaneously fought to get off. Curious crowds gathered throughout inauguration day at the tram's central Athens terminus on Amalias Avenue, which is named after a Greek queen. Queen Amalia, obviously, not Queen Avenue. The station is also opposite that rare splash of green in Athens, the national gardens, where King Alexander I was murdered by his monkey.
To continue reading this article you must be an Insider
Insider