Commentary
Games' arrival puts Athenians in good mood
Updated:
August 16, 2004, 12:04 AM ET
By
Brian Church
| Special to ESPN Insider
ATHENS, Greece -- If Sir Arthur Conan Doyle lived today, one of his Sherlock Holmes short stories surely would be The curious case of the Athenian who didn't bark.
It's a real mystery. Why are Athenians, traditionally considered loud, rude and selfish -- and proud of it -- behaving so well during these Games?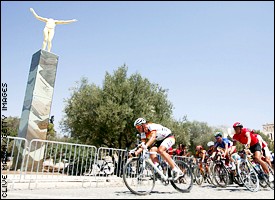 Getty ImagesThere were no problems during Saturday's cycling race in Greece.
Ordinary motorists already have surprised everyone by keeping to their humble single lane on many main roads. Pedestrians did their duty today when the capital was effectively split in two rings for the men's cycling road race.
This forced most Athenians to wait to cross streets until cyclists had passed. In normal circumstances the barricades would have been stormed and to hell with the cyclists.
Not today. Paschalis Mellios, police officer No. 263644 on duty at the major Amalias Avenue, reported no problems.
What if somebody got fed up waiting and jumped over the meter-high barrier? In such a situation, "There are things which we have been told to do," said Mellios.
To continue reading this article you must be an Insider
Insider