Commentary
Intrepid reporter passes quake in restroom
Updated:
August 28, 2004, 12:47 AM ET
By
Brian Church
| Special to ESPN Insider
ATHENS, Greece – If it's a small earthquake, we say "seismos" in Greek. For the ears, "seize moss" is close. Practice the word with Greek friends. They'll be terrified.
And if it's a big earthquake, we say "HOLY SEISMOS!"
Today, thankfully, was a small one. It took place at 3:38 this afternoon. Greece is seven hours ahead of Eastern, which means I usually set my alarm clock for 9:15 a.m. your time.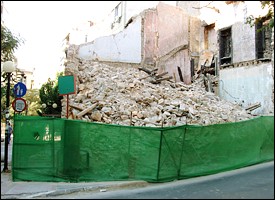 Athens Insider's house was untroubled by Tuesday's 4.5 Richter quake in Greece.
The quake had its epicenter more than 40 miles from Athens and some 12 miles, according to Associated Dozen, under the sea.
Guess a lot of whales had a seriously bad day today.
To continue reading this article you must be an Insider
Insider