Evelyn Ashford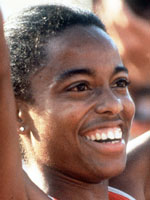 Evelyn Ashford
Date of birth

1957-04-15
Birthplace

Shreveport
Height

165 cm
Weight

53.0 kg
Discipline

100m, 4x100m relay
World records

2 (100m)
Olympic Games (5 medals - 4 gold, 1 silver)
100m: 1st (1984), 2nd (1988), 5th (1976)
4x100m relay: 1st (1984, 1988, 1992), 7th (1976)
Pan American Games (1 medal - 1 gold)
Discretion underlines a class act
Evelyn Ashford achieved a unique feat in women's athletics by winning three consecutive Olympic relay titles. Add that to her 100m title in Los Angeles and her 2nd place finish in Seoul, the American remains one of the most successful, and more discreet, athletes of the 1980's.
The oldest child in a family of five as a youngster growing up in Louisiana, Ashford was raised by her grandmother, only seeing her father, a soldier in Vietnam, when he was on leave.
At the age of 17 she was spotted on a running track in Sacramento and was taken under the wing of Olga Connolly, the wife of the 1956 Olympic hammer-throwing champion, Harold. Evelyn made her first Olympic appearance in Montreal, where she managed to place 5th in the 100m final.
As of 1979 her improved results, notably two world cup victories in the 100m and 200m, led her to continue her sports career at UCLA in Los Angeles.
Just before the Moscow Games in 1980, where she was considered the favourite, she married the basketball star, Ray Washington.
Elegant on the track
At 23 and at the height of her form, American president Jimmy Carter decided to boycott the Moscow Games. Although this proved a severe disappointment, she came back to almost equal the 100m world record set by East Germany's Marlies Goehr-Oelsner (10.88 sec), missing the mark by 2/100ths of a second a year later.
The summer of 1983 proved to be emotion-filled. In July she established a spectacular new 100m world record of 10.79 sec in Colorado Springs, and in August, for the inaugural world championships in Helsinki, she fell in the final following a ligament strain.
Coming back to form for "her" Games in 1984, she managed to record successful results in a field lacking the Soviets and the East Germans, who boycotted the Games, in the 100m and 4x100m relay. A few days later she upped her speed to improve her own 100m world record in 10.76 sec.
The Olympic relay remained, for that matter, her event until 1992, where she was still able to achieve victory and a third consecutive gold medal.
In 1988 she finished a close second behind the "unearthly", and now deceased, Florence Griffith-Joyner.
Having given birth to a daughter in 1985, Ashford, who will always be remembered for her elegance and discretion on the track, gave up competing following the Barcelona Games of 1992.
Copyright 2008 Agence France-Presse.