Commentary
Is Michael Phelps back to top form?
Updated:
May 14, 2012, 2:29 AM ET
By
ESPN.com staff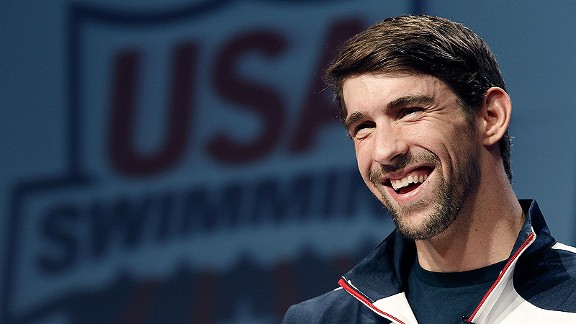 Brandon Wade/Getty ImagesDespite numerous questions from reporters, Phelps would not reveal his U.S. trials event schedule.
DALLAS -- Michael Phelps and coach Bob Bowman met with the media Sunday at the U.S. Olympic Media Summit. During the news conference, Phelps talked about getting back his passion for swimming after taking two years off from the sport after his record-setting performance at the 2008 Beijing Olympics.
Which leads our panel to answer the following questions
Do you believe Michael Phelps is "back" to top form after checking out from the sport of swimming for two years?

Jim Caple: I don't think he'll be in the form he was at in 2008. I don't know if anyone will ever be in that form again, other than in an "Avengers" movie. But I do think he is highly motivated, partially by his own competitive drive and the growing rivalry with fellow U.S. swimmer Ryan Lochte. Asked about Lochte's "This is my time" statement, Phelps returned the challenge by saying, "I've always been a person that lets my swimming do my talking." It's an awkward wording, but you know what he means.
If I were Lochte, I'd swim some extra laps. After all, Phelps has typed down his goals for 2012 instead of merely writing them out by hand, which shows he not only is very serious, but is also stepping up his preparation with the latest technology.
Luke Cyphers: Not yet, obviously. And he may never get there. Who cares? Even with his two-year de facto sabbatical, he's likely to swim well enough at the U.S. trials [in late June] to make a big impact on Team USA, maybe beat Lochte a time or two and help the U.S. add to its medal haul in London.
This is a retirement tour, similar to when Kareem Abdul-Jabbar left the NBA, or when Cal Ripken, a fellow Baltimore legend, checked out of baseball. Except Phelps has enough raw athletic ability to create some magic on the way out the door. He's lowered expectations, and is now playing coy about what his goals are; but he still cares enough about his place in the sport to peel off the label from a water bottle as he took the Olympic summit stage, so as not to offend whatever his drink sponsor is. Don't underestimate that, either. Whatever else he is, Phelps is a pure pro, something not that common in swimming, and his commercial sensibilities factor into his renewed "passion" for the sport.
The best part? No matter what he does in Omaha or London, neither he nor we must endure the most grueling aspect of his career; no, not his altitude workouts in Colorado Springs under coach Bob Bowman, his news conferences.

Wayne Drehs: Maybe it was boredom. Maybe he was tired. Maybe, after dedicating nearly every minute of every day to achieving something many thought was impossible, he just needed to escape. Whatever the reason, Phelps spent the two years after Beijing disinterested and disengaged with the sport of swimming. Now, with a little more than a month before Olympic trials, he and Bowman insist Phelps his back. Do I believe them? Absolutely.
The reason: Phelps finally has someone or something to push him other than a clock. And that somebody is Lochte. While Phelps was ditching training sessions and playing golf after Beijing, Lochte stole his title as the world's greatest swimmer, a move Phelps admitted Sunday as being "very motivating." Now, Phelps has a target and, in some twisted way, can even think of himself as an underdog, as crazy as that may seem.
When asked Sunday if he was bothered by Lochte's comments that it's his time now, Phelps even took perhaps a veiled shot at his rival with his "swimming do the talking" response. And in Omaha and London, Phelps plans to do just that.

Bonnie D. Ford: It's always hard to tell where top swimmers are on the stopwatch this time of year when they're still in a heavy training block. But if Sunday's comments are any guide, I think Phelps is motivated to go out strongly, and he probably has Lochte to thank for that.
Without the very tangible sting of Lochte "rolling over" him, as Phelps put it, I wonder if he would have been able to rededicate himself to training. My guess is that head-to-head competition is still more appealing to Phelps than adding to his medal collection, and he admits up front he won't approach his octo-feat of 2008. I also get the impression he's enjoying keeping everyone in suspense about what events he will be swimming at the Olympic trials. He may not be invulnerable any more, but he still has an aura.