NASCAR goes too far with Hamlin
March, 7, 2013
03/07/13
8:58
PM ET
LAS VEGAS -- Thou shalt not criticize the Gen-6.
Consider it NASCAR's newest commandment, which Denny Hamlin learned today from his $25,000 fine for daring to see the new car as less than perfect.
"Bow to Gen-6, lowly driver, and do not take its name in vain."
That's the message to all the drivers from NASCAR's comment police, and this time, it's a step too far. NASCAR has to be more thick-skinned than this, but apparently, it isn't.
Hamlin, in a moment of frustration after the Phoenix race, said the Gen-6 isn't any better than the Gen-5. Oh my goodness. Do not compare the most beloved car in NASCAR history (that's the 2013 mantra for the Gen-6) to the most hated car in NASCAR history (the Car of Tomorrow, Generation-5).
Any intelligent, critical comment by a driver will not be tolerated by the ivory tower of NASCAR, as Hamlin found out. Defending Cup champ Brad Keselowski got the same lesson at Daytona after criticizing some of NASCAR's policies in a USA Today article.
Keselowski didn't receive a fine, just a stern private conversation with Brian France and Lesa France Kennedy -- NASCAR's royal brother and sister duo.
Keselowski took it in stride. Hamlin didn't. Based on Hamlin's comment during the test session Thursday at Las Vegas Motor Speedway, Denny is mad as hell and he's not going to take it anymore. No doubt that will result in a new fine.
Hamlin said he won't pay any fine. Good luck with that. He has 10 days to appeal, but a suspension is coming if he loses his appeal -- which he probably will.
A fellow columnist friend of mine brought up a good point today. The second amendment (as in the NRA sponsorship of a Cup race) -- is all good in NASCAR. The first amendment -- drivers speaking their mind -- not so much.
[+] Enlarge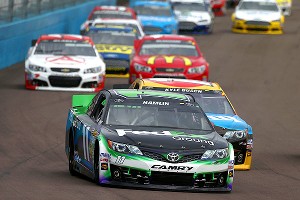 Jonathan Ferrey/Getty ImagesDenny Hamlin was fined $25,000 by NASCAR on Thursday.
Robot training to begin soon for all Cup drivers. Stepford wives will be the instructors.
Look, I've been one of the biggest supporters of the Gen-6. It has so many advantages, starting with the way it looks. And I've said everyone should show some patience before judging how it will race, including drivers.
And for the record, I'm 100 percent in NASCAR's corner on the suspension of Nationwide driver Jeremy Clements. Insensitive racial comments cannot be tolerated in any situation.
But NASCAR has overreacted this time. NASCAR officials should have talked to Hamlin privately and asked him to reserve judgment and try to understand the process before going overboard on critical comments about that car.
No fine, no public message.
Maybe Hamlin will think twice next time. He said it's very hard to make passes in the Gen-6, but he started in the back at Phoenix and finished third. Obviously, he made some passes.
Whether he's right or wrong really isn't the point. NASCAR has made itself look like a lumbering heavyweight who can't take a punch.
It isn't the drivers who need to chill out. It's NASCAR.