Commentary
Daytona Duels instant analysis
Updated:
February 21, 2013, 8:28 PM ET
By
Ryan McGee
| ESPN The Magazine
Budweiser Duel 2
• How the race was won -- Kyle Busch rode on the front bumper of new teammate Matt Kenseth to the front and then held off a series of charges, most notably from Kasey Kahne and Clint Bowyer, to grab his second career Duel 150 victory. When he was asked what was learned for Sunday's race, he replied flatly, "It's hard to pass the leader," saying it was important to get out front and stay there. After the pit stop, that's exactly what he did, taking no tires to grab track position.
• Turning point -- Jeff Gordon crushed the field for nearly 40 laps but was hit with a pass-through penalty for being too fast entering pit road. That not only took the outside pole sitter out of contention, it also made life much more difficult for Kahne, the teammate who had been glued to Gordon's back bumper during most of that time up front.
[+] Enlarge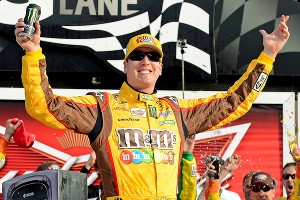 Jared C. Tilton/NASCAR/Getty ImagesKyle Busch held off Kasey Kahne in the second qualifying race to put Toyota in Victory Lane.
• Who raced in -- Dave Blaney grabbed the coveted transfer position, edging out Josh Wise for the 15th spot. Austin Dillon finished third, easily making the field for his first Daytona 500. His grandfather, Richard Childress, posted a best Daytona 500 finish of ninth back in 1976. Dillon has a car that could top that in his first try.
• Who's out -- Only two of the 45 cars that made the trip to Daytona didn't make the cut for the 500. Brian Keselowski fell multiple laps off the pace in the first race, and Mike Bliss did the same in the second. Neither of those was a surprise.
• Former winners watch -- There were four former Daytona 500 champions in the 22-car field, one fewer than the first 150. Defending champ Kenseth, who looked wicked strong, finished fifth, followed by Jamie McMurray (ninth) and Gordon (12th). Ryan Newman finished 21st after suffering a solo spin during the round of pit stops.
• Crash watch -- Zero! After a month of Daytona wrecking, including January's test session, we finally had an on-track session without wreckers involved.
• Somebody get me a scorecard -- When it was announced in the media center that the 17 car had been hit with a pit-road speeding penalty, there was a gasp. We all immediately thought, "Wow, what a shame. Matt Kenseth has been so fast." Then someone said, "You know that's Ricky Stenhouse, right?"
• R.I.P., two-car tandems -- Do you still need help if you want to make a move to the front? Yes. Can you split up in pairs all day like an Arthur Murray dance-off? No.
• Stat of the race -- The caution-free race finished with an average speed of 193.966 mph, the second-fastest Daytona qualifying race.
• What we learned -- The finishers from the first race said that as their 150 went on, the low groove began to materialize. They also predicted that the trend would continue in the nightcap. It did. But only when they wanted it to. Nearly from the green flag there were two distinct lines, certainly more than in the opener. Yes, they did get into a conga line prior to the pit stop, but that's been happening since they ran the first qualifying races in 1959. Again, when it mattered, three-lane madness ensued.
Budweiser Duel 1
• How the race was won -- Much the same way that Saturday night's Sprint Unlimited was won. With three-wide madness behind them, Kevin Harvick led Greg Biffle -- barely -- to run 1-2 across the finish line. Surprisingly, it was Harvick's first victory in a Daytona qualifier.
• Turning point -- Just when it looked as if we might actually get through an on-track event without a crash (something that hasn't happened at Daytona this year, going all the way back to January testing), Denny Hamlin broke loose off tricky Turn 2, taking out hard-luck Carl Edwards and Trevor Bayne, who appeared to have the car to beat in the early running.
[+] Enlarge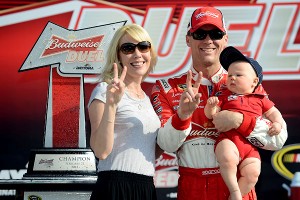 Jared C. Tilton/NASCAR/Getty ImagesThe Victory Lane celebration after Duel 1 was a family affair for Kevin and DeLana Harvick.
• Who raced in -- Michael Waltrip needed to finish 15th or better to make the Daytona 500 field and he finished & 15th. No matter how you feel about Mikey, it's hard not to feel good about his Sandy Hook Elementary fundraising efforts being in the Great American Race. Scott Speed, who finished just behind Waltrip, still locked down a starting spot via his qualifying speed from Sunday.
• Almost the turning point -- The field ducked into the pits with 19 laps remaining, and second-place Bayne nearly caused some accordion calamity when he created a Daytona Beach & Road Course-style rooster tail of dirt, getting pushed into the grass to his right when he closed in on Kevin Harvick much faster than expected.
• Danica watch -- The Daytona 500 pole winner ran up front early, but by Lap 12 her "crazy tight" Chevy had drifted to the back of the field. That wasn't exactly the low-rent district, as she was running with Tony Stewart and Jimmie Johnson. She was back to the edge of the top 10 before being swallowed by the last-lap craziness, and she finished 17th out of 23 cars.
• Former winners watch -- There were five former Daytona 500 champions in the 23-car field. Harvick won, followed by Johnson (fourth), Dale Earnhardt Jr. (ninth), Waltrip (15th) and Bayne (23rd).
• Crash watch -- There was just one crash (see above), but it was a big one, particularly for Edwards, who has seemingly spent the entirety of Speedweeks unloading backup cars. Not exactly the way to right his oh-so-wrong 2012 season. Michael Waltrip, in his postrace comments, admitted that drivers were willing to "run around in circles for a while" to ease the apprehension they all felt about these still-unknown Gen-6 cars.
• Magic ran out -- Brian Keselowski, the Cinderella story of the 2011 Duels, went a lap down on Lap 25. "That last time was so special, I was really afraid we'd never be able to recreate it," his father, Bob Keselowski, told me Thursday morning. Turns out he was right. But he also added: "But sure can't blame the kid for trying."
• What we learned -- The high side is where you want to be & for a little while, anyway. During early, long green-flag runs, any drivers who dared to wander low and out of line looked as if they had deployed a parachute. Even when they did create some havoc, the organized high line still managed to reel them in. But keep in mind: This applies only to all laps prior to the final few. After the last restart, the pack behind the leaders ran three-wide for nearly the entire four laps, and third-place finisher Juan Pablo Montoya observed, "The race was won from the bottom. I know because I followed them down there."
ESPN Senior Writer
Senior writer for ESPN The Magazine and ESPN.com
2-time Sports Emmy winner
2010, 2014 NMPA Writer of the Year