Commentary
Duel victory gives No. 24 power boost
Jeff Gordon's Duel win comes with an asterisk, but he'll take it. The four-time champ's first trip to Victory Lane since October 2007 was long overdue.
Updated:
February 13, 2009, 1:01 PM ET
By
Ed Hinton
| ESPN.com
DAYTONA BEACH, Fla. -- Jeff Gordon is kind of, sort of, part of the way back.
Thursday's first 150-mile qualifying race for Sunday's Daytona 500 wasn't a points race. Gordon still has gone 41 of those without a win.
But the qualifier was a win for Gordon, his first in 45 Cup starts, counting points and non-points races, dating back to October 2007.
"Any win is exciting and meaningful to us right now," Gordon said after outdueling Tony Stewart on the last three laps of the first 150, with Gordon getting the winning push from rookie Joey Logano.
"Because of the pressure that we felt from being winless last year," Gordon continued, "it's important for us to gain some momentum and confidence that we're doing the right things."
The way he won Thursday -- running near the front all race, then moving into the lead almost at will with a little drafting help -- left Gordon feeling good about his shot at a fourth Daytona 500 victory, and an official end to his drought, come Sunday.
"This puts a smile on everybody's face, and everybody's patting one another on the back and really excited about Sunday's race," Gordon said. "However you can get that is important. We've got to keep it going, though."
[+] Enlarge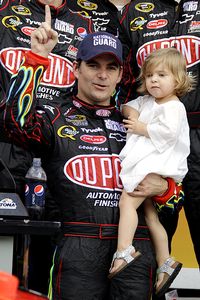 AP Photo/Terry RennaJeff Gordon collected two trophies in Victory Lane, including daughter Ella Sofia.
And Gordon thinks he will, including beyond Daytona.
"I'm just really excited about this race team this year," Gordon said. "Steve Letarte [his crew chief] did a fantastic job over the offseason, just fine-tuning the cars, the team, the personnel, the engineering.
"I think we've got some neat things in store for ourselves, not just here at Daytona but moving forward, as well."
Letarte didn't take the win as a throwaway, either -- "Everybody wants to try to win it," he said of the qualifier. "You could see with the passes in the last four or five laps that they weren't just riding around for a finish."
Letarte has come under fire from some Gordon fans, and he has taken personal responsibility for Gordon's first winless season since his rookie year, 1993.
But, "I believe a hundred percent in this guy, in the moves he's making," Gordon said of Letarte. "I think 2007 [Letarte's first season as crew chief, when Gordon won six races and finished second in points] proved it. We got behind last year. We can't get that back. But what we can do is learn from it, grow from it and use that to motivate us."
Of enormously heralded Logano, who finished fourth, Gordon said, "I really thought he did a great job because he gave me a big push there at the end that probably helped us win this race."
"I think we accomplished everything we needed to do," said Logano, who at 18 will become the youngest driver ever to start the Daytona 500. "Our main goal was to finish the race because that was more than we got in the Shootout [Saturday night, when he was wrecked out]. And then just gain some respect from these guys. I feel like we accomplished that."
Logano made one mistake, overshooting his pit a bit, but the one experience probably cured that. "These speedway brakes just lock up quicker than you would think," he said. "Besides that, I learned a lot just with the handling of the car, and what to do to keep your momentum going drafting."
Stewart finished second to get a solid starting spot in the 500. Three-peat Cup champion Jimmie Johnson, a Hendrick Motorsports teammate of Gordon's, finished third.
"Real happy," Stewart said of his run. "We kind of picked up where we left off the other night [in the Shootout, where he finished third]. This car is a little better than our Shootout car was. It drove great today."
Thus, right out of the box with his new team, Stewart has a strong shot at the last major NASCAR accomplishment left on his personal checklist -- a Daytona 500 win.
Stewart and Scott Riggs, who finished eighth, were the two drivers to transfer into the 500 based on their finishes in the first qualifier.
Stewart would have made the 500 anyway as a former Cup champion, and on his time trial from Sunday, but Riggs had to produce Thursday or go home with an upstart team just formed by veteran crew chief Tommy Baldwin.
Riggs and Baldwin were the first clear evidence that the economic crisis in NASCAR actually could mean opportunities for new teams willing to take the risks.
"This is a grassroots [effort] right now for us," Riggs said. "You go to the shop, a lot of guys are just volunteers, passionate about racing. … They put their heart and soul into it and have faith in Tommy …
"To be able to scrap something together from nothing, a month and a half ago … speaks volumes for us," Riggs said.
If shop employees are volunteers, what about Riggs?
"Tommy pays me attention," he cracked, and left it at that.
Ed Hinton is a senior writer for ESPN.com. He can be reached at edward.t.hinton@espn3.com.
2009 Daytona 500

The 51st running of the Daytona 500 is set for Feb. 15 at 3:30 p.m. ET. ESPN.com will bring all the action to you. Daytona 500 Surround »
Aftermath
Daytona 500
Duels Day
Rankings
Pole Day
Bud Shootout
Features
Blogs
Chats
Video