Commentary
Evernham: Home's where the heart is
Meet the new Ray Evernham. The team consultant/TV analyst/dirt-track owner/husband-to-be isn't prepping race cars for the Daytona 500 for the first time in two decades. And he's enjoying every minute of it.
Updated:
January 28, 2009, 3:18 PM ET
By
David Newton
| ESPN.com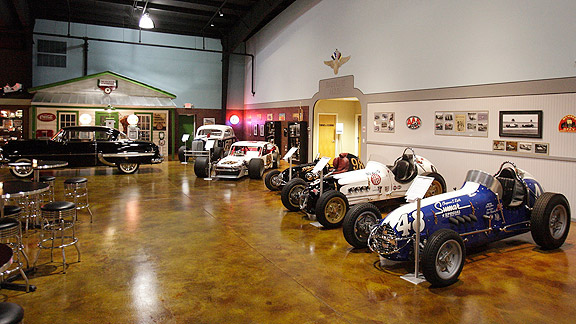 CIA Stock Photography Inc.Ray Evernham's new personal playground is part museum, part entertainment facility and part storage unit.
MOORESVILLE, N.C. -- Amid the seemingly endless stacks of track notes, pictures, trophies, show cars and other race-related paraphernalia in the 42,000-square-foot theme park that Ray Evernham calls home these days is a yellow sheet of notebook paper with handwritten plans for what would be his first competitive car.
Evernham, 51, penciled them during a high school class about 35 years ago instead of paying attention to the teacher.
"Probably one of those classes I didn't do so well in," he said with a laugh.
While the rest of the NASCAR world is gearing up for next month's Daytona 500, Evernham is organizing everything that tells the story of his amazing career.
And "everything" is no understatement. It's as if the man never threw away a thing.
From a picture of him holding a checkered flag after his first win as a long-haired 18-year-old driver to the muscle cars Rick Hendrick gave him after he crew-chiefed Jeff Gordon to three of his four Sprint Cup titles to Kasey Kahne die-casts he saved as the owner of Evernham Motorsports, this truly is a walk through his life.
He has some of it displayed in Gasoline Alley, a combination museum and entertainment facility that includes a diner modeled after the inside of a 1955 Chevy and a karaoke stand where Evernham occasionally lets his hair down.
And although there are open-wheel race cars in the back that Evernham occasionally drives or sponsors for others at local tracks and a boxing ring for recreational purposes, this place has nothing to do with competition.
The mere mention of running a Cup team out of here makes Evernham cringe.
[+] Enlarge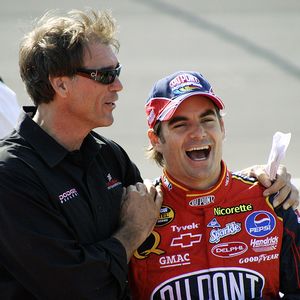 AP Photo/Carl PendletonFormer crew chief Ray Evernham, left, won three Sprint Cup titles with Jeff Gordon.
"You mean Cup cars to work on?" he said. "I would run 'em out the door. If my friends have a car they need to be stored that is something they're going to restore or an antique or a classic car, we'd gladly store it for 'em.
"Other than that, if it's not a speedster and you're racing it, don't bring it here."
Actually, Evernham couldn't work with another team if he wanted to. He signed a long-term noncompete clause in 2007 when he sold majority interest of Evernham Motorsports to George Gillett, the deal that brought forth Gillett Evernham Motorsports, which recently merged with Petty Enterprises.
Technically a consultant, although he hasn't been consulted since this past summer, Evernham has offered to sell his remaining interest to free him of any obligations. He has yet to get a reply, and he doesn't expect one soon.
"I don't have any input on what's going on over there," Evernham said.
But Gillett's office released this statement Wednesday:
"Ray is a valued member of this organization. He retains a minority interest in Richard Petty Motorsports and has signed a multiyear contract to serve as a consultant on competition and business matters. While his day-to-day role isn't what it was when he was the sole owner of the team, Ray is a valuable resource to the team and we will continue to consult with him frequently."
But the question begs to be asked: Will his organizing project be enough to satisfy the competitive juices that made Evernham arguably the most driven person in the garage as a crew chief and owner? Will putting together this playhouse of collectibles and running East Lincoln Speedway -- a 3/8-mile dirt track in nearby Stanley, N.C. -- and serving as an analyst for ESPN keep him happy?
For now, the answer is yes. But Evernham doesn't rule out one day returning to NASCAR's premier series, likely as a consultant for Hendrick or Gordon, the only two people he says could lure him back into the sport, and only if they needed him.
Eric Warren, who worked six years for Evernham as an engineer at Evernham Motorsports, doesn't believe for a minute that his boss can stay away from the rush that drove him to work so hard that he never stopped to appreciate all the things he has accumulated.
"He's probably just trying to relax a little bit and get his mind cleaned out a little bit, but it won't take long," said Warren, who is working with Evernham and drag racer Doug Herbert on a car they hope will break the land-speed record later this year. "I've seen him too long. He's too determined."
Pack rat
Scattered across the floor and on tables in a room called "Timing and Scoring" are literally thousands of items Evernham's staff has yet to catalog. The room across the hall is equally full.
"I have trouble throwing things away," Evernham said.
Many of the collectibles bring tears to his eyes, such as pictures of Hendrick Motorsports engine builder extraordinaire Randy Dorton, one of 10 people killed in 2004 when a plane en route to Martinsville Speedway crashed.
Many remind Evernham of just how much he sacrificed to set standards in Cup that few if any will equal.
"For so many years, I had people tell me you've got to stop and enjoy," Evernham said. "You've got to stop and smell the roses. You can't do that when you're in a competitive environment. You can't.
"But when you can stop and do that and reflect on that, it's a very emotional thing going through all those pictures and whatnot."

I know that at some point, I'm going to have to step back into something that's highly competitive. But I want to make sure I'm rested and refreshed when I do that because I don't feel like I was using my brain as much as I should have been for the last couple of years.
-- Ray Evernham
It has been suggested that Evernham sold his company because he was burned out. Some suggest he failed as an owner because he never achieved the championship status he did as a crew chief.
Gordon -- who won titles in 1995, '97 and '98 with Evernham -- disagreed.
"Did he miss a little bit on trying to be a Rick Hendrick or Jack Roush?" he mused. "Yeah, maybe. But he also found out that [running a team] is a lot of responsibility, hard work, commitment, and that maybe he had accomplished enough to say, 'You know what, I'm happy with what I've accomplished. I can get out now and live an incredible life and focus on some things that maybe I still do want to do in my life.' "
There's nothing in Evernham's voice or demeanor to suggest otherwise. Warren never has seen him so happy.
"This whole room is Ray," he said.
The plane crash that took the lives of Dorton and many other close friends at HMS was a defining moment for Evernham.
"That started to be the beginning of the end for me," he said.
The ensuing years were torture. Evernham went through a highly publicized divorce because of his relationship with then-developmental driver Erin Crocker, now his fiancée. He struggled to maintain a healthy balance between the business and competition sides of EMS.
"Probably two or three years ago, I realized I had everything I wanted, yet I was still miserable," he said. "You just start to think about, 'OK, what's important?' "
He started spending more time with his teenage son, Ray J, who was diagnosed with leukemia at the age of 1. He began returning to the grassroots racing that made him so happy before he became famous.
He began once again using his brain, developing ideas that epitomized the genius he had become synonymous for as a crew chief.
"I know that at some point, I'm going to have to step back into something that's highly competitive," Evernham said. "But I want to make sure I'm rested and refreshed when I do that because I don't feel like I was using my brain as much as I should have been for the last couple of years."
The stage is his
Evernham stood on the karaoke platform where he's been known to stretch his vocal cords.
"Enjoy a little time," he told a group of reporters touring his shop for the first time. "Go back in time. When you see this place, I hope it inspires you the way it inspires me."
For the first time in a couple of decades, Evernham doesn't have to worry about getting cars ready for Daytona. He doesn't have to worry about meeting deadlines or keeping sponsors happy.
If he feels like singing, he can and will -- even if it hurts a few eardrums.
That doesn't mean he doesn't worry about things, "but I can be selective about the things I worry about."
"There's a lot more wanna-dos in my life than have-to-dos," he said. "I feel more like an artist, like whatever I do, I do for me."
Evernham's artistic imprints can be found at every corner of this building, particularly Gasoline Alley. There's the reproduction of a Texaco gas station, where he and his dad worked as kids. There's the crescent moon on the star-filled wall overlooking Ray J's Diner. There's the red, white and blue dragster mounted on the wall over the bar and pointed toward the ceiling on a black strip of paint.
"Some people are going to come in here and go, 'Oh my god, that's ugly. Who picked out the colors?' " Evernham said. "Some people are going to go, 'Ah, that's really cool.' "
Evernham always has been an artist of sorts. He turned down an offer to attend a New Jersey art school out of high school to become an artist of sheet metal and engine blocks.
Does he care that what he created at Evernham Motorsports isn't what he envisioned? Most definitely. Does he stress over not being asked to be more involved in painting the future there?
"You know, this is something that I've always wanted to do," he said. "There was certainly a time when they wanted me to be active, but we were very philosophically apart about how things should be done. And that was something that I knew the day that I signed the papers.
"In respect to George, the best thing for me to do, then, is to let him do what he thinks is best."
Now Evernham is doing what's best for him. He's happy in his relationship with Crocker.
He's happy going to Daytona as an analyst and not a competitor. He's happy putting on Elvis tunes in the jukebox and looking at the things that shaped his future instead of worrying about the future.
"I'm at that stage in my life where I just wanted to put all the things that I feel like I've accomplished in one spot," Evernham said. "I'm doing some things right now where I don't have to worry, or I'm not so worried about, ''Geez, is that going to make a profit or am I going to go out of business?'
"I feel that if you have success at a sport, or a business, there is a point where you've got to become a caretaker of that. This sport has really created all this stuff for me. I believe I should share that with some people."
David Newton covers NASCAR for ESPN.com. He can be reached at dnewtonespn@aol.com.
ESPN Staff Writer
Covered Panthers, NFL for 11 years
More than 25 years experience covering NFL, college football and NASCAR
Joined ESPN in 2006