Commentary
Kevin Harvick makes special delivery
Updated:
September 25, 2010, 7:33 PM ET
By
David Newton
| ESPN.com
DOVER, Del. -- Denny Hamlin thought he needed to avoid wrecks and mechanical issues to get out of Dover International Speedway with the points lead.
He may need to avoid his mouth.
In case you haven't noticed, Hamlin has become arguably the most outspoken driver in the Sprint Cup garage over the past year or so. His comments on Twitter about a mystery debris caution got him a slap on the wrist from NASCAR earlier this season.
His verbal comments Friday about the 150-point penalty Richard Childress Racing driver Clint Bowyer received after winning at New Hampshire got him a slap from RCR's Kevin Harvick during Saturday's first practice.
Make that two slaps and a sideswipe.
You expected there to be some retaliation from the RCR side after Hamlin basically said Bowyer's team has been bending the rules for months and that they didn't stop at New Hampshire despite being warned the week before. Saying he had the fastest "legal car" didn't help, either.
[+] Enlarge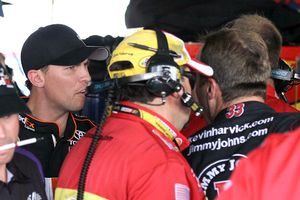 Jim McIsaac/Getty ImagesDenny Hamlin and Kevin Harvick exchanged pleasantries after their on-track run-in at Dover.
You didn't expect payback to come less than 24 hours later.
On the first lap of practice.
From a championship contender.
If you missed it, Harvick did what almost every RCR employee wanted to do. It was his way of saying a bump from another car or a wrecker can knock the tolerances off by sixty-thousandths of an inch, as RCR will argue in Wednesday's appeal.
That he put revenge above what could be a championship run shows just how angry he was.
Me the journalist and you the fan hope Hamlin will keep speaking his mind. This is the kind of drama that made the sport what it is. Visions of Dale Earnhardt, the driver Harvick replaced, danced through our heads.
"You know, I spoke my mind [Friday] and felt like I said a lot of truth, and a lot of times that's not popular with the teams that are involved," Hamlin said Saturday. "It's something I've always done, is speak my mind. It's not always my best interest to do that.
"When somebody asks me a question, I'm always going to give my 100 percent honest answer."
Doesn't sound like he's backing down there, but that may not be the best formula to win a championship. Sometimes it pays to be vanilla like Jimmie Johnson, who has won the past four championships. The fewer angry people you have to deal with on the track, the easier it is to focus on your goal.
Speaking of Johnson, he and crew chief Chad Knaus seemed to relish this soap opera as they watched Hamlin and Harvick, whose cars are parked next to them in the garage, have at it. There was almost a dastardly smile on both their faces, suggesting they don't have to play mind games because the competition is doing that to itself.
Hamlin doesn't seem concerned. He smiled and answered every question with the media even though there was a hint of fear in his face earlier as Harvick went chest-to-chest with him between their cars.
"Our job is still to win a championship," Hamlin said. "We looked pretty good on speed, especially compared to those guys."
Ouch. Another shot as Hamlin referred to his car being seventh fastest and Harvick's 15th in the final practice.
There was another later on as Hamlin defended his right to say whatever he wants.
"I have the right to give my opinion," he said. "When you look at the two teams and look at the history of wrongdoings and penalties, the two teams when we compare them side by side, our integrity speaks for itself.
"We're going to be OK. We just have to stay focused. That's the biggest thing. Those guys play those games. They've been in this sport for a long time and they know how to try to get in someone's head that is beating you now. That was just a small effort on their part."
Small? Seemed like a pretty big effort when you consider what could have happened. Harvick could have severely damaged his own car, which needed minor cosmetic surgery on the left front nose and side panel. He risked a penalty from NASCAR, which fortunately for him said the issue was handled and no further punishment was coming.
[+] Enlarge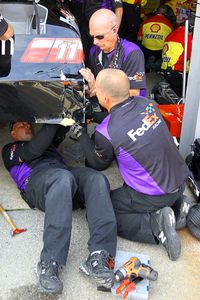 Jim McIsaac/Getty ImagesDenny Hamlin's No. 11 Toyota received minor damage from Kevin Harvick's bump-and-run at Dover.
Hamlin got off light, too, with minor damage to the right quarter panel. No word yet on whether the car will pass tolerances under NASCAR's laser technology at the Research and Development Center in Concord, N.C.
Owner Richard Childress said there were no team orders for Harvick to dump Hamlin.
"We're all a good tight-knit group," Childress said of RCR.
"You can't win a pissing match with a skunk," he added, referring to Hamlin's comments Friday. "You don't throw a rock if you live in a glass house."
Harvick was a man of few words when asked about the incident after his fifth-place run in Saturday's Nationwide race.
What happened with Hamlin?
"I don't know.''
Are you upset with Hamlin?
"Don't know.''
Does this show how if you say something about one RCR driver you say it against them all?
"[We're] a tight bunch. It's always been that way.''
Hamlin actually had a hint something was coming before practice. There was something about the way Harvick's crew stared at him and kept saying "have a good day" that didn't sound normal. Then there was the bump he got from Harvick before leaving pit road.
If you're going to be a big talker, you've got to be aware of such things.
Where Hamlin's focus needs to be is getting past Dover. The Monster Mile isn't his favorite place. His average finish is 22.8, way worse than most of his Chase competitors. Pole-sitter Johnson, for example, has an average finish of 7.5 and is the track's active leader in wins with five.
Hamlin's Dover dilemma gets even worse in the Chase, where his average finish is 26.75, 32.6 over the past three years.
This is his wild-card race much more than Talladega.
"My goal before the Chase was to be within 80 points when I left Dover," said Hamlin, who is 45 points ahead of second-place Harvick. "My goals have shifted. I hope I'm much closer to the front half than that now."
There's good reason for optimism. Hamlin finished fourth here in May and qualified fifth on Friday. He's the second-highest Chase qualifier behind Johnson, the man he hopes to replace as the series champion.
If Hamlin keeps his nose clean Sunday, he should leave here with the lead, although that may not be a good thing since no driver leading the Chase after two races has won the title.
"This has been a tough track for us," Hamlin said. "We've gotten in accidents, we've had mechanical failures ... even when we do seem to run well. It's all about conserving.
"Really, I hate to say that, but for us it's been a track that has really bitten us and put us really far behind in the Chase."
He's not kidding.
Hamlin left here 12th in points, 158 points out of first, after a 38th-place finish in 2007. He was 11th, 193 out, after another 38th in 2008. He was sixth, 108 out, after a 22nd last season.
"It's just a struggle to have a feel here," Hamlin said. "This track is the total opposite of my driving style. This track really rewards someone who drives heavy on corner entry and slides the car around on exit. I'm just kind of the opposite of that."
Hamlin has been pretty confident, almost to the point of cockiness, about his chances of ending Johnson's stranglehold on the championship. He argues his program is now good on all kinds of tracks.
He's not cocky when talking about Dover, so don't expect him to be as aggressive on the track as he was on Friday while attacking Bowyer's team with comments like "everyone has known it for months" and "they should just be happy they're in the Chase."
"There's just too many dangerous guys in the Chase to try to just go for broke and know that I've got a little bit of a cushion," Hamlin said. "For me, you just have to be smart and know who you are racing around and be cautious. It's sad, and that's not what all the fans want to hear sometimes, but championship racing and going out and trying to get a win are two different things."
It is sad.
But what will make Hamlin even sadder is if something he says takes him out of championship contention.
"When you make comments and stuff like that it's not always going to be positive," Hamlin reiterated. "I just always learned when somebody asks me a direct question I give my best and an honest answer."
Regardless of the consequences.
David Newton covers NASCAR for ESPN.com. He can be reached at dnewtonespn@aol.com.
ESPN Staff Writer
Covered Panthers, NFL for 11 years
More than 25 years experience covering NFL, college football and NASCAR
Joined ESPN in 2006