Commentary
Daytona gearing up for Sunday's 500
NASCAR blog from Daytona
Updated:
February 15, 2009, 12:11 PM ET
By
Ed Hinton
| ESPN.com
DAYTONA BEACH, Fla.
All times are ET
3:22 p.m.
Friday practice has concluded with Jamie McMurray still on top of the board, followed by Robby Gordon and Paul Menard.
Now things start to get tense, subdued, with one more practice left until Big Casino. In Saturday's session, the key will be keeping your car out of the wall.
Which reminds me of the best repair job in memory at this place, after smacking the wall in Happy Hour. On race morning in 2000, as soon as the garage opened, Dale Jarrett's Robert Yates Racing crew silently went to work repairing massive body damage.
With sanders, hammers and Bondo they went to work, and rolled the car to the starting grid looking as if it hadn't been damaged at all.
Jarrett went on to win the race -- and quite easily, at that.
***
Former Formula One driver Scott Speed sat out today's practice with a third car freshly brought in from Charlotte after he'd already wrecked two.
Speed lost one Red Bull Toyota in the shootout, and damaged another badly in his qualifying race Thursday.
Technically he's only on his first backup car, because Shootout cars don't count in Daytona 500 inventory.
***
Very interesting thought from Jeff Burton, who was mentored by Mark Martin years ago at Roush, this morning.
There's been much discussion, especially right here, as to whether Martin has enough dog-eat-dog left in him to win races, and therefore a championship, at Hendrick Motorsports this year.
"There is no question," said Burton, who knows Martin as well as anyone, "that he has the killer instinct."
2:04 p.m.
As Friday Cup practice opens, Jamie McMurray keeps lurking and lurking, looking more and more like the top dark horse for Sunday.
McMurray, whose Ford has been strongest in the Roush stable all week, was strong in the Bud Shootout on Saturday night, strong in his qualifying race Thursday, and today is fastest early in practice, at 191.546 mph.
Robby Gordon -- yes, Robby -- is second fastest in the first half hour, at 191.424 mph, followed by Paul Menard at 190.307.
Of the more realistic picks to win the 500, Jeff Gordon continues at his strong pace, currently sixth in this practice, at 189.966.
Shootout winner Kevin Harvick is eighth quickest in this session, at 189.833. Jimmie Johnson is 16th, at 189.111.
12:43 p.m.
Talk about feeling good about being old, in very good company.
[+] Enlarge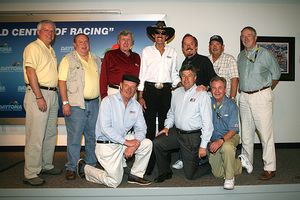 LaDon GeorgeThese men were there in 1979. Top row, from left, are Mike Hembree, Ed Hinton, Ken Squier, Richard Petty, Steve Waid, Godwin Kelly and Al Pearce. Bottom row, from left, are Dick Berggren, Mike Joy and Barney Hall.
Somebody had the bright idea of a group photo session today for all us media types who were here for the 1979 Daytona 500, with the winner, Richard Petty.
All of us have a lot more miles on us, at a lot more stops. I was just happy to see that many of us, nine journalists, are still kicking after all these years.
The cast of surviving characters:
Dick Berggren, then editor of Stock Car Racing magazine and now a pit reporter for Fox and Speed.
Barney Hall, the classic radio voice of NASCAR, who was doing then what he still does now: calling the race play-by-play from the tower.
Mike Hembree, then with the Greenville (S.C.) News, now with NASCAR Scene.
Mike Joy, then an MRN reporter in Turn 2, now the play-by-play anchor for Fox.
Godwin Kelly, then a rookie covering his first NASCAR race for the Daytona Beach News-Journal, and now dean of the News-Journal sports staff.
Al Pearce, then with the Newport News (Va.) Daily Press, now with AutoWeek.
Ken Squier, who was the CBS play-by-play anchor that day for the first live flag-to-flag telecast of the Daytona 500.
Steve Waid, then with the Roanoke (Va.) Times and World News, now vice president of Street & Smith's publications.
Yours truly, then with the Atlanta Journal.
Missing from the picture, because we couldn't find him, was Mike Mulhern, then of the Winston-Salem Journal, now his own boss at MikeMulhern.net. But then, best I can remember, we couldn't find Mulhern that day in '79, either.
No sooner had I left the photo shoot than I saw we'd made a huge omission.
"We left out the real stars of that show!" I told Bobby and Donnie Allison, who were sitting in the media center dining room.
Oh, well, Cale Yarborough wasn't here.
Petty got the sixth of his seven Daytona 500 wins that day, but that victory is barely remembered compared to "The Fight" between Yarborough and the Allisons after Cale and Donnie wrecked each other on the last lap, dueling for the win.
Joy recalled that a moment after the wreck, Hall and the anchor booth were looking for the new leaders -- Petty, Darrell Waltrip and A.J. Foyt -- and announced to the radio audience, "They're right in front of Mike Joy!"
"I was totally surprised," Joy recalled. "I had to turn around and look. Then I said the only thing I could say: 'Oh! It's Richard Petty!' "
12:36 p.m.
Whenever people ask "Who do you really pull for?" at races, I've always answered the same. I pull for whoever would be the best story on that particular day.
Going into the Daytona 500, though, I'm making an exception.
Clearly, a win by Mark Martin on Sunday would be a terrific story. Or a blast from the past by Bill Elliott. Jeff Gordon breaking his losing streak would be nice. Rookie Joey Logano winning right out of the box would be storybook.
But this time, you have to feel for the guy who wants it most. And that is Tony Stewart.
He is not one to count totals, so two wins at his beloved Indianapolis Motor Speedway and two Cup championships have satisfied those parts of his dreams.
But the Daytona 500 is the one event high on his list that he hasn't won.
He wants it so badly that two years ago he told me he'd be willing to "cross the finish line on [his] roof" if that's what it took.
Then last year he suffered his biggest disappointment yet, losing on the last lap to Ryan Newman (now his teammate) because Newman got a better push from his Busch brothers teammate, Kurt, than Stewart got from his Busch brothers teammate, Kyle.
"I don't think after last year you could ever want it worse than [I do] this year," Stewart told me the other day.
So if he was at "on his roof" level before, how far would he take it this time?
He thought about that, considered his new team and reminded himself that he owns the cars now.
"The good thing is, since they're paid for, and I paid for them, I don't care if there's nothing left but me when I slide across the line -- as long as the transponder [the onboard scoring device] is in my hand."
Now he was rolling.
"I don't care if it's destroyed when we come across the line. I don't care if we have to physically take it on a flatbed to Daytona USA on Monday morning and slide it off in stages."
When a man wants a race that badly, how could you not feel good for him if he wins it?
Noon
The Daytona infield is beginning to look like it always looks by Friday of Speedweeks -- like a very, very crowded little city indeed.
You couldn't tell the economy is troubled by driving among the rows on rows on rows of million-dollar motor coaches. I don't mean the owner-driver compound, but the fans out by Lake Lloyd and the backstretch. …
The first practice after the twin qualifying races is always the time when things start to seem serious, electric. Today's practice begins at 1:40 p.m. and lasts an hour. After that, only one more practice remains, at 10:30 a.m. Saturday. It's still called Happy Hour, but this time it will last an hour and 25 minutes. …
Of America's two greatest motor racing events, the Daytona 500 is the only one left that takes on electrifying ambience days before the event itself starts. It used to be that way at the Indianapolis 500 in the glory days.
Regardless of the economic crisis, and traditionalists' displeasure with the new car and restrictor-plate racing in general, you can never say of the Daytona 500 as an event, "It isn't what it used to be." Sadly, the Indy 500 is another story.
Ed Hinton is a senior writer for ESPN.com. He can be reached at edward.t.hinton@espn3.com.
2009 Daytona 500

The 51st running of the Daytona 500 is set for Feb. 15 at 3:30 p.m. ET. ESPN.com will bring all the action to you. Daytona 500 Surround »
Aftermath
Daytona 500
Duels Day
Rankings
Pole Day
Bud Shootout
Features
Blogs
Chats
Video