Racing in Daytona
NASCAR blog from Daytona
Updated:
February 15, 2009, 9:24 PM ET
ESPN.com
DAYTONA BEACH, Fla.
All times Eastern
6:48 p.m.
The race is over and Matt Kenseth is your 2009 Daytona 500 champion. It is his first Daytona 500 victory.
Good night from Daytona everyone!
-- K. Lee Davis
6:33 p.m.
The race is red-flagged. Looks like we'll be here a few hours to sit out the rain. We'll keep it coming and keep you posted. Matt Kenseth is the leader
-- K. Lee Davis
6:22 p.m.
Reports of rain surfacing in Turns 1 and 2 as well as on pit road.
The race is under caution from an Aric Almirola accident on Lap 147.
-- K. Lee Davis
6:06 p.m.
Amazing how, despite how NASCAR and TV have fiddled with the starting times, the Daytona 500 maintains the record of never having been rained out. Every race -- even rain-shortened ones -- has officially finished on Sunday.
This morning's seeming hopelessness that NASCAR could get the race in was reminiscent of the mood the morning of the notorious 1979 race.
More eerie similarities to '79: Just as Donnie Allison led, and led, and led that time, Kyle Busch has been leading, and leading, and leading.
But suddenly, Busch is taken out in a slugfest between two lapped drivers, Dale Earnhardt Jr. and Brian Vickers.
[+] Enlarge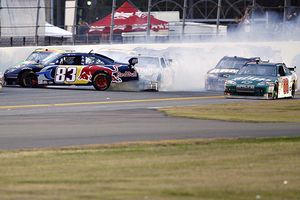 Douglas Jones/US PresswireBrian Vickers, No. 83, spins in the backstretch collecting Robby Gordon in the No. 7 during the Daytona 500.
And the Earnhardt-Vickers wreck, this time on Lap 124, is similar, in circumstances, to the Allison-Cale Yarborough wreck on the last lap in '79.
This one, as that one, occurred on the backstretch, entering Turn 3. Just call Earnhardt Yarborough, and Vickers Allison.
As Yarborough did, Earnhardt went questionably low to pass. As Allison did, Vickers went questionably lower to block.
But this time there was a yellow line -- there wasn't one in '79 -- and Earnhardt clearly went below it as he tried to force the issue with Vickers. Much as Yarborough turned Allison up toward the wall, Earnhardt did unto Vickers.
The big differences were that (1) Allison and Yarborough were dueling for the win, not running laps down, and (2) Allison and Yarborough didn't take eight other cars out with them.
Victims of the Earnhardt-Vickers mischief included other serious contenders than just Busch: Denny Hamlin, Jimmie Johnson, Jamie McMurray and Carl Edwards all suffered damage to their cars.
Asked by a Fox TV reporter whether turning Vickers had been intentional, Earnhardt yelped, "No, it wasn't intentional! I wasn't trying to wreck him. I was just trying to get back up on the racetrack."
Why was Earnhardt taking such a chance at that point?
"The rain's coming, time to try to win the race -- to try to get back on the lead lap," Earnhardt said.
"Vickers could have just held his ground. I had a great run. I was a lapped car anyway. We weren't battling for the lead. But he goes down into the grass almost, and I didn't have control of my car after that."
-- Ed Hinton
5:47 p.m.
Dale Earnhardt Jr. makes another mistake on pit road. He pits outside the box on Lap 120. His right-side tires are on the line. The No. 88 team is flagged by an official and he is held one lap.
His chances of winning today probably are over.
-- Terry Blount
5:45 p.m.
The big one came and Dale Earnhardt Jr. was likely the cause. He dived below the yellow line and got into the left-rear of Brian Vickers, turning the No. 83 and causing a pileup that involved at least 10 cars.
-- K. Lee Davis
5:24 p.m.
Kyle Busch led at the halfway mark and Jeff Gordon was second. The race is official if it rains now.
NASCAR could red-flag the race and try to restart it later in the day, but it wouldn't be continued tomorrow.
So far so good, but the radar looks ominous.
-- Terry Blount
5:10 p.m.
The Daytona 500 debut is over for rookie Joey Logano.
He was bumped coming off Turn 4 on Lap 81. The No. 20 Toyota turned inside after the bump and made hard, head-on contact with an inside wall on a SAFER barrier, but Logano wasn't hurt.
-- Terry Blount
5:02 p.m.
Travis Kvapil just can't get a break. First, he had to give the owner's points (23rd) he earned last season to new Yates Racing/Hall of Fame Racing teammate Bobby Labonte, meaning he has to earn his way into the first five races.
Then he blew a tire early in Sunday's race, meaning he'll have a poor finish that puts him in a deep hole to be among the top 35 after the first five races. If he's not, he'll have to continue to qualify on speed in the sixth race.
That is, if he has a sixth race.
Yates Racing owner Doug Yates says the plan is to run Kvapil in all 36 races, even though he doesn't have sponsorship to do so. The only guarantee is that Kvapil will run in the first five and see what happens after that.
Mishaps such as this won't help his cause.
-- David Newton
4:58 p.m.
The jack drops while Ryan Newman is pitting, costing the team a huge amount of time on pit road at Lap 73.
All crew chiefs probably are planning for the rain that's coming. It might be a good idea to try to be in front when the cars reach the halfway point of 100 laps.
A race is official if half the laps are completed.
-- Terry Blount
4:43 p.m.
Big mistake for Dale Earnhardt Jr. He misses his pit box and has to come back around to pit, putting him at the back of the field (35th) for the restart on Lap 60.
Travis Kvapil blew a right-side tire, causing him to slam into the outside wall.
-- Terry Blount
4:37 p.m.
And the crowd went wild. Dale Earnhardt Jr. took the lead on Lap 54, passing Kyle Busch. But it didn't last long.
Tony Stewart moved to the front moments later, before the caution flag flew for the third time when Travis Kvapil hit the wall.
-- Terry Blount
4:31 p.m.
Bad news for Jeremy Mayfield. He pits on Lap 32, and the crew raises the hood on the No. 41 Toyota.
Matt Kenseth started 42nd but was running third on Lap 42.
-- Terry Blount
4:11 p.m.
Pole-sitter Martin Truex Jr. led one lap and then fell backward. He was running 29th in the No. 1 Chevy when the competition yellow came out on Lap 26.
But Tony Stewart was zooming forward. He started 37th and was running 11th on Lap 26.
Kyle Busch, Dale Earnhardt Jr. and Carl Edwards were the top three on the restart at Lap 30.
-- Terry Blount
3:45 p.m.
Team owner Rick Hendrick had a message for his new driver, Mark Martin, on the parade laps.
"You've got the whole world pulling for you," Hendrick said on the radio.
Martin, who started on the outside of the front row, talked to the broadcast team before the green flag. He was asked what he would do if he were to win the Daytona 500 for the first time at age 50.
"I think I'd cry," he said. "We have to make sure we're here at the end. Getting caught up in somebody else's wreck, that's my only worry."
***
NASCAR will have a competition yellow on Lap 25 so teams can check tires.
-- Terry Blount
3:41 p.m.
Contrary to TV reports, the Daytona 500 officially is not a sellout.
Daytona International Speedway president Robin Braig said he stopped ticket sales Sunday morning with several hundred remaining.
"Sellout is an operative word," Braig said. "We've got capacity [158,000] full, however we gave away some tickets to employees and sold some at a discounted price."
The only tickets remaining sold for $380 each in the Richard Petty section.
***
Pat Tryson, Mark Martin's crew chief at Roush Racing before he semiretired after the 2006 season, stopped to wish the 50-year-old driver good luck before the start of the race.
Tryson is the crew chief for Kurt Busch at Penske Racing.
-- David Newton
3:20 p.m.
So far, so good on the rain. It's been spitting a little but likely won't be enough to delay the race. However, a large storm appears to be coming this way from the Gulf of Mexico.
We'll keep you posted, but a delay within the next two hours seems almost inevitable.
-- K. Lee Davis
3:15 p.m.
So, what are the odds?
DAYTONA ODDS
Odds of winning the 2009 Daytona 500, according to MGM Mirage Race & Sports (as of Friday):
The fine folks at the MGM Mirage Race & Sports book posted theirs for the drivers to win the 2009 Sprint Cup title. Check out the chart for the rundown.
-- K. Lee Davis
2:15 p.m.
I'm not into promoting products, but there's a new energy drink being pushed in the garage that is eye-catching, to say the least.
It's Blu Frog, apparently being pushed by the legendary A.J. Foyt.
As a part of the marketing campaign, the company has hired Hooters-like girls to dress in Petty blue pants that are so tight one would think they were painted on. Across the rear end are the words, "Feel the frog." They're hanging out behind Tony Stewart's No. 14 hauler.
Stewart, in case you've been asleep, is buddies with Foyt. He even took Foyt's car number and has had the four-time Indianapolis 500 champion sitting on his pit box during Speedweeks.
Asked how it felt to have "Feel the frog" so strategically positioned, one of the girls said, "It's eye-catching."
-- David Newton
11:59 a.m.
We had a first in the media center Sunday morning: two live songs performed by Keith Urban.
The Australian country music star held a prerace concert on the frontstretch, but first he sat down with his guitar and did a couple of songs for reporters.
Urban, who is married to actress Nicole Kidman, was asked a touchy question by one reporter: "Keith, what's your favorite racing movie?"
Urban chuckled. His wife's first big movie was "Days of Thunder" with Tom Cruise, who later became her first husband.
So, Urban's response?
[+] Enlarge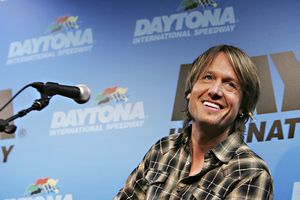 AP Photo/J Pat CarterKeith Urban gave the right answer -- considering the circumstances -- when asked about his favorite racing movie.
"Uh, well. I think 'Cars' is my favorite," he said with a smirk.
Good answer.
By the way, Cruise is at the track today. So is Kidman.
-- Terry Blount
11:05 a.m.
Cloudy skies and a busier-than-normal Sunday morning preparing two backup cars for the Daytona 500 hasn't dampened the spirits at Stewart-Haas Racing.
"We're going to win this thing -- watch!" director of competition Bobby Hutchens said.
Hutchens spent most of the morning making sure the backups for driver/owner Tony Stewart and Ryan Newman were ready. The primary cars for both teams were trashed during Saturday's final practice when the right rear tire blew on Newman's car, collecting him and Stewart.
Although the garage closed at 4 p.m. Saturday, NASCAR officials allowed those who were rewrapping the cars to stay until 6. The car Newman will drive is Stewart's backup car for the Budweiser Shootout, so it had to be transformed from a red No. 14 Old Spice car to a black No. 39 U.S. Army car.
Stewart will drive his Shootout car, so it had to be wrapped as a red Office Depot car instead of the red Old Spice car it was 11 days ago.
"We've had a lot going on, but you don't see one guy in that garage hanging their heads," Hutchens said.
***
Goodyear officials remain confident that the tire issue that led to the Newman-Stewart crash was caused by a puncture, not a faulty tire as Stewart insisted.
Officials said they found a cut the size of a dime that went completely through the tire and liner.
Asked whether they'd met with Stewart to discuss the matter, Goodyear's Greg Stucker said, "No, he made it clear he didn't want to talk to us."
That he did. Stewart blasted Goodyear and its tires, then told reporters to keep the tire manufacturer representatives away from him.
Stewart and Newman will start at the back of the field, by the way.
***
Speaking of the weather, NASCAR officials are confident they'll get the race in. They expect another rain shower around noon that should be over in time to have the track dried and ready for a start close to the 3:40 p.m. scheduled time.
They expect another shower to delay the race at some point but feel the race will run to its conclusion under lights.
-- David Newton
2009 Daytona 500

The 51st running of the Daytona 500 is set for Feb. 15 at 3:30 p.m. ET. ESPN.com will bring all the action to you. Daytona 500 Surround »
Aftermath
Daytona 500
Duels Day
Rankings
Pole Day
Bud Shootout
Features
Blogs
Chats
Video