Dixon takes fifth pole of season in Meijer Indy 300 qualifying
Updated:
August 8, 2008, 9:15 PM ET
Associated Press
SPARTA, Ky. -- Helio Castroneves has a theory on why nobody can seem to catch IndyCar Series leader Scott Dixon.
"Scott seems to have a V-12 engine," Castroneves said after watching Dixon grab the pole for the Meijer Indy 300 on Saturday at Kentucky Speedway.
[+] Enlarge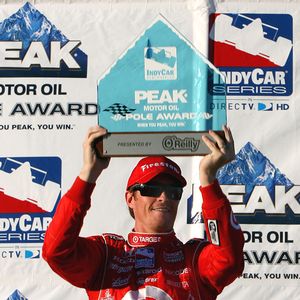 Darrell Ingham/Getty ImagesTarget Chip Ganassi driver Scott Dixon won the pole at the Indy 300 Friday, his fifth of the season.
Dixon easily earned his fifth pole of the season, averaging 218.968 mph during his four-lap turn around the 1.5-mile oval, his Target Chip Ganassi car snapping Team Penske's streak of three consecutive poles at the track. Vitor Meira will start outside the front row with a four-lap average of 218.409.
"It's been pretty tough the last couple of weekends," said Dixon, tied for second on the career IndyCar Series pole list with 13 . "We've missed a little bit on qualifying, hopefully it looks like the car is pretty strong this week."
Dixon saying his team "missed" during qualifying recently shows just how dominant his car has been all season. The Indy 300 marks the 12th straight race Dixon will start in the top 10.
The pole will only make it that much harder for the field to catch him. Dixon has won four times this year when he's started from the front, including the Indy 500.
While he has a considerable points lead on Castroneves, the perfectionist in Dixon can't help but think about how much closer he could be to a championship. It comes with the territory when you lose the points title on the last lap of the last race of the season, as Dixon did to Dario Franchitti in 2007.
"We probably should have a lot bigger lead than we've got right now," Dixon said. "We've to do what we're capable of and hopefully the last four races we can string out that lead a little bit more."
Castroneves, qualified sixth, is hardly ceding the title.
"We're not giving up at all," Castroneves said. "It's still like 60 points. It's still 200 points in the game and what we need to do is just keep pushing as hard as we can."
Even if that includes taking some chances now that he might not have earlier in the year.
"Now it's not about being consistent," he said. "Now it's about going out there, taking chances and trying to make some gains."
Meira has no hopes of winning the title, though he thinks he's due for a breakthrough after a roller-coaster season. Saturday's race will be the 90th start of his IndyCar career, and he's still searching for his first victory. Meira's best finish this season is a second-place finish to Dixon at Indy.
"Definitely [if I win] some questions are going to stop, so that's good," Meira said. "It's going to be a big relief for everybody."
Sarah Fisher qualified 16th in her first start since the Indy 500. Fisher called the car "OK" but admitted a lack of track time the last two months has them scrambling to keep up. Fisher set the track record while winning the pole here in 2002.
"There were some [research and development] things we wanted to try in the trailer but we just didn't have the time," she said. "Our target is for a top 10 obviously. If we could come away with that, we'd feel great."
Danica Patrick will start in the last row of the 26-car field after wrecking during practice. Crew members on her Andretti Green Racing team attempted to fix the car using parts from her backup car, but couldn't get the repairs done in time for her to qualify. They decided against going to the backup car because it is set up for the road course at Infineon Raceway on Aug. 24.

Copyright 2008 by The Associated Press