Free of injury, Brit faces foe, impending marriage
Thursday in California, injury-riddled 2000 Olympic champion Audley Harrison makes his biggest bid for serious heavyweight contention. Then he's getting married.
Updated:
August 17, 2005, 9:51 PM ET
By
Dan Rafael
| ESPN.com
Audley Harrison, who won the 2000 Olympic super heavyweight gold medal for England, has a good reason for wanting to knock out Robert Wiggins as quickly as possible Thursday night.
They'll meet in San Jose, Calif., on a "Best Damn Sports Show Period" boxing special (Fox Sports Net, 8 p.m. ET), and Harrison's reasons for wanting a short night go beyond his desire to impress finicky American fight fans.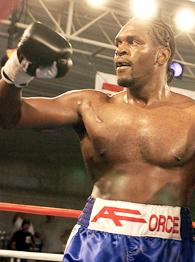 AP Photo/Joe CavarettaHarrison has battled various hand and ankle injuries over the years but insists he's healthy now.
Harrison, you see, is getting married to his fiancée Raychel, later this month in Jamaica.
"Another reason I want to blast him out is because I want to walk down the aisle without any cuts or bruises," Harrison, 33, said with a hearty laugh befitting a 6-foot-5, 255-pound heavyweight.
But whether Harrison (18-0, 13 KOs) emerges from the fight with his face intact or not, an impressive showing by him would go a long way toward helping him firmly establish himself as one of the world's top rising heavyweights.
"I think this fight is the key because it will get me through the door," Harrison said.
"I'm fighting a genuine tough guy, a guy who has beaten some guys. It's a great opportunity to show the American audience that a guy from the U.K. is about to make a big statement. I know this fight will open the door for me. This is a big test. I will walk through door and let the world see I am here."
| | | |
| --- | --- | --- |
| | " | There's no doubt that he's a gifted fighter. The only complaint people have is that he hasn't utilized those tools. " |
| | | — Promoter Dan Goossen on Audley Harrison |
Few have ever questioned Harrison's talent. There have been questions, however, about his dedication, desire and cautious career moves that haven't matched his boasts.
"I think the key is that he has tremendous talent. I feel he has more talent than any other heavyweight out there," promoter Dan Goossen said.
"He's the whole package. Audley has the size, strength, speed and the hand-eye coordination. Now it's about putting it all together. Those are ingredients that you can't teach. You're born with those things. Once he realizes how good he is, he will be a tough man to contend with inside that ring.
"There's no doubt that he's a gifted fighter. The only complaint people have is that he hasn't utilized those tools."
Harrison, a southpaw, came out of the 2000 Sydney Games with a gold medal and superstardom in England. Armed with a lucrative long-term contract from the BBC, Harrison embarked on his pro career. The fanfare and expectations were sky-high.
Despite going 46-8 in a relatively brief amateur career that didn't begin until he was 20, Harrison was expected to sprint up the rankings, especially because he was already 29 when he turned pro. Those expectations were soon tempered.
There was a left hand injury in the Olympics that delayed the start of his pro career, a series of soft-touch opponents, and several solid but unspectacular performances. The British fans and media grew restless with Harrison.
Eventually, the BBC contract ran out and Harrison was set adrift with no TV deal, a lagging fan base and a gold medal that was now a distant memory.
The end of Harrison's British TV deal coincided with another injury to his left hand -- this time damage to a different knuckle than the one he had hurt in the Olympics -- and he was forced to have surgery.
"It was tough to deal with. You get frustrated," Harrison said.
"The deal with the BBC was over. After that, I dealt with the injury. I guess I enjoyed the break. I just let the injury heal and take care of itself. It was tough, though."
Harrison has since relocated full-time from London to Las Vegas, where he can get top-notch sparring and be closer to trainer Thell Torrence, who also works with former heavyweight champion Hasim Rahman.
"I love being here," Harrison said. "I like the American people, I like the lifestyle. I'm an American-based fighter now. I've been here for the last year and a bit. I was always planning to come to America. It was just a matter of when.
"I knew there would be a certain level I could reach in the U.K.. I wanted the Danny Williams fight, but that never happened. That was the only thing that didn't happen for me [in the U.K.]. Other than that, I'm not too far behind my agenda. Take out the injuries and I am right on schedule."
Goossen said Harrison realizes time is of the essence if he wants to make a move in a heavyweight division crying out for a star.
"He came out of the Olympics and signed a tremendous TV deal where he was in control, and he did what anyone would do. He went out there and performed according to the level he had to," Goossen said.
"Now he wants to go after what he's always wanted -- go after the heavyweight championship. Wiggins poses a threat if Audley performs at the level he's been ridiculed in the past for performing at. Once he raises his competition level, the better we'll see Audley utilizing his tools."
Wiggins (20-4-1, 12 KOs) has the well-earned reputation of giving his all and making opponents work hard to beat him. He has defeated Erik Kirkland, Derek Bryant and Courage Tshabalala, all of whom were once hot contenders. Two of Wiggins' losses came on decisions to contenders Monte Barrett (a split decision) and DaVarryl Williamson.
"I think what Wiggins brings is a challenge that if Audley doesn't perform like he can, it will be a very tough fight," Goossen said. "A fighter like Wiggins will take advantage of lulls in the action and any mistakes on Audley's part. These type of fights will make Audley better. This one does pose a risk."
Harrison, hoping to duplicate the career path of Lennox Lewis, said he hopes to return to England for the right fight. Should he become champion, Harrison vowed to defend the title in England.
"I want to keep the British fans happy, too, but I'm here on a mission," he said.
| | | |
| --- | --- | --- |
| | " | All my skills will come out in this fight. I'm licking my lips, focusing on Wiggins, but licking my lips to get into the mix. I'll be right there with any of the heavyweights out there. " |
| | | — Audley Harrison on his fight Thursday against Robert Wiggins |
Harrison's second hand injury kept him out of action for a year until his return in June, when he stopped onetime fringe contender Robert Davis in seven lackluster rounds at Temecula, Calif.
Harrison blamed the uneven performance against Davis on an ankle injury that kept him from running or sparring for the final two weeks before the fight. For the fight with Wiggins, however, Harrison said, he is completely healthy for the first time in a long time.
"I'm ready to explode," he said. "All my skills will come out in this fight. I'm licking my lips, focusing on Wiggins, but licking my lips to get into the mix. I'll be right there with any of the heavyweights out there."
Harrison has challenged Calvin Brock, the U.S. 2000 Olympic super heavyweight who has emerged as a top-10 contender. Brock's camp isn't interested in the fight, however.
"They know it's a risk, so we'll look for a name opponent in the next fight," Harrison said. "I want a top-10 opponent after that."
Night of the Olympians
Harrison won't be the only Olympian Goossen will showcase on Thursday's card. Also scheduled:
• 2004 U.S. Olympic gold medalist Andre Ward (4-0, 2 KOs) will face Christopher Holt (12-4, 8 KOs) in a six-round middleweight fight. Ward is from nearby Oakland, and this fight will be his first pro bout in his home region.
• Flashy 2004 U.S. Olympic bronze medalist Andre Dirrell (4-0, 3 KOs) faces Juan Camacho (3-0, 3 KOs) in a four-round super middleweight fight.
• 2004 U.S. Olympic heavyweight Devin Vargas (3-0, 3 KOs) faces David Johnson (3-14-4) in a six-rounder.
• 2004 Mexican Olympic welterweight Juan de Dios Navarro Ramirez will make his pro debut against Aaron Robinson (1-0-1, 1 KOs).
Dan Rafael is the boxing writer for ESPN.com.
ESPN Senior Writer
2013 BWAA Nat Fleischer Award winner for excellence in boxing journalism
ESPN.com boxing writer since 2005
Five years at USA Today
EDITORS' PICKS
Ward is prepared to fight Froch in England.
ESPN UK »

Stevenson defends his 175-pound title against Bika.
Rankings »

After his win, Brook wants to face Khan, Marquez.
Scorecard »