Commentary
Underestimate Tyson at your risk
Unlike others, ESPNdeportes.com's Jose Torres believes Mike Tyson still has the potential to be brilliant in the ring even as the fighter approaches 39.
Updated:
June 8, 2005, 3:58 PM ET
By
José 'Chegüí' Torres
|
ESPN Deportes
As Mike Tyson gets ready to face heavyweight Kevin McBride Saturday in Washington, a giant mirror has been monitoring his face and actions.
It seems it's everywhere he goes. The former and youngest heavyweight champ in boxing history – who will turn 39 on June 30 – has serious trouble explaining what's been happening to him and the profession that once catapulted him deep into fame and wealth.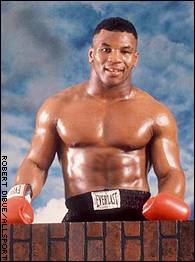 He might no longer be the vintage Tyson (this picture, circa 1988), but he's still worth watching.
The word on the street today is that he's "infamous," and "not rich." If you knew and understood Tyson as well as I think I do, then you, too, would be puzzled by this perception.
If you talk boxing with him, you would know how intelligent he is. He would convince you of what boxing is all about. Ignoring his incredible knowledge of the technique and history of the game, and focusing on his emotional weakness and iridescent character has painted a confusing public perception of Tyson.
He's aware of his great boxing combination of body and mind when he steps into a ring. He also knows of those moments when his intelligence and emotions enter into furious battles in which neither side can claim victory. At the end, his body and soul succumb before his foe, who is aware that Tyson is falling victim to his inability to control his emotions.
Yes, ladies and gentlemen, Michael Gerard Tyson is entirely aware of the invisible details that separate a champ from the ordinary.
Mike was taught – and better yet, he understood very clearly – that strength and speed were good qualities in a boxer. But he was also aware that having the tools was one thing, and having the skills to apply them perfectly was another.
FIGHT CARD
Showtime PPV (Saturday, 9 ET)
MCI Center Washington, D.C.
• Heavyweight: Mike Tyson (50-5, 44 KOs) vs. Kevin McBride (32-4-1, 27 KOs), 10 rounds
• Tape: Tyson-McBride | Weigh-In | Oddcast: Rafael
• Female super middleweight: Laila Ali (20-0, 17 KOs) vs. Erin Toughill (6-1-1, 0 KOs), 10 rounds
• Welterweight: Sharmba Mitchell (55-4, 31 KOs) vs. Chris Smith (19-1-1, 12 KOs), 10 rounds

Mike was empowered by both degrees.
You know how his manager Cus D'Amato came to the conclusion that Tyson would reach the top of his profession sooner than most?
"Very simple," he once told me. "Are you aware that he became a very successful pickpocket as a young boy on public buses?
| | | |
| --- | --- | --- |
| | " | You fake, you cheat, you deceive, without breaking any rules and regulations of professional boxing. And you're a superstar! Mike was very good at doing just that. " |
| | | — Former Tyson manager and mentor Cus D'Amato, as recalled by Jose Torres |
"Well," D'Amato said, "the trick was that Mike waited for the bus driver to warn the passengers about the presence of pickpockets in the vehicle and, only then, he would begin the skillful process of stealing from pockets and wallets absolutely undetected by his victims.
"That's what boxing is all about!" Cus screamed. "You fake, you cheat, you deceive, without breaking any rules and regulations of professional boxing. And you're a superstar! Mike was very good at doing just that."
My old friend and distant "stablemate" was only 12 then, very shy. But sometimes he had long conversations with others, staring every moment at the ground.
I revisited Tyson a couple of months later at the gym and could not believe what he would do to the heavy bags and his bigger sparring partners. Then, it was easy to predict his future. After the workout Cus walked toward me.
"What do you think, Joe?"
"His cheating, deception and lies are better than ever," I said, comprehending Cus and his ways more each passing decade.
Listening nearby, Mike couldn't hide a wide smile.
A few years later, the passing of Cus and his partner, Jim Jacobs, weakened Mike's emotions. His will and confidence started to deteriorate without his emotional and psychological masters next to him.
Yet, I know his physical and mental capacities are still very much there. I'm well aware of his potential because I saw him use his weapons in the near past. And I believe that if Mike Gerald Tyson can put together 70 to 80 percent of his best in the ring with any heavyweight today, including Kevin McBride, he has a very good chance to recover at 39 the crown he once overwhelmed at 20.
José "Chegüí" Torres won the Olympic silver medal in 1956 for the United States and was the light heavyweight champion of the world in the mid 60s, retiring with a record of 41-3-1, 29 KO's. The author of several books, Chegüí is ESPNdeportes.com boxing columnist as well as color commentator for ESPN Deportes and ESPN International.
EDITORS' PICKS
Ward is prepared to fight Froch in England.
ESPN UK »

Stevenson defends his 175-pound title against Bika.
Rankings »

After his win, Brook wants to face Khan, Marquez.
Scorecard »