Commentary
L.A. Galaxy shines in win over Houston
Updated:
November 22, 2011, 7:41 AM ET
By
Jeff Carlisle
| ESPN.com
[+] Enlarge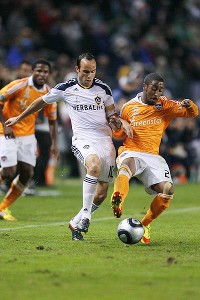 Jeff Gross/Getty ImagesLandon Donovan continued to burnish his reputation as a big-game player by scoring the only goal against Houston.
CARSON, Calif. -- Back in 2007, David Beckham arrived as soccer royalty. In his fifth and perhaps final season in Major League Soccer, he and his Los Angeles Galaxy teammates donned the mantle of league champion by defeating the Houston Dynamo 1-0 to claim the 2011 MLS Cup.
It was an ending that only Hollywood could have dreamed up, with fans chanting "We want Beckham" after the final whistle. But even as the win gave Beckham the MLS title that had proved so elusive during his tenure stateside, it was left to Landon Donovan and Robbie Keane to assume the role of heroes. Donovan, the game's MVP, scored the only goal in the match, during the 72nd minute, taking a superb feed from Keane and tucking his shot inside the far post past Houston goalkeeper Tally Hall. The Galaxy defense, superbly led by Omar Gonzalez and A.J. DeLaGarza, kept Houston at bay, allowing the home side to claim its third MLS Cup in its history.
The Galaxy were practically a wire-to-wire winner this season given its regular-season dominance. Manager Bruce Arena indicated the team's stellar campaign was harder than it looked.
"This league is real hard," he said. "The travel now, the number of games, the artificial surfaces that have come back into play, it's really tough. To have the regular season we had, and then throw in the CONCACAF Champions League, and then win MLS Cup is a helluva accomplishment."
While the Galaxy was no doubt spurred on by a home crowd of 30,281 -- a record for a soccer match at the Home Depot Center -- they were clearly the better side on the night, carving out the game's better chances, and generally owning the ball for much of the contest. Per usual, Beckham was among the primary talking points during the run-up to the match, although in this case the pregame chatter centered on his health, with Donovan revealing afterward that the Englishman had pulled his hamstring in midweek. Beckham missing training on both Thursday and Friday before rejoining his teammates on Saturday. But once the game began, he looked fully fit, helping L.A. to boss much of the first half. He twice set the table for Adam Cristman, only to see the Galaxy forward head over the goal from close range.
Arena's key tactical move
For the first 57 minutes of the 2011 MLS Cup final, it looked like it was going to be one of those nights for the Los Angeles Galaxy. The home side held a sizable territorial advantage over the Houston Dynamo, and had created the game's best chances. Yet the goal that seemed destined to decide the contest wouldn't arrive.
So knowing that his team needed a little something extra, Galaxy manager Bruce Arena dipped into his tactical playbook. Off came the disappointing Adam Cristman and Chris Birchall slotted into the right side of midfield. That left Landon Donovan free to partner Robbie Keane up top.
Given how diametrically opposed the respective games of Cristman and Donovan are -- the former is a pure target man while the latter is about speed, clever passing, and finishing -- both members of L.A.'s revamped frontline knew what was required. "When I get there, my sole purpose is to be as aggressive as possible, to make good runs," said Donovan.
Keane added, "We obviously had to try and get the ball on the ground a bit more and play to feet, you know? Me and Landon is obviously not the biggest, not great in the air, so we had to try and get into feet."
The plan worked to perfection 15 minutes later. After creating enough separation between himself and Houston defender Bobby Boswell, Keane's deft through ball found Donovan in enough space to slot his shot past Houston goalkeeper Tally Hall. "That's always part of the thinking," said Arena of moving Donovan to forward. "It's almost like how we thought it would happen; in and around the 60 minute mark, bringing someone in and moving Landon up top."
Had there been the customary one week break between conference final and MLS Cup final, Donovan might not have been able to deliver his heroics. Arena revealed afterwards that Donovan has been nursing an undisclosed injury for the last "two or three months." Donovan himself refused to elaborate on what exactly was ailing him. But thanks to an international fixture date last week, there was a two-week break instead, and the extra time off clearly did Donovan some good.--JC
"The hamstring, I tore on Tuesday, and I had a little bit of a cold on Wednesday morning," said Beckham with a grin. "I actually did, none of us were lying. The hamstring, it was something I was disappointed about, because we'd had three tough games in nine days…I think we've all been through times where we've had injuries this season, and we've played through it. It shows the strength of the players."
"I've been around great athletes and competitors in my life in different sports," added Arena. "This guy is as good as they come; an unbelievable desire to win, compete, and he's a great teammate and a great person…He gutted it out tonight. He obviously wanted to be there. My hat is off to David."
L.A. owed its domination in part to the absence of Houston midfielder Brad Davis, who was out with a torn quadriceps muscle. While Corey Ashe didn't play badly in place of Davis, the knock-on effect was that Jermaine Taylor, normally a central defender, started at left back, and his lack of experience in that role was badly exposed in the first half by L.A.'s right-sided tandem of Donovan and Sean Franklin. The two combined well twice in a four minute span beginning in the 11th minute. On the first attempt, Franklin might have been better off shooting rather than deferring to Donovan, whose shot was deflected wide.
Keane's mobility was also causing problems for the Houston defense, especially when he dropped five yards off Houston's backline, and then slipped through balls to late runners. One such foray in the 34th minute saw the Irishman slip a pass to Todd Dunivant streaking down the left flank, but his centering feed was cut out by Taylor with Donovan lurking nearby.
Houston managed to put together some badly needed spells of possession toward the end of the half, but the best opportunity it could muster was in the 44th minute when Danny Cruz collected Calen Carr's cross-field pass and fired a shot straight at L.A. keeper Josh Saunders.
The Galaxy picked up where they left off to start the second half. Omar Gonzalez's deflected pass released Keane on a clear breakaway, but he hit his shot narrowly wide. The Galaxy striker then thought he had put the home side ahead in the 57th minute, but he was judged to have been offside after tucking home Beckham's lofted pass through the legs of Hall.
Houston at last began to gain more of a foothold in the game. The Dynamo pushed outside midfielders Ashe and Cruz further up field, and as a consequence found the feet of central midfielder Luiz Camargo more effectively. Ashe found some space in the 66th minute, but Adam Moffat headed his cross wide of goal.
With Houston's backline managing to keep the game scoreless, it was left to Galaxy manager Bruce Arena to make a key personnel switch, bringing on Chris Birchall for the ineffective Cristman, and moving Donovan up top. The move paid off on the game-winner. Beckham headed a long pass into the path of Keane, who evaded the attention of Dynamo defender Bobby Boswell long enough to spring Donovan, who finished the chance for his fourth career goal in an MLS Cup final.
ESPN FC on Twitter
Don't miss a moment of the latest soccer coverage from around the world. Follow us on Twitter and stay informed. Join »
"People, justifiably so, see Robbie as a great goalscorer," said Donovan. "But he's a great soccer player…I didn't realize [at first] what a great passer he was. The pass he gave me for the goal was fantastic; absolutely world class."
There was little let up in the Galaxy attack. Juninho released Keane down the left in the 81st minute, but his low cross eluded his teammates.
Houston manager Dominic Kinnear had earlier brought on Carlo Costly for Carr and later introduced Colin Clark and Je-Vaughn Watson. But aside from one scare in the 85th minute when Saunders failed to claim a cross from Clark, Houston did little to threaten the Galaxy goal.
As the final whistle sounded, Beckham turned to the fans and celebrated. Donovan sank to his knees, pumping his fist. The two then joined their teammates in a group scrum, the struggles and disappointments of the previous four seasons -- including losing the 2009 MLS Cup on penalties -- long forgotten.
A beaming Beckham said, "It's going to be a great night."
One that capped off a great season for the Galaxy.
Jeff Carlisle covers MLS and the U.S. national team for ESPN.com. He is also the author of "Soccer's Most Wanted II: The Top 10 Book of More Glorious Goals, Superb Saves and Fantastic Free-Kicks." He can be reached at eljefe1@yahoo.com.
U.S. soccer correspondent
Jeff Carlisle covers MLS and the U.S. national team for ESPN FC.
Soccer on ESPN.com

Follow Soccer on ESPN: Twitter
Coverage on ESPN FC
Euro 2012 in Review