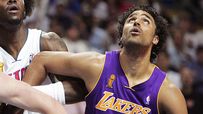 Welcome to SportsNation! On Wednesday, we continue our 65 in 65. That's 65 NBA chats in 65 days. We will hold an NBA chat each day through the end of the NBA Finals. Wednesday's guest is former Los Angeles Laker Rick Fox.
Fox began his pro basketball career when he was selected by the Boston Celtics in the first round with the 24th overall pick in the 1991 NBA Draft. Later traded to the Lakers in 1997, Rick played 13 seasons overall averaging 9.6 points, 2.8 assists, and 3.8 rebounds per game.
During his NBA career, Fox started acting with roles in "Eddie," "He Got Game" and "Blue Chips." After retirement in 2004, he did even more starring in Tyler Perry's "Meet the Browns" and the CW series "The Game."
Send your questions now and join Fox to chat Wednesday at 5:30 p.m. ET!
Be sure to watch Game 4 of the NBA Finals Thursday at 9 p.m. ET on ABC.
More Special Guests: 65 NBA Chats in 65 Days | NBA Finals | SportsNation
Buzzmaster
(5:15 PM)
Rick Fox will be here at 5:30 p.m. ET to take your questions!
Buzzmaster
(5:40 PM)
Hang on folks...we're working on getting Rick.
Buzzmaster
(5:50 PM)
Rick is here!
Steven (NJ)
How similar is this years Lakers to some of the ones that you were on?
Rick Fox
(5:51 PM)
Well, similar in the sense that they're coached by the same coaching staff. Same leadership on the sideeline. Same in that Kobe Bryant and Derek Fisher are still there. I won three titles with them. But different in that we operated differently. We were power from the inside and older veterans. This is a younger team with long, gazelle-like players. But in both cases, the teams are competing for championships.
Heavy (Badwater)
Do you think the series will go back to L.A. or will the Lakers close it out in Orlando?
Rick Fox
(5:52 PM)
I think it goes back to LA. I thought that from the beginning of the series. The blowout in Game 1 was misleading. I thought the Lakers would win, just not a 25-30 point win. It took a bit for the Magic to get their bearings, and it showed in the second game.
Buster (San Antonio)
I've heard you being compared to Trevor Ariza, is he the one Laker on this team that reminds you the most of yourself as a player?
Rick Fox
(5:54 PM)
Yeah, especially when he dunks violently above the rim. Just kidding, I was never a high flyer after my first six years in the league. I think what people are referencing is his defense. But he's shown the ability to score and he's a slasher. In my younger days, I looked more like him athletically, but Phil is calling on him for his defense, and that's the role that I played.
Shayne (NY)
Rick... Do you think you could get out there and play with the Lakers right now during the NBA Finals? I saw you playing at the Celebrity All-Star game this year and you look like you're still in shape. Thanks!
Rick Fox
(5:56 PM)
I could have played in Game 1 for the last five minutes of that game in the blowout. I've been out of the game for four years now. There's a reason for that. Primarily because physically that I reached a point in my career with injuries, that I couldn't rebound from them. Logging huge amount of minutes like you see a lot of these guys do for 100 games out of the season, there is a certain point that you can't do it. Mentally I might be able to do it, but physically, I could play like five minutes.
Heavy (Badwater)
What do you find most difficult about acting?
Rick Fox
(5:57 PM)
The craft is completely the opposite of professional sports in the sense that it's all emotional. I played with a reserved sense of protected emotion. It's about letting all of that in instead of keeping it out. It's a reverse. In sports, you're not supposed to be vulnerable and in acting you are.
Kip (GA)
As a guy who paid his dues in the league for 13 years what advice would you give rookies coming in to the NBA in about 2 weeks from now?
Rick Fox
(5:59 PM)
It's one thing to enter the league with confidence and a desire to establish yourself. It's another thing to entire the league with an arrogance that you already know everything about the experience you're about to embark on. It takes three years to establish yourself physically. There's nothing more valuable than finding a veteran to latch yourself on to those first few years and to mimic their actions of a person that's been in the league 7, 8, 10 years. They've picked that up from someone they shadowed. You could be rookie of the year but you still want to shadow a person. I was blessed to be in that situation with Larry Bird, Kevin McHale, Robert Parrish.
John (LA)
Do you think the alkers could rebound?
Rick Fox
(6:00 PM)
Totally. I think they will. I saw a game from Kobe that was a tad uncharacteristic. I thought the Magic played at a really high clip. They shot extremely well, setting a record in the first half. I think you saw a very composed Laker team in that fourth quarter and saw an opportunity to win. I think the Magic will go down a tad and the Lakers will improve.
Kiner (Louisville)
Are you a Lakers fan now that your retired?
Rick Fox
(6:03 PM)
I'm a fan of the NBA first. I enjoy individual players, good basketball. I follow the teams that are playing well. But my loyalties lie where my rings lie. I live in LA. I have great relationships with the coaches. In looking back on my career, I have great appreciation for the Celtics experience for six years and them drafting me. But if I had to put a jersey back on it would be a Lakers jersey.
Roland (Orlando (Florida))
Other than players named Kobe and Dwight what player has had the most impact on this series for either team
Rick Fox
(6:05 PM)
I thought quite frankly, for the Lakers, Odom had to be the presence that he's been. In the two wins, he was. I thought his presence was the X-factor. For the Magic, I thought the point guard position was one of challenge for the Lakers. It's always been the pick and roll. You saw early on in the series, they had to see what Jameer Nelson could give them and it could be a distraction and it was. They seemed to return to what worked, and Alston played well, leading them to a win.
Steven (NJ)
Do you believe that Derek Fisher is one of the most underated players in NBA history?
Rick Fox
(6:07 PM)
For me, underrated is an interesting debate. If you play in the NBA, it's such a small fraternity and everyone is bringing their game. He's recognized as a leader, as a champion. I think he's underrated in the sense that he's consistently improved and evolved his game, even as he's gotten older. From what's been asked of him, he's performed admirably. He's always tailored his game after what's best for the team. Who knows, a lot of us that played for Phil could have had great careers individually, but lost out on the championships.
Rick Fox
(6:09 PM)
I hope you enjoy this playoff stretch. It's been for me, some of the best basketball I've seen in a long time. The league is in great hands with the youth that's coming up. Or, if anyone out there is in the entertainment business and needs an actor who used to play professional basketball, hit me up on Twitter - RickAFox. Or if you just want to follow me in my movie career and life.