Chat with Anthony Anderson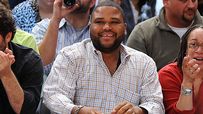 Anderson voices Jolt in the new Transformers movie!
Welcome to SportsNation! On Thursday, actor Anthony Anderson stops by to chat about the U.S. Open, his new movie and his new TV show.
Anderson, who, in April 2008, joined the cast of the legal drama Law & Order as Dectective Kevin Bernard, will be the host of the Golf Channel's Golf in America, which premieres June 23 at 10 p.m. ET. The show will discover never-before-told stories, larger-than-life characters and inspirational people that capture the spirit of the game of golf.
Anderson appeared in the first Transformers movie in 2007. The second one, "Transformers: Revenge of the Fallen," will be released Friday.
Send your questions now and join Anderson to chat at 12:05 p.m. ET Thursday!
More Special Guests: Previous special guests | SportsNation
Buzzmaster
(11:59 AM)
Actor Anthony Anderson will be here at 12:05 to chat about his latest TV show - Golf in America on Golf Channel - latest movie - Transformers 2 - and anything else on your mind!
Buzzmaster
(12:04 PM)
Anthony is here!
Terrance Allen (Philadelphia)
Do you play golf at all? How long have you played? If so, do you find yourself hooked?
Anthony Anderson
(12:05 PM)
Yes, I do. I've been playing 14 years and have been hooked from the moment I picked up a club on the driving range with my father in law 14 years ago.
Paul (London, UK)
Anthony, how does it feel to be the show business equivalent of tabasco sauce, making any movie or tv show you do instantly better? Keep rockin, man.
Anthony Anderson
(12:05 PM)
It feels great. I've never been compared to a food condiment, but I like that one, because I like tabasco sauce myself.
Dan (washington)
Anthony, are you a big golfer? Did that make you want to work on this Golf Channel project?
Anthony Anderson
(12:06 PM)
It did. That's how the show had come to me, because of my relationship with the Golf Channel and trying to create a TV show to air on their network.
wes (la)
Who is your pick to win the soggy US Open?
Anthony Anderson
(12:07 PM)
Any time Tiger is in a tournament, my vote is always for the No. 1 player in the world and I'm a bit biased because he's a friend of mine. I'm saying Tiger Woods. The wetness or sogginess of the field only plays into his strength for this tournament.
Bryan Peterman (Philly)
Hey man how'd it come about that you'd go from a live role to a voice over role in Transformers 2?
Anthony Anderson
(12:08 PM)
Sadly, I have to say that I am not in Transformers 2, be it live action or my voice.
JR (Boston, MA)
Glen "Big Baby" Davis, from my beloved Boston Celtics, is up for a big contract. Do you feel that you should receive a hefty percentage of his income considering he completely stole his "game" from Hang Time's Teddy Broadis? Let's face it, with out Teddy, there is no Big Baby.
Anthony Anderson
(12:09 PM)
(laughs) Now that is hilarious! Yes, I do believe I should receive a part of his contract. Yes, no Teddy, no Big Baby. He got his game from me.
rex (boston)
hello mr. anderson.how big of a golf fan are you and how often do you get to tee it up?
Anthony Anderson
(12:10 PM)
When I'm not filming and at home in Los Angeles, I try to go out 3 times a week. I have a standing tee time at 6:45 a.m. at my country club with Sam Jackson, Don Cheadle and Johnny.
kyle kansas
how did you guys go about picking the stories to tell for the show?
Anthony Anderson
(12:13 PM)
Our production staff reads periodicals, looks for stories on the Internet. Stories are sent to our office. That's how stories are found for our show. Now with the show premiering after The Masters a few months ago, people are sending in stories even more than the past, so it makes it easier for us.
Trevor (Texas)
Why didn't you waste Matt Damon in The Departed? I was highly disappointed in you.
Anthony Anderson
(12:13 PM)
Well, first off, Matt Damon was my superior officer. Secondly, I had no idea he was a corrupt officer at that time. And why were you disappointed?
Roy Chambers (Decatur, Alabama)
Hey Mr. Anderson, I'm a big fan of your work. You are funny as hell man. Keep up the great work.
Mike (Boston)
Ain't hatin on you, but you are the funniest. Are you expanding into dramatic acting to broaden your resume?
Anthony Anderson
(12:15 PM)
Short answer, yes. Long answer, I didn't want to be type cast as the funny guy in film and TV. This is something I've been training at since I was 9. Hollywood can be myopic in their thinking at times. I wanted to show them something different. That's why I wanted to go in the direction I have dramatically.
Trevor (Texas)
Cause I hate Matt Damon...and I wanted you to be the unlikely hero. I was being selfish I suppose.
GB (philly)
can we get a stand up from you? A HBO special or something? I dont recall ever seeing you on the stage.
Anthony Anderson
(12:16 PM)
Funny you ask that. I'm working toward that right now. I host a monthly comedy show in NYC called Anthony Anderson's Mixed Tape Comedy show at the Gothem Club in Manhattan in the hopes of taking that show on the road and hosting various comedy shows. If you want to look at any of the footage of that, go to MixedTapeComedy.com.
calvin (PA)
what's your favorite story?
Anthony Anderson
(12:19 PM)
It was about a brother-sister team in Vancouver who are 11 and 9. Their father is their golf coach, but he's never played a round of golf before in his life. He went to the library and read every book, watches the golf channel. He turned one of the bedrooms in their 2 bedroom apartment into a driving range. They spend 2-3 hours a day hitting balls. They lined the bedroom with mattresses. They all sleep in the other bedroom. The 9 year old girl is the No. 1 player in her age and the 11 year old is either the No. 1 or 2 player. They have the sweetest swings all taught by a father who's never played ever.
David (Athens, GA)
You and Don Cheedle? That would be one amazing round of golf... huge fan of you two. Who's usually the low man?
Anthony Anderson
(12:20 PM)
Golf is a very intersting game. Don and I share the same handicap, but depending on the day, either one of us are the low man. Don hits the ball a country mile, but my short game is always tight. I've taken more money from Don than he has from me.
tim (toronto)
what's your favorite vehicle in transformers?
Anthony Anderson
(12:20 PM)
My favorite vehicle was Bumble Bee.
Jeff (Boston)
You were great in Hustle and Flow. Who are your favorite sports teams?
Anthony Anderson
(12:21 PM)
Wow...Basketball, the Lakers, being an LA boy. Football, the Raiders and the Cowboys. What other sports are there? Are there any other sports out there? Those are the two sports I really follow.
Anthony Anderson
(12:22 PM)
I would just like to say, I hope you enjoy Golf in America as much as I enjoyed making it. Stay tuned for more work in Law and Order and comedy shows coming to you.