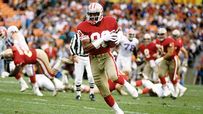 Upon his retirement, Rice owned seven career receiving records.
Welcome to SportsNation! On Thursday, former NFL great Jerry Rice will stop by to chat about his upcoming Homecoming episode (Thursday, 7 p.m. ET, ESPN).
Rice set seven career receiving records and dozens of season, team and Super Bowl records. His 22,895 receiving yards is nearly 8,000 more than the second place Tim Brown. He also holds the records for most TD receptions (197) and total TDs (208).
Send your questions now and join Rice Thursday at 2 p.m. ET!
More Special Guests: Previous chats | SportsNation
Jerry Rice
(2:02 PM)
I'm glad to be on the show Homecoming. I think people will get to see a side of me that they have never seen before. I like to think of myself as a funny guy and I don't think people saw that side of me while I was playing and now I have the chance to show it. It's going to be fantastic.
Sammy (Cali)
What did you think when ESPN first came to you about doing an episode of Homecoming?
Jerry Rice
(2:03 PM)
It was getting the time schedule. I always wanted to come back up and feed off the energy of the fans. I think everyone had a great time.
George (Mississippi)
Why did you decide to do it in San Fran instead of Mississippi?
Jerry Rice
(2:05 PM)
(Laughing) That is good question. I wanted to do it in Mississippi but I couldn't fit it into my schedule. My second home is San Fransisco and a lot of my family and friends came out so it was just like being back home in Mississippi.
Otto (CA)
What was your favorite Michael Jackson song and did you ever get to meet Air McNair? Thanks.
Jerry Rice
(2:07 PM)
(Laughing) I would say Thriller and Beat It. He had so many great songs that I can't pick just one. He was a great entertainer and a great person. He did so much for so many people. I did know Steve he played at Alcorn State which is a huge rival of Mississippi Valley State. He was a great guy and great football player. He'll be missed.
George Spelvin (Minneapolis, MN)
What have you been doing since you've retired? Do you still keep yourself involved with the NFL?
Jerry Rice
(2:10 PM)
I still stay involved with the NFL. I'm with an agency that represents NFL players. I'm a mentor and I help players deal with things on and off the field. I now work with Steve Smith (Giants), DeSean Jackson (Eagles), and Lewis Murphy (Raiders). I also have been busy with the entertainment world with roles on sitcoms and a stint on Dancing with the Stars.
Tim Finnegan (Islip, NY)
What do you think are the strengths and weaknesses of the 49ers coming into this season? Do you think Michael Crabtree could have the same kind of impact that you had on the team?
Jerry Rice
(2:36 PM)
I think their weakness in the the quarterback position. They need to name a quarterback and right now they still have players battling it out for the starting job. As a receiver and a player that has been in the league for a long time, you want to know who is going to be you're starting quarterback going into training camp. Michael Crabtree showed in college that he is a great player bit right now he's a little behind schedule because of the injury. I think he will be OK but it's going to take some time to get adjusted to the pace of an NFL game.
Rob W. Boothe (Wilkes Barre, PA)
If you had to choose, which one of your illustrious records would you never want broken for the rest of history?
Jerry Rice
(2:38 PM)
(Laughing) I never based my career around records and I know records are meant to be broken. It was never about the records for me. It was about giving the fans something to enjoy. Oh yeah, it was also about winning championship. Something I know a little bit about since I won three out of four.
John (Gettysburg)
Who do you think is the best receiver in the NFL today?
Jerry Rice
(2:41 PM)
You still have some great receivers out there. I've been working with Larry Fitzgerald and I think he is one of the best receivers in the league right now. He has the work ethic to continue to get better and he was the will to win.
Matthew Cramer (Lancaster PA)
Who did you like playing with better, Steve Young or Joe Montana? You are my all-time FAVORITE football player!
Jerry Rice
(2:46 PM)
I was very blessed to have played with two Hall of Famers and great quarterbacks. I started off with Joe and he had one the best arms in the game. Then I went to Steve and at that time he was more of a running quarterback. But we got it together and became the NFL's all-time to scoring duo before Peyton Manning and Marvin Harrison. Joe and Steve are two of the best who ever played and I'm glad to have had the chance to play with them.
Michael Bristow (Owensboro, KY)
Hello Jerry! It's truly a pleasure! Looked up to you for a long time! My question is: Who is/was your favorite non-football athlete? Why?
Jerry Rice
(2:49 PM)
(Laughing) Everybody was in love with Michael Jordan. I had the chance to witness that last championship run as well as spend time with Jordan in Chicago. I'm also a fan of Magic Johnson. They both have inspired so many players from different sports to go out there and be the best athletes that they can be. Now Tiger Woods has taken over their reign and is taking golf to a whole new level.
Steven (NJ)
What was your favorite moment of your career in the NFL?
Jerry Rice
(2:50 PM)
Winning my first Super Bowl on the final drive. I remember all the emotions coming out. That was why I played that game of football, to get to that championship level and win.
Steve (San Fran)
What was your favorite San Fran spot for dinner? Don't you just love this city?
Jerry Rice
(2:53 PM)
Oh I LOVE San Francisco! I have so many places that I love to eat but my favorite place is Crustacean Restaurant off California Street. They have great food!
Coby Schriever (New Hope, MN)
Have you ever thought of being a NFL coach? You were a great route runner and always a health nut so either a receiver coach or a fitness coach?
Jerry Rice
(2:56 PM)
I thought about coaching and I thought about how much time I would have to devote to the NFL. I already gave so much of myself to the game of football and not it's time to enjoy my life with my family. I have a son that's going to UCLA in the fall and I'm working with him. We've been busy working him out and trying to get him ready to play.
Mike (Akron)
Hey Jerry, which NFL receiver, reminds you of you?
Jerry Rice
(2:57 PM)
(Laughing) I have to say Larry Fitzgerald with his work ethic, Terrell Owens because he is a fighter, and Marvin Harrison because of his demeanor on the field.
Jerry Rice
(2:59 PM)
Thank you for all the great questions. I had fun answering them. If you want to laugh, make sure you tune into Homecoming tonight at 7 p.m. on ESPN. You will see a side of me that you have never seen before.