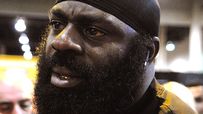 Kimbo Slice chats with SportsNation on Thursday!
Welcome to SportsNation! On Thursday, MMA fighter Kimbo Slice stops by to chat about his spot on this season's "The Ultimate Fighter" reality show. This year's show is named "The Ultimate Fighter: Heavyweights."
Slice will be one of 16 fighters on the show, each trying to win a chance to fight in the UFC. The season premieres Setp. 16 at 10 p.m. ET on Spike TV.
Slice became well-known for Internet videos of his street fights. The former bouncer turned MMA fighter had four fights with now bankrupt Elite XC as a headliner. When Elite XC folded in 2008, Slice accepted an offer by UFC president Dana White to appear on The Ultimate Fighter.
Send your questions now and join Slice Thursday at 12:30 p.m. ET!
More Special Guests: Previous chats | SportsNation
Buzzmaster
(12:24 PM)
THE Kimbo Slice will be here shortly to take your questions!
Buzzmaster
(12:34 PM)
Kimbo's just finishing up his lunch and should be over in a few minutes.
Buzzmaster
(12:36 PM)
I was just told they're running a few minutes behind schedule today, but Kimbo should be here aroudn 12:45 p.m. ET.
Adam (Provo, UT)
hey Buzzmaster...you go right up to Kimbo and tell him to get his butt over to the chat!
Buzzmaster
(12:38 PM)
Uhhhhhh, that's a big negative. 1) He could probably take me. 2) He's at the mercy of the schedule that we set up for him. Once everyone heard he was coming, we all wanted a piece of him for the various ESPN platforms. Things start to run late, the schedule gets ruined.
Austin (Waco, Texas)
Ya that sounds like a death wish
Adam (Provo, UT)
"probably" take you?
Buzzmaster
(12:40 PM)
That was an accurate statement, no?
Greg (DC)
"Probably" take you....uh...you might be giving yourself too much credit
Cory (PA)
This is really all Golic's fault isn't it?
Buzzmaster
(12:41 PM)
Not sure, but we could probably figure a way to work that in.
Brandon (Columbia, SC)
Unless your name is Buzzmaster Emelianko, then it was accurate
Christian (Octogon)
What the heck is he doing shooting an ESPN commercial with Kenny Florian?
Buzzmaster
(12:42 PM)
Don't know about the commercial part, but he will be on MMA Live with Kenny and Jon Anik on ESPN.com later this afternoon.
Marc (Charlotte)
Buzz, don't you get a copy of the schedule that ESPN put together for Kimbo, and therefore should be able to schedule the chat accordingly?
Buzzmaster
(12:48 PM)
Yeeeeessss, Mr. SmartyPants. But schedules get backed up and things run late.
Buzzmaster
(12:55 PM)
Hang on folks...I'm going to make a phone call and find out where he is on campus.
Buzzmaster
(1:00 PM)
He's here! He's hitting the bathroom and we'll get started.
Greg (Dallas)
Did you think Dana White was serious when he offered you a spot on the show? How much did you talk to him before accepting the offer?
Kimbo Slice
(1:02 PM)
YEs, I thought he was serious when he offered me a spot. He is a very savvy business man.
Paul (Chicago)
Does your beard help you take punches...like, if you got punched in the chin without a beard, do you think it would hurt more than with the beard? That thing is awesome, but I have to say it looks like it give you an advantage...it's so thick it's like wearing a hockey facemask.
Kimbo Slice
(1:03 PM)
No, the beard doesn't absorb punches.
Jeff (Atlanta)
I saw that you were a beast in high school football. Are you still a football fan? Who are you picking to win the Super Bowl this year?
Kimbo Slice
(1:03 PM)
Jeff, I'm sleeping when I give this answer, the Dolphins. And yes, I am still a huge football fan.
DomRob (Michigan)
How did you break the ice with all the fighters? Did you just cook a mean steak like they say you can.
Kimbo Slice
(1:04 PM)
Yeah,I cooked 15 mean steaks.
Vince (Albany)
What are you looking to prove to MMA fans?
Kimbo Slice
(1:05 PM)
It's not about proving anything. It's mainly about first, the love of it. There's a recession out there and I'm getting paid. And lastly, it's entertainment. It gives everybody something to watch and enjoy and talk about.
R-Rod (Boston, MA )
What up Slice....being on the TUF 10 show did you learn new fighting techniques for example your stand up and emphasize more on your ground game?
Kimbo Slice
(1:05 PM)
Yes.
Tony (Lexington,Kentucky)
Are you ever just amazed that you are pretty much a household name?
Kimbo Slice
(1:06 PM)
Yes. It's still kind of shocking.
Zac the Ripper (Ohio)
What was living in 'the house' like, given your celebrity standing? Do you feel like the guys respected you more, or targeted you more?
Kimbo Slice
(1:06 PM)
They respected me. They probably talked crap behind my back, but they respected me.
Lora Embry (Indiana)
Kimbo. How was it in the house without TV, internet, radio, and etc, and also do you think you made the right decision to enter the TUF 10 cast? Also, I just want you to know I like your style, and think you will do great things with your career :)
Kimbo Slice
(1:07 PM)
Being in the house became very lonely at times. Yes, looking back, I made a good decision. If I had to joing the show again, I would.
Mark (Acushnet, MA)
Kimbo,Fill us in on your training schedule, including weight training and diet when you're preparing for a fight.
Kimbo Slice
(1:08 PM)
Training is very intense. Part-time job, but full time 3 months prior to the fight. I don't work out all the time when I'm not fighting.
Christian Richards (Los Angeles)
What was your initial reason for putting your back yard brawls on Youtube?
Kimbo Slice
(1:11 PM)
That was not my idea, Christian. That was done by my Internet savvy friends, who suggested that for the exposure.
ThatDude (Chicago, IL)
Where does your work ethic come from?
Kimbo Slice
(1:12 PM)
It comes from my life experience. I have a drive when I work out. I watch my workouts, when we record it, it's intense. The reason I work out like that it's because I'm working for a goal. It's hard work behind this. If I go into the ring not ready, I can break a leg, arm. I work out for a reason. The guy I'm fighting has to have some skills.
Nick (Spokane)
Kimbo, big fan here... What's the biggest difference from fighting in a backyard against fighting in an octogon?
Kimbo Slice
(1:14 PM)
Backyard brawls, we were fighters without really any skills. Just two guys throwing punches. Fighting in the cage, there are more skills behind it. You're not just throwing punches. You don't get into a cage with a guy and just start throwing punches. Fighting in the cage is like playing chess. With an arm bar, I start tugging on the other arm and I have you baited and when you start to fight it with the other arm, I grab the one I really wanted.
Mark (Acushnet, MA)
How has your experience in this years Ultimate Fighter reality show helped your MMA career?
Kimbo Slice
(1:15 PM)
I learned a little bit more skills. A lot more skills. I know now that there is a dozen new heavyweights out there for me. I know that now. There are more fighters out there for me to fight.
Ryan (San Antonio)
Kimbo, The Ultimate Fighter seems highly advertised around you-- with that being said, will that add any pressure for you to perform in the octagon?
Kimbo Slice
(1:16 PM)
No, no added pressure, Ryan.
Nick (Chicago)
Whats your weight and could you ever cut to 205
Kimbo Slice
(1:17 PM)
My weight now is probably the same, between 235 and 240 pounds. My fighting weight might be somewhere between 220 to 230.
Zac the Ripper (Ohio)
Any chance of seeing you on "Dancing with the Stars" anytime soon?
Kimbo Slice
(1:17 PM)
That would be a comedy.
Adam (Provo, UT)
Kimbo,Do you have any favorite MMA fighters?
Kimbo Slice
(1:19 PM)
Heavyweight, I would say, it was Couture, but right now, Brock. He's not likeable, but I like him. Light heavyweight, Rampage. Middleweight, Silva. GSP. BJ Penn. Florian.
Lee (Maryland)
Kimbo, were the comments made by Dana White while you were fighting for EliteXC the major motivation for you to join the Ultimate Fighter for this season? Or is this more of a personal motivated move?
Kimbo Slice
(1:20 PM)
Personal motivation. It's more of a personal motivation.
Laura (Ahwatukee, AZ)
You seem like a humble and gracious guy. What do you think of Brock?s response to his victory over Frank Mir?
Kimbo Slice
(1:20 PM)
Not cool.
Malachi (Oakhurst)
Kimbo, How did u feel when Dana White called you a Joke?
Kimbo Slice
(1:21 PM)
There was no feelings.
Nolan (Pa)
Do you think your age is a factor in your MMA success- not a lot of fighters start at the age you did- most are looking to retire
Kimbo Slice
(1:21 PM)
No, I don't.
Kimbo Slice
(1:22 PM)
Thanks for the love, the support. Keep your guards up. Train hard. Check out my new clothing line with TapOut, Kimbo's Gear. Check out the show Wednesday, Sept. 16 at 10 p.m. on Spike TV. I also have a DVD coming out Blood and Bones.